Gahhhhhhhhhhh.
This morning I woke up to an email that said that the other dude that replied before me would go bobsledding with another person, and that I would go bobsledding with the original girl. Of course I was happy to read that and got really excited again.
I get to school, tell all my friends, and we postponed our class skating trip that we were planning on doing after school tomorrow. Then an hour later I check my email again and turns out the girl actually had someone all along. :((
As of 6:35 PM, I am not going bobsledding. We unpostponed (preponed?) the skating trip. Who knows what is going to happen though, everything is seriously up in the air still.
Skeleton and bobsledding is a ROLLER COASTER OF EMOTIONS.
ON THE PLUS SIDE: last nights dinner was extremely tasty!!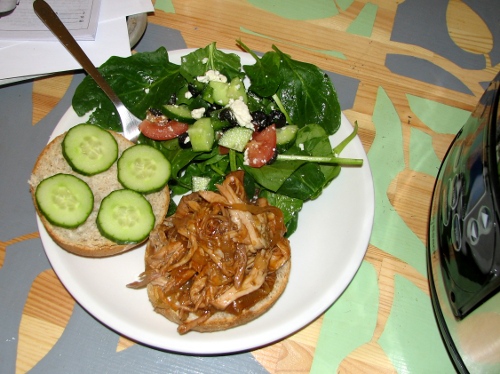 Pulled pork
sandwiches and Greek salad. I cooked the pork shoulder with onions and a cup of ginger ale for 9 hours on low, then drained off all the fat and shredded the pork. Then I mixed in the BBQ sauce (Kraft Garlic BBQ Sauce) and cooked it for another 4 hours on low. It was suuuuuper tender.
Mmmmm. I thought the sandwiches needed vegetables but we didn't have cabbage so I decided to just put a few cucumber slices. I had a slice of cheese on mine. The salad had spinach, tomato, cucumber, black olives and feta. No dressing was necessary.