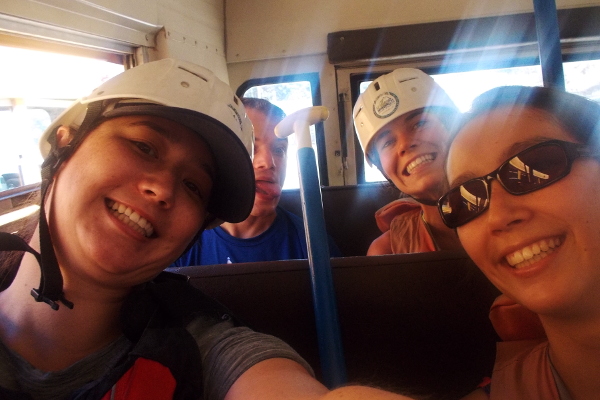 Rosemarie and I went white water rafting with Liz and Tom on the Thompson River (near Lytton, BC).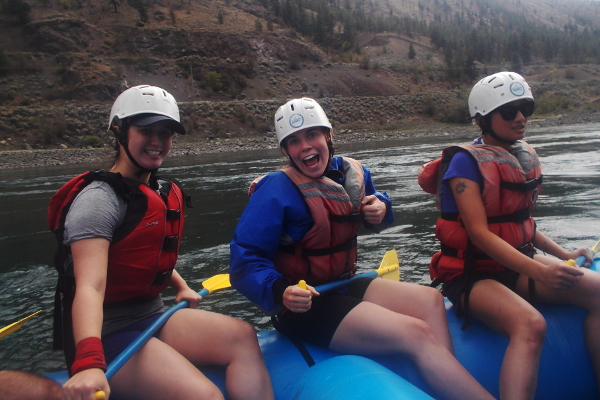 It was lots of fun. It wasn't that XXXXXXTREME, I was the only one who unintentionally fell out of the raft, but we still had perma-grin the whole time. It was a nice hot day so we jumped in and swam at every opportunity, and took turns sitting right on the front for maximum splashability. There was even one rapid we got to go through in the water hanging on to the rope on the sides of the raft.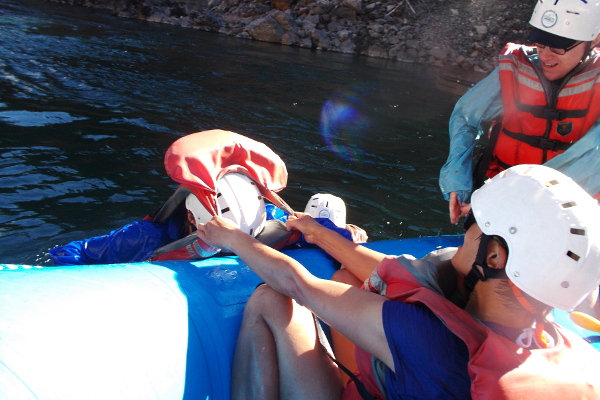 Liz gracefully getting back into the raft, probably after Tom pushed her in.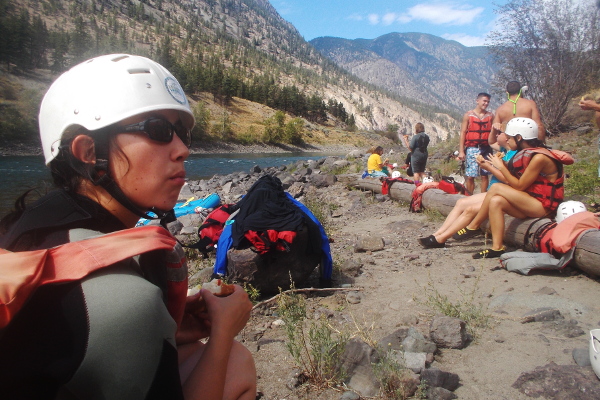 A classic Rosemarie picture on our lunch break. +1000 points for them having dinosours for dessert. :D
Like I said, I was the only person that fell out of the raft… out of the whole group of rafts… hahahha oops. I swear it wasn't on purpose, I just fell out! It wasn't too scary, at least I felt like I really got my moneys worth. ;)
We camped at a BC Parks site for the night and then drove home to Vancouver the next day, via the Othello Tunnels near Hope, and Hope Diner. Another very hot drive home with no AC, ack.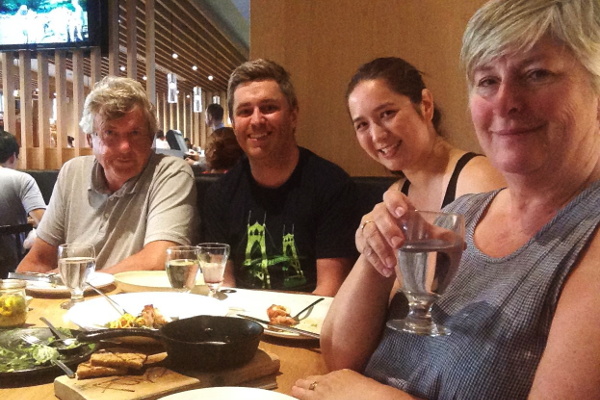 Jill and Joe had a long stopover in Vancouver on their way back to Adelaide so we met up with them for dinner downtown at Forage. Everything was super delicious and it was awesome to catch up again. I had seen Jill a few months ago when I went to Adelaide, but I hadn't seen Joe in a LONG TIME!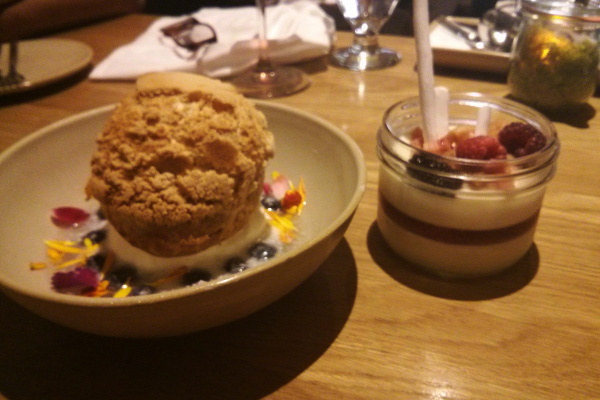 The waiter suggested the cheese puff for dessert and it's a good thing we listened to him because it was SO DANG GOOD. It was a profiterole with neufchâtel cheese filling, with ice cream, gin soaked blueberries and some kind of cordial sauce all around. MMMMMMM. The other dessert there was berry adult jello panna cotta that was also very good, but almost forgotten after the cheese puff.
Forage is cool because ALL their ingredients are locally sourced. We really enjoyed all the dishes we tried… octopus, carbonara, stinging nettle risotto, mushrooms… highly recommend.
Thanks to the Dafoe's to treating us to a great meal!!
I redeemed by birthday voucher for a Picasso pedicure at Bloom. Those are hand painted lemons!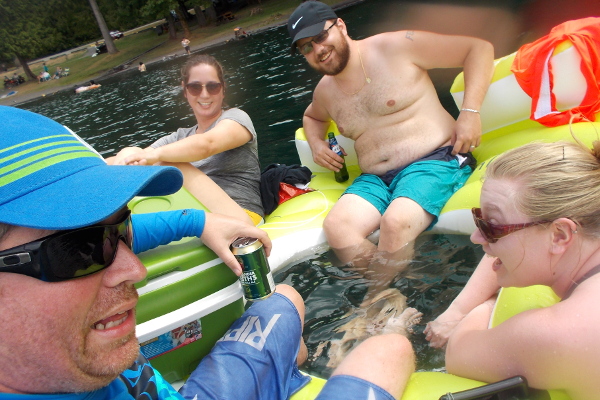 Lesley, Stephane, Scott and I went camping for one night at Cultus Lake. We played many games of Settlers (of which I lost all of them), and ate tacos and burgers and generally lazed around. We took the party island out for another spin. Cultus Lake is so warm!! Camping is weird when there is a fire ban though, you sort of run out of things to do when it gets dark.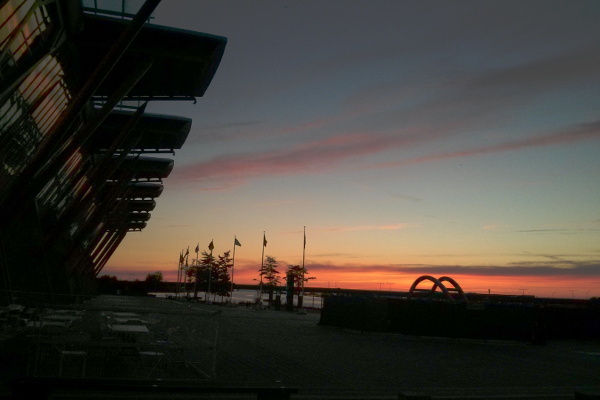 More skeleton push practice at the Oval. Note to self, bring bug spray for twilight sessions because there are SWARMS of mosquitos. Who's bright idea was it to have so many still water features around the facility, yeesh. I seriously got about 30 bites in half an hour. But this was a useful session, I now have a few new technical things to focus on for a bit.
Other unpictured fun stuff that happened:
We went to Charles and Ankie's wedding at the fancy Terminal City Club downtown. Open bar, woot!! It was a fun wedding, although we couldn't understand a fair chunk of it because we don't speak Cantonese.
Our board games group tried an escape room, and failed. It was hard!! We got through the first two rooms but ran out of time trying to figure out the half dozen puzzles in the final room. The operator guy did say we got further than average though (does he say that to everyone?). We also came back to our place to play a few games of Seven Wonders.
Stephane made bacon wrapped cheddar stuffed burgers for Burger Friday. I thought they would burst into flames on the BBQ but they were fine!
Mary Ellen and Paul came over while they were in town for a wedding. Mary Ellen wanted to try purple yam and cheese ice cream but unfortunately Shoppers Drug Mart was out!! They only had plain purple yam, so Scott got that instead. It is Barney purple and tastes like… those cheapy styrofoam cones imo. The debate of the month is what type of cheese it would be in the yam and cheese variety. So far Kraft Singles type is leading. EWWW.
Work drinks at Tap & Barrel. We have to make this a more regular event!
The worlds smallest blogger meetup. We ate yummy tacos from La Taqueria and then went to Rain or Shine for ice cream. I had malted milk chocolate honeycomb in one of their delicious homemade waffle cones. Yum.