I had a major cooking disaster yesterday.
I was making smore squares. First you bake a graham cracker sugar cookie crust, then you melt milk chocolate over it, then top it with marshmallows and broil it a bit.
Everything was going well. I put it in to broil, went to get a drink of water, came back to take a peek…. HUGE FLAMES IN THE OVEN!! EVERYTHING ON FIRE!!
I ran around in a circle yelling 'IT'S ON FIRE!!!!!!!!!!!' then I came to my senses and turned off the oven and opened the doors and windows and Scott took the flaming pan out of the oven.
It's funny (?) that our smoke alarm will go off at 4:00 AM sometimes, or when I am cooking perogies, yet didn't go off when there was AN ACTUAL FIRE.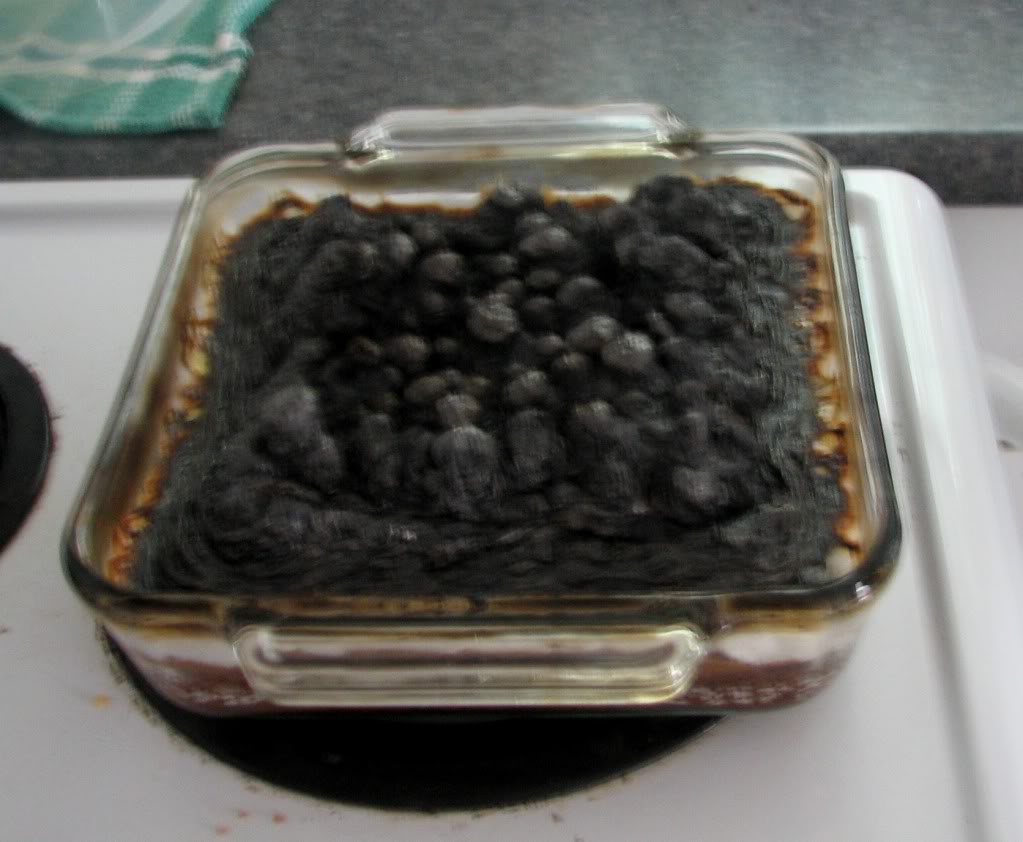 Unfortunately I did not get a picture while there were still flames. But I did get that "after" shot. Sorry it's blurry, I was rushing. Scott said it looked like the surface of another planet or something.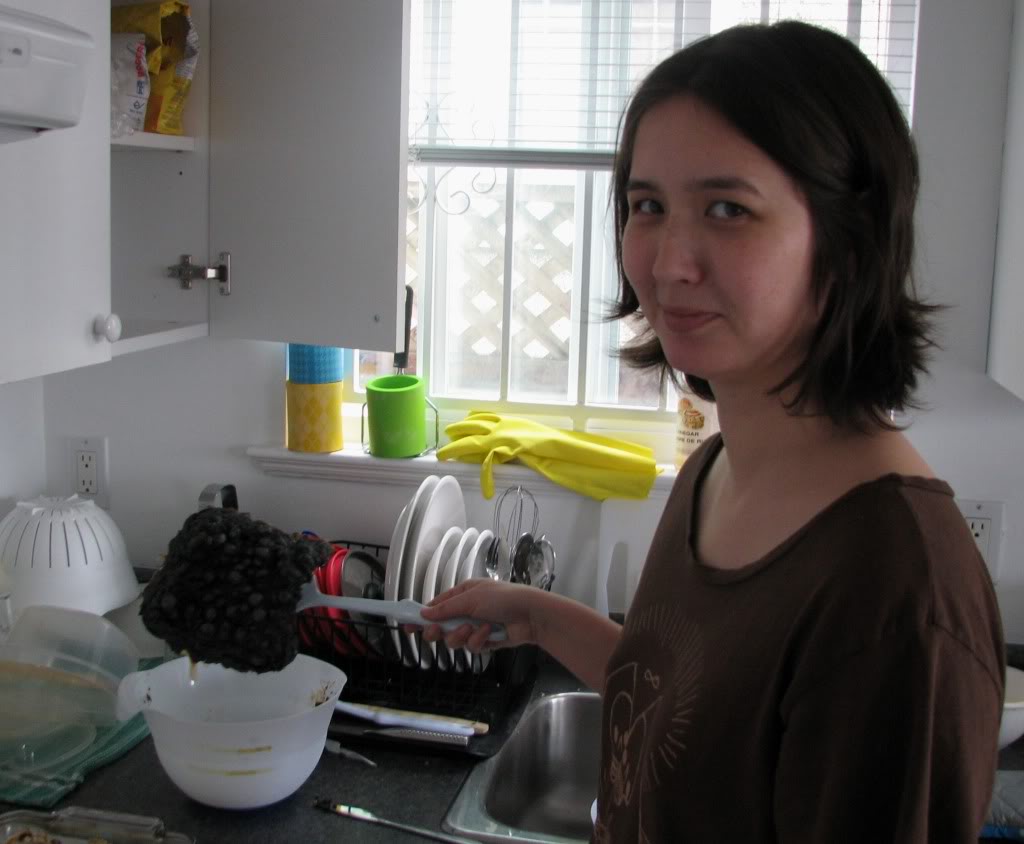 Anyway I scraped off the entire burnt top in one piece, and then tried again, this time broiling with the oven door open and me staring at it. It took about 8 seconds. Success! I reckon the extra little burnt bits just make it more authentic.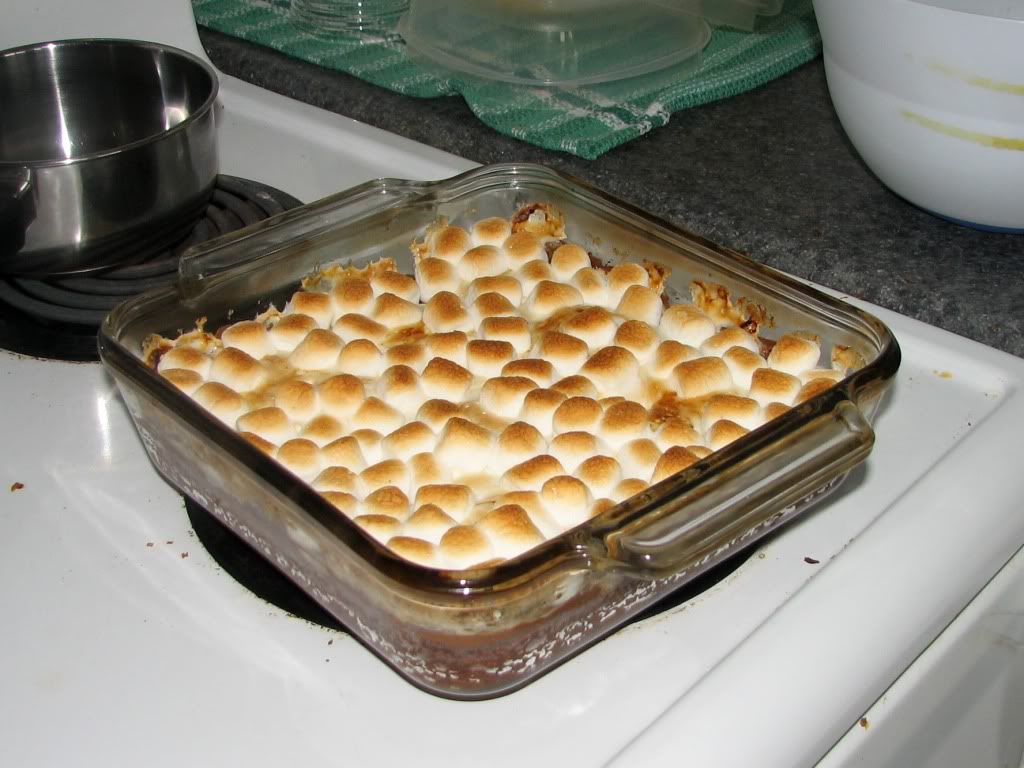 They are REALLY tasty.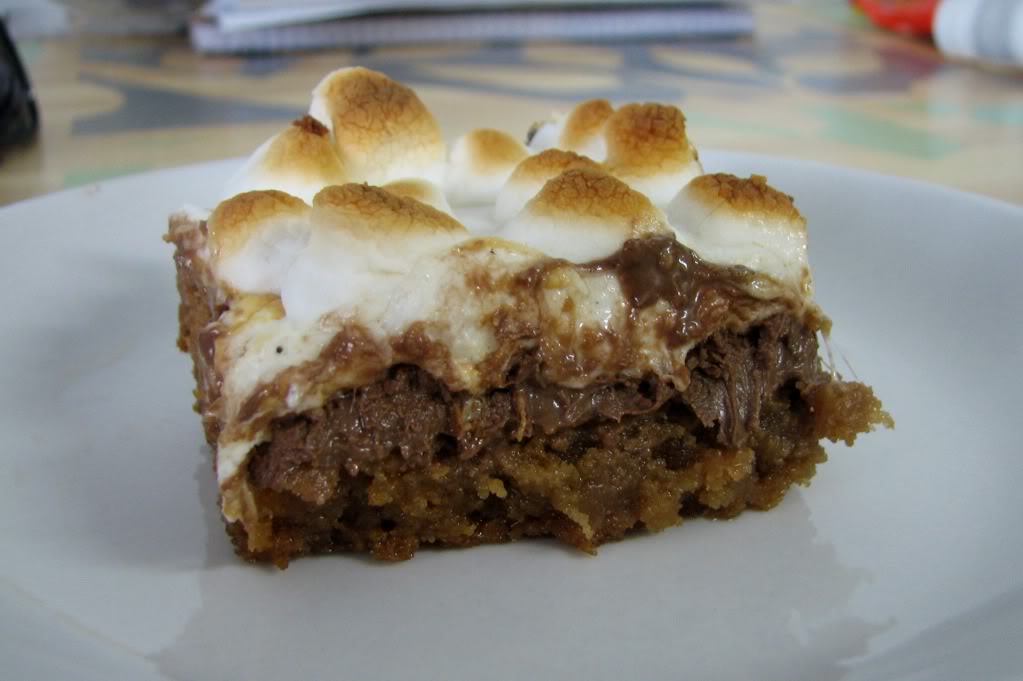 Smore Squares
3/4 cup butter, softened
1/2 cup white sugar
1/2 cup brown sugar
1 tsp vanilla
1 1/4 cup flour
1 cup graham cracker crumbs (I got them in the bulk bins at our supermarket)
1/2 tsp salt
1/2 tsp baking soda (I accidentally used baking powder. I don't think it matters)
about 1 cup milk chocolate chips
about 2 cups small marshmallows
1. Preheat oven to 350º F. Combine butter and sugar. Add vanilla. Then flour, graham cracker crumbs, salt and baking soda. Mix!
2. Spread in bottom of large baking dish. I used an 8″x8″ pan but that was a bit too small. Something a touch bigger than that would be perfect. No need to grease the pan. Bake for ~20-30 minutes, until cooked. Mine took forever because it was so thick.
3. Immediately sprinkle with chocolate chips. Let it stand for a few minutes, then spread the melty chocolate around.
4. Set oven to broil. Sprinkle marshmallows over top of chocolate, and broil for about 8 seconds. WATCH CAREFULLY!!! They brown FAST. OK maybe they take longer than 8 seconds, but not much more. Allow to cool a bit, and enjoy!