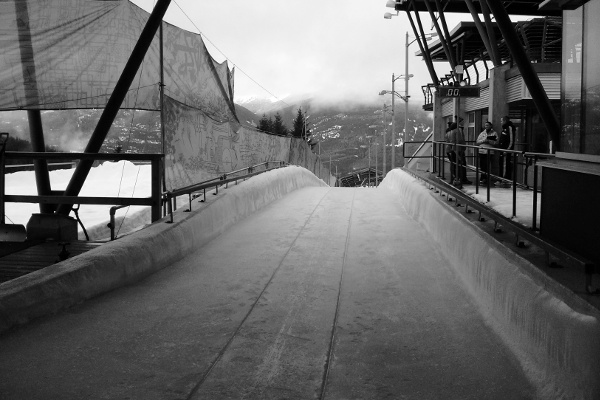 The view from the top of the track in Whistler.
I spent the weekend helping out with the ICC and NAC skeleton races. They had me wiping runners, measuring temperatures, timing the ice box, folding clothes and more. It was actually more work than I expected, especially the first day, but it was a good way to learn FIBT rules so I don't accidentally disqualify myself in the future. Plus I got to watch dozens of athletes push off the block, which was super motivating.
I especially liked how supportive everyone was to the Korean slider who was still very new to sliding and especially the (challenging) Whistler track. Everyone still cheered her on to slide smart and slide her best even though she only tentatively ran off the block. It was the same when I was in Calgary last year, and it's so helpful. There are some great people in skeleton.
I had an awesome sliding session on Friday night. My coach and I are now actively in the process of getting me ready to slide from the top. He told me a new thing to try in corner 7 and I got it right in my second run and went right through the straightaway (corner 8) without tapping and right into corner 9 cleanly. It was the first time EVER I have gone through 8 without hitting and it felt amazing. I cheered to myself as I went through corner 9. So good. Hopefully I can replicate it next week.
IN OTHER NEWS…
Today is Scott's last day as only an Australian. We are going to his citizenship ceremony tomorrow morning!!! So exciting!!! Then we're having a little party at our house in the evening.
And dad is arriving on Wednesday!!!