ELIMINATION FINAL – Melbourne Demons vs Geelong Cats
As I said at the end of my last update post the Melbourne Demons qualified for the finals (for the first time in 12 years). This was extremely exciting. Of course the first final game was on the same night as the Queens of the Stone Age concert that we already had tickets to. I decided that I couldn't miss the footy so I sold my concert ticket to Jessie who just happened to be visiting that weekend.
My coworker said he would go to the game with me, and lucky for me he is a MCC member who could get a guest pass. We had reserved seats but I wanted to get even closer to the action so I went straight after work and lined up in a MASSIVE line for general admission. Because why not. For some reason everyone was rushing up to level 2 and 3 so I headed straight for the front. With the help of a fake friend (long story) I managed to get Connor and I seats eight rows back from the field. AWESOME.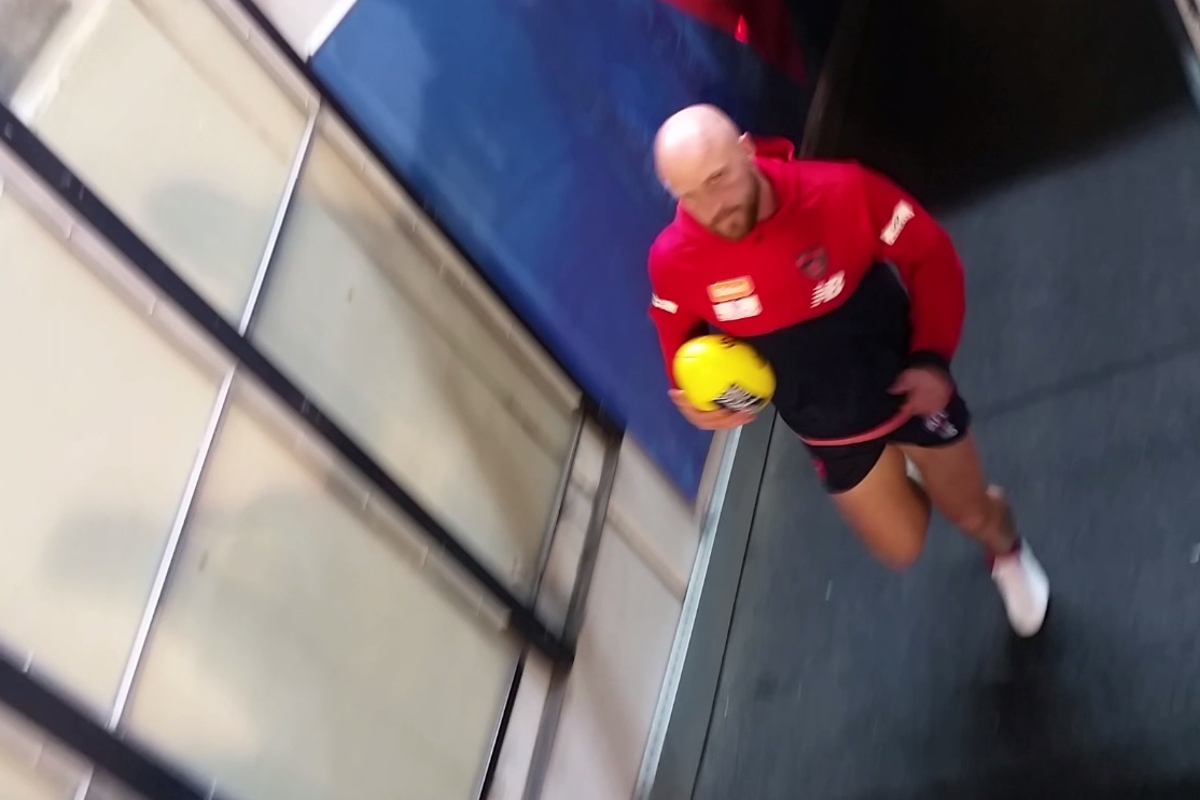 I had a lot of free time after getting our seats so I hung out at the race* and high fived all the players as they came out for warm ups. JONESYYYYY.
I also chugged a cider by myself in a bar. That was odd. Then Connor got there and we had a couple more very quick drinks in true MCC fashion (you can't drink at your seat because they fancy).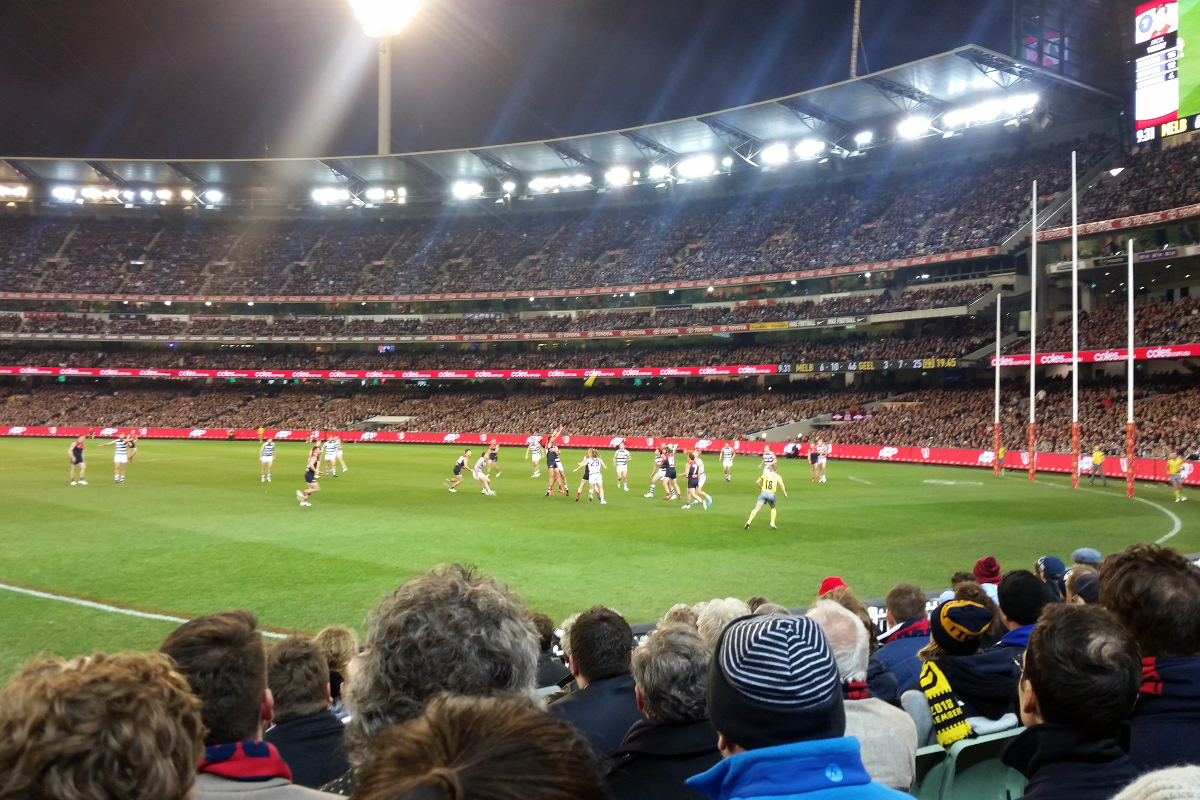 It was so great. I've always wanted to go to a full MCG game. The place was packed (91,767!!) and it was almost all Melbourne fans. SO COOL. Amazing atmosphere.
Melbourne played very well at parts, and not so well at other parts, but thankfully Geelong played bad the whole time, so we won. 75-46.
*The race is what they call the tunnel that goes from the change rooms to the field where the players run out. I have no idea why it's called this and I can't find any evidence of it on the internet. It is really really hard to Google, haha.
SEMI FINAL – Melbourne Demons vs Hawthorn Hawks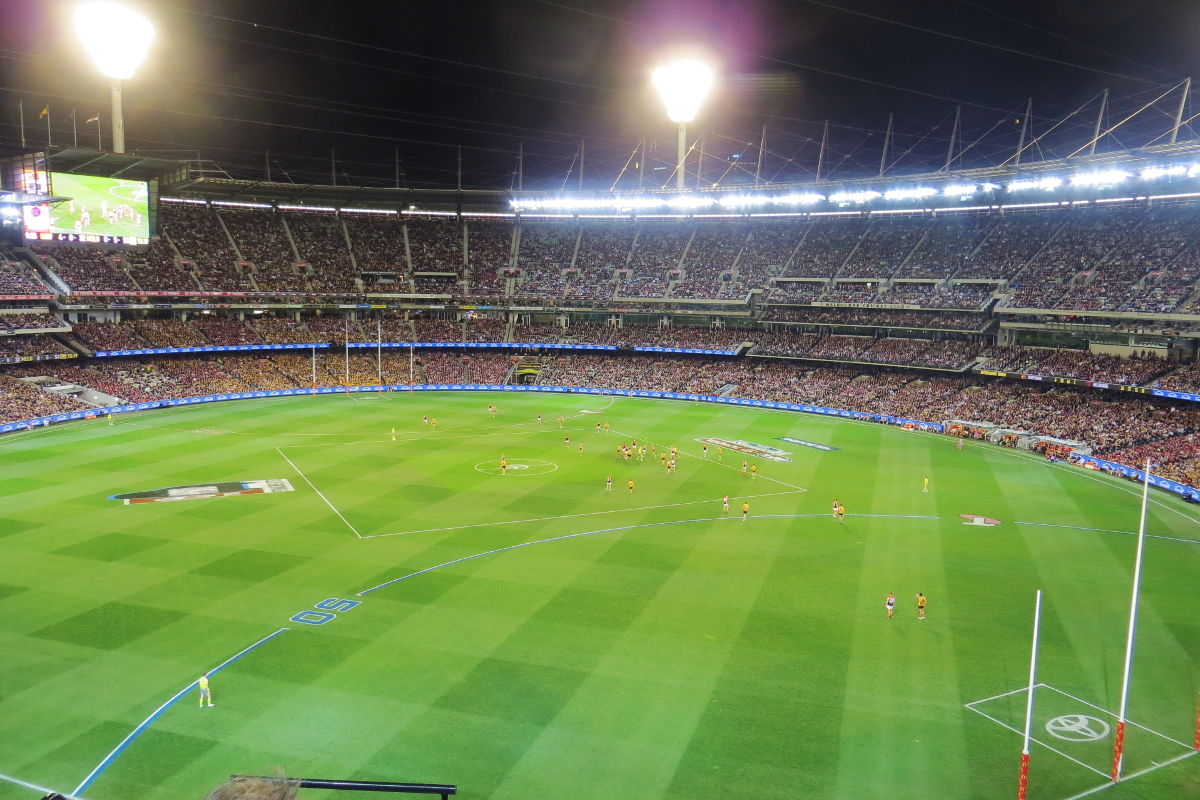 Round 2! This time Scott could come. He did very well at getting online right when tickets went on sale and we managed to get seats fairly close to the front of the upper level. Not quite the same as the week before but still good.
Again, a 90,000+ crowd. Bit more opposition supporters this time but I would say it was still majority Melbourne. I think because it was the first time Melbourne had made the finals in so long everyone was really trying hard to get to the games.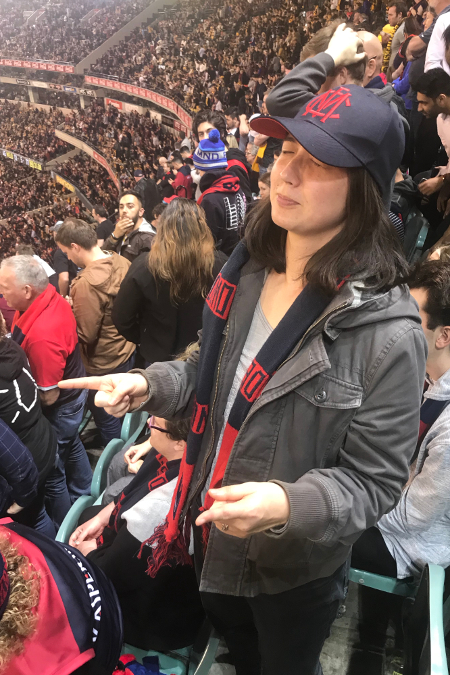 Maybe you already saw Scott's photo series on Facebook, haha. This is what the goal umpires do when there is a goal. If it's a behind then they only do one arm.
Melbourne played very well again. They kicked a bit more accurately than the week before and they tackled hard. Besides a stressful Hawthorn mini-comeback at the beginning of the fourth quarter, Melbourne was just pulling further and further ahead. Melbourne won 104-71.
PRELIMINARY FINAL – Melbourne Demons vs West Coast Eagles
No pictures because the game was in Perth. I didn't go because plane tickets were $700. Also I was on call.
Let's not talk about this game. ?
Melbourne lost. 121-55. ?
My work department is all either Richmond or Melbourne supporters. Richmond also lost this weekend in spectacular fashion, despite being premiership favourites. It was a sad weekend for the nuclear medicine department.
GRAND FINAL – Collingwood Magpies vs West Coast Eagles
Really not too interested in this. Collingwood is the team that everyone loves to hate, and no one cares about interstate teams. And we were all still a bit sad from the week before.
We did watch the game at home, and it was a good close game… but meh.
Collingwood lost so a lot of people were happy. 79-74.
Footy season over! Bring on cricket! JK.