Like I said before, my long weekend was AWESOME. Originally I was only planning on sliding on Saturday, but (1) I couldn't find a ride home and (2) a guy in the club (that Rosemarie is already friends with) said we could stay at his cabin at Whistler for free, so I ended up staying for the Sunday session as well. That meant I had to do MEGA HOMEWORK all day Friday. Worth it.
SKELETON WAS SUPER AWESOME.
We all met up with our coach (he is from Latvia) and he picked out sleds for us and we got helmets. We changed into our tightest clothes and then eagerly awaited instructions. None came. We all get in the truck and get a ride to the Maple Leaf start (at curve 11 out of 16) and eagerly await instruction. Still nothing. Time for the first run. He tells us "Just go! Do nothing! It steers itself!" Okeedoke.
Sam goes down first and thirty seconds later we hear his speed. NINETY ONE KM/H!!! Whoa that was way faster than I expected. Anyway quick quick quick we get lined up as soon as the person before leaves and next thing I know I'm lying on my stomach about to get pushed down the ice slide.
EEEEE IT WAS FUN! So fast! G FORCES! AGAIN AGAIN AGAIN!
We got to do 5 runs each the first day, and my top speed was 95.4 km/h. I was the speediest in our group hehe (not counting the club girl who has been doing it for a year now).
The way to succeed seems to be just being relaxed, focused, with your shoulders down and your face as close to the ice as you can (my chin guard scraped the ice a few times). The bottom straightaway was the hardest part, because once you start going crooked you kind of ricochet off the sides worse and worse each time. A little painful.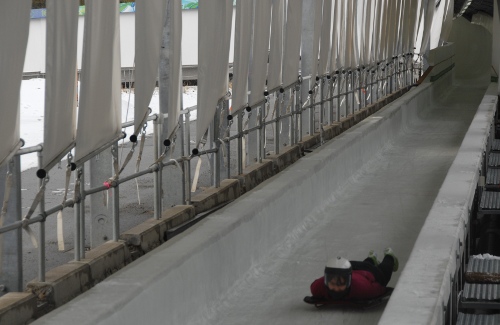 Fun fun fun. I've got more pictures but it's time for relaxation time before trying to sleep. This is a tough week. Part II to come soon.