Rosemarie here!
My dad, Kate and I decided to go to the cottage for the Victoria Day weekend. I spent a lot of time putting together a 1000 piece puzzle of Ottawa. So far we have put together the Museum of Nature, the Glebe community centre and part of the canal. It is pretty neat being able to put together things you recognize!
We also spent some time splitting logs. The effort required for this task has decreased from 'lots of effort' down to 'almost no effort' because of my Dad's new purchase…THE LOG SPLITTER.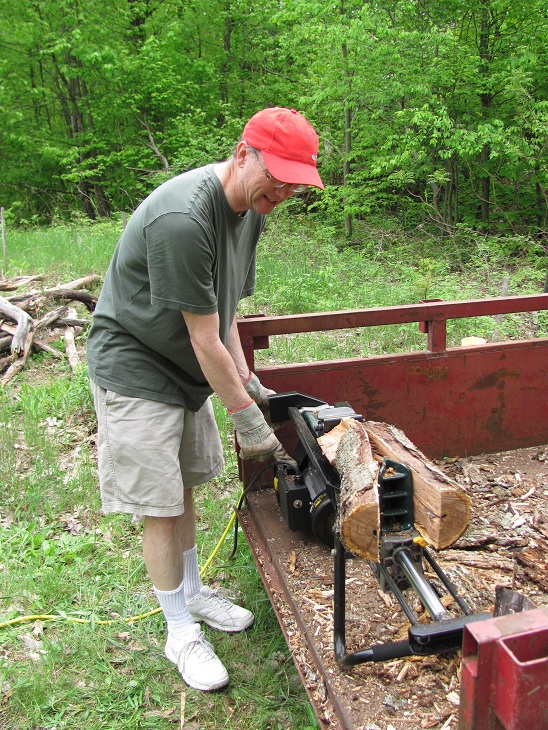 You put the log in, press the button, pull the lever and then the logs crack into pieces! It even works with logs that are more than a foot wide.
I am a few weeks into my summer job at StatsCan. My official title is (lots of big words coming) a Dissemination Officer in the Infrastructure section of the Service Industries Division. In other words, my supervisor assembles all the publications and writes all the press releases when they want to release the results of a survey our division did. I do things like making deadline schedules, contact lists,  preparing press releases templates and making PowerPoint presentations. My new best friend is Excel!
Not much else is new; I've been busy catching up with friends, visiting with family, visiting Bell and cooking. Cooking highlights include pork vindaloo (too spicy! makes my stomach lining hurt), coconut shrimp green curry (yum!!!!), sushi (tuna, crab and yam), creamy ham and tomato pasta (sodium overload!!), garlic and parsely hummus (MY-MOUTH-IS-ON-FIRE), tacos and waffles with peanut butter.
Kate made falafels on the weekend…I HAVE NEVER TASTED ANYTHING MORE DELICIOUS. Mmmmmm. Who needs lunch meat when you have falafels??!!!
Dylan and I also saw POM Wonderful Presents: The Greatest Movie Ever Sold which was pretty entertaining. It is a Morgan Spurlock documentary similar to Super Size Me, but about product placement in movies. Definitely worth a DVD watch!
Is anyone coming back from BC soon? My ambrosia apple supply is reaching critical levels. (I'm joking….sort of)