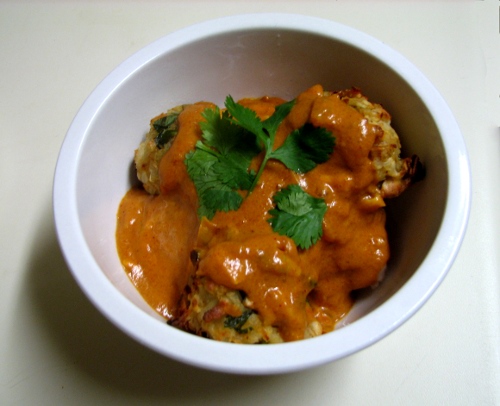 Did I post about this meal yet? I think I forgot.
I made this healthier malai kofta a while ago and it was really yummy. It's basically balls made of paneer (Indian cheese) and shredded potato, plus some spices, in a creamy tomato sauce. We ate it over rice, which you can't see in the picture. Usually you would deep fry the balls, but for this recipe you just bake them. They crisped up nice in the oven and were really really tasty. I didn't put raisins in because I don't like raisins that much. I ended up just mixing the cashews right in with the other ingredients because it was too hard to seal them in the inside of the balls. The sauce was really nice, probably thanks to the evaporated milk. As usual, I only added the spices I already had.
A+, would cook again!!