I tried a new recipe the other day, another thing I found on Pinterest. Homemade Peppermint Patties. It was a pretty easy recipe, with pretty normal ingredients that I mostly had already. I didn't have (or know what is) shortening so I just used cold butter, and that worked perfectly fine. They taste great, but I have zero skills in chocolate coatings so they look a little rough. Need practice. Here is my slightly adapted recipe.
Yield: 24 patties
2.5 cups icing sugar
1.5 tbsp corn syrup
1.5 tbsp water
0.5 tsp peppermint extract
1 tbsp cold butter
1 cup semi-sweet chocolate
2 tbsp butter
splash of milk
Mix the icing sugar, corn syrup, water, peppermint extract and cold butter in a bowl. I smushed the butter with a wooden spoon until it was in pretty small pieces, although it's not important to get it totally totally mixed in. It should be a crumbly mixture.
Then dump it out on the counter and knead it until it makes a nice smooth white blob. Sprinkle icing sugar on the counter if it is sticking.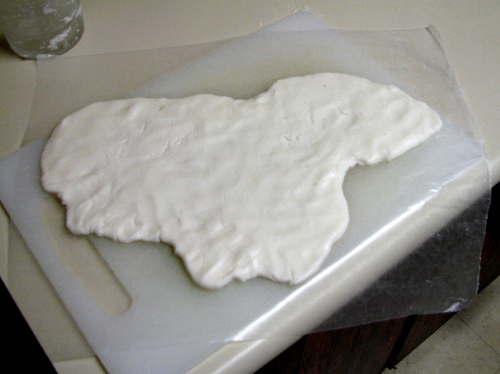 Roll/press it out on wax paper to about 1/4″ thick and put it in the freezer for 10 minutes.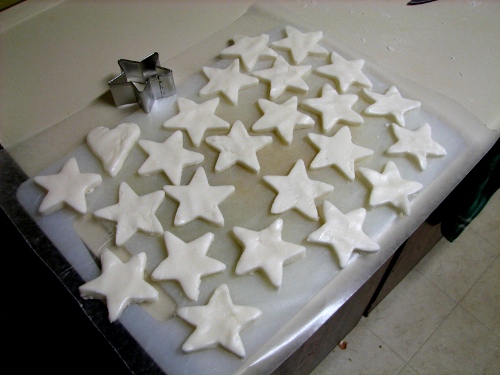 Use a cookie cutter to cut out shapes. I highly recommend just using a simple circle shape. I didn't have that so I used my star cutter, but it made it hard to coat in chocolate later, so I wouldn't do that again. Put your cutouts on wax paper and then put it back in the freezer for 10 minutes.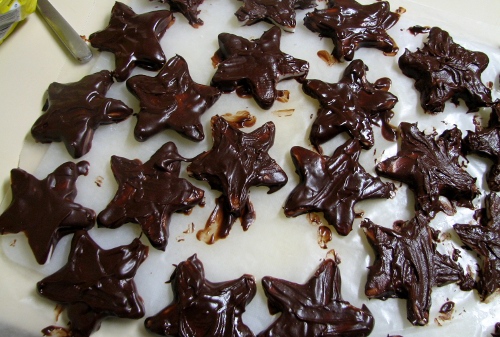 Melt your chocolate, butter and a splash of milk if necessary in a metal bowl over a pot of boiling water. Dip your minty pieces in the chocolate, lay on wax paper and put back in freezer for another 20 minutes to firm up. Store in fridge.
As you can see, my chocolate skills are kind of lacking. My second batch of chocolate seized up. Ugh. Also the mint parts warm up when you put them in the chocolate and some of them broke. Circles would be a lot easier.