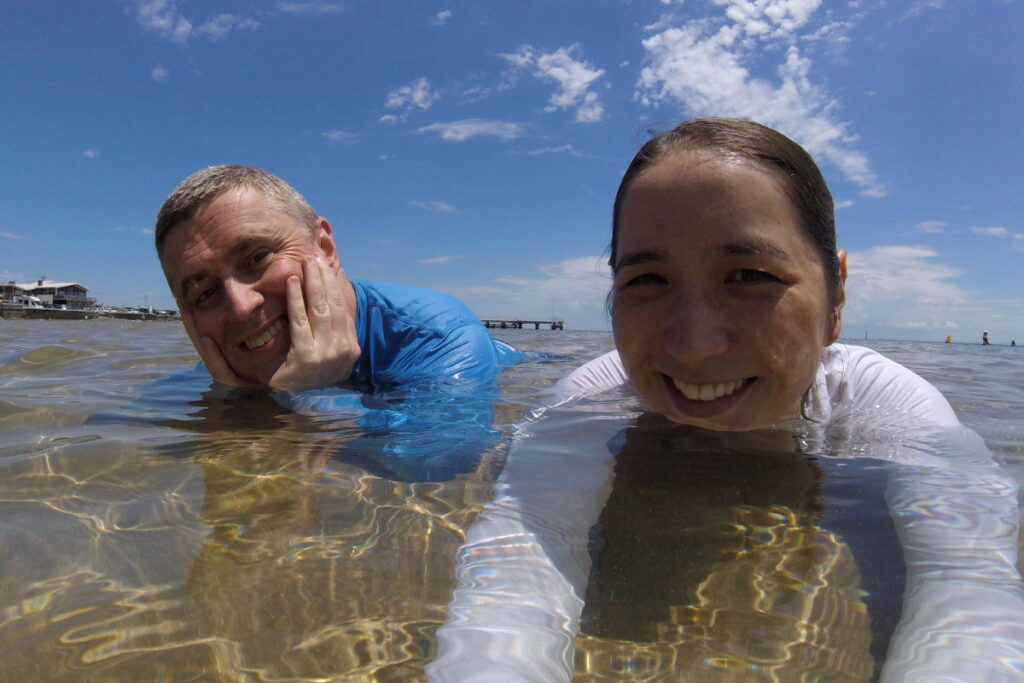 Traditional New Years Day dip in the ocean. Beautiful day this year. And not too busy, probably because a nearby restaurant was deemed a covid hot spot a couple days before.
Ben Folds with Melbourne Symphony Orchestra. This concert was supposed to happen March 2020! Luckily Ben just stayed in Australia the whole year so we still got to see him, eventually! We got REALLY good seats. The website wasn't working during pre-sale so Scott tried calling the box office and he got second/third row! (They only used every second row of the theatre and also put two empty seats between each group, so everyone was suuuuper spread out.)
The orchestra was very cool. So much to look at and listen to. Ben was chatty like usual. The singalong songs didn't work very well though with so few people.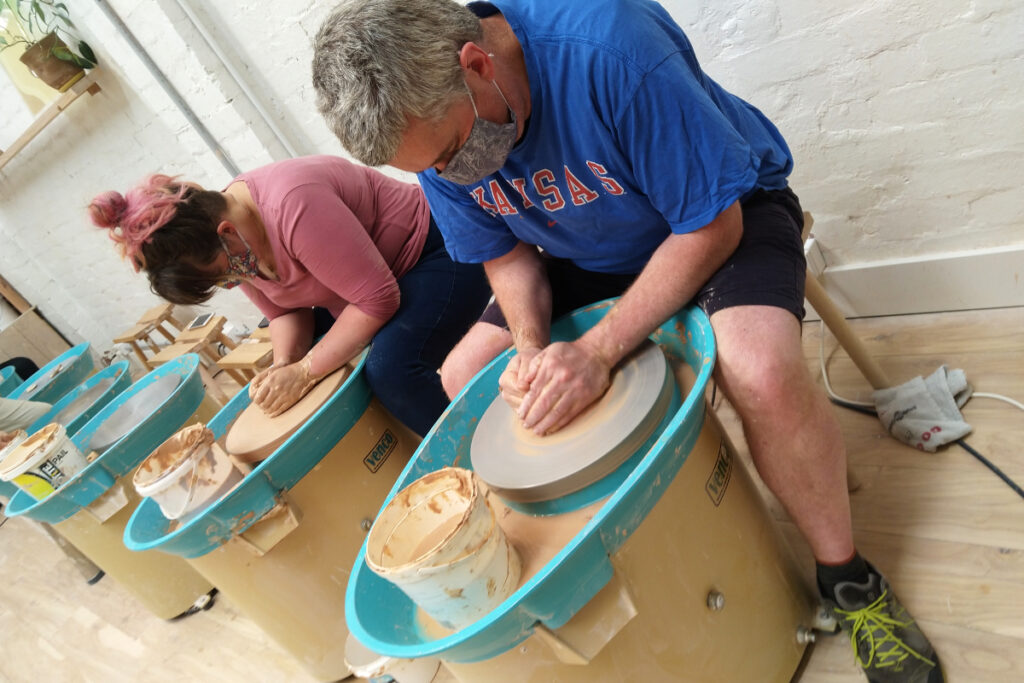 January SMAJ was an intro to pottery class. Jemma came too. It was very fun! And challenging! Scott was the best at it, he made a bowl and a cup. I made two soy sauce dishes and Jemma made a bowl type dish.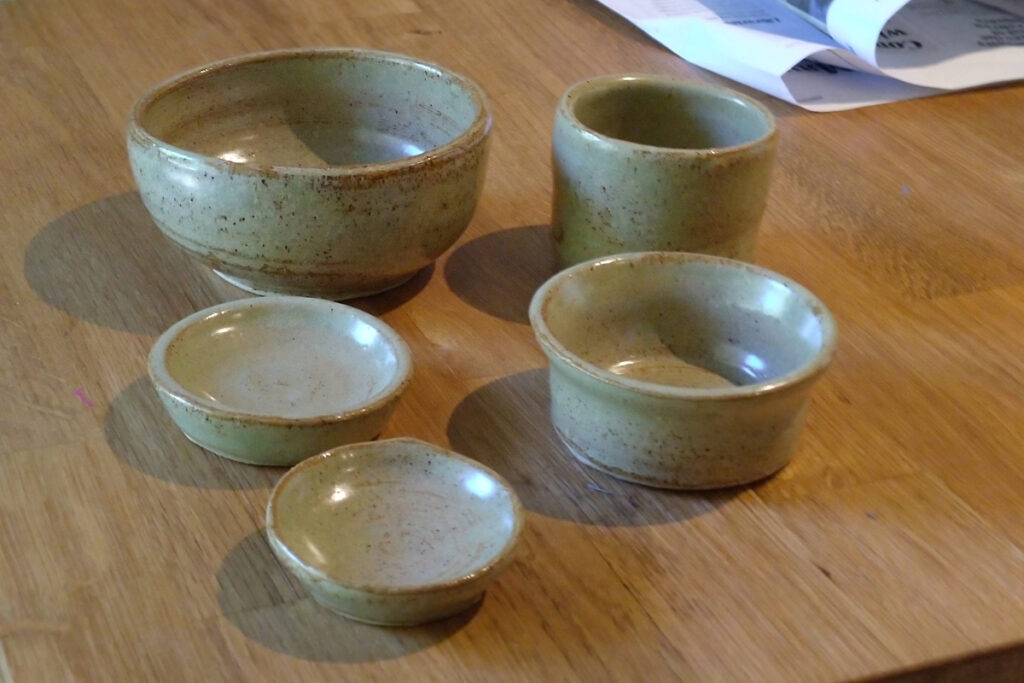 I actually got to go pick them up this weekend. I was super surprised at how much they shrank, everything is so tiny. Scott and I have signed up for a 6 week term so there will be more, hopefully larger, pottery coming in the future!
I went to a crafternoon with my new internet friends (some overlap with old internet friends) and got Ash to re-teach me how to join granny squares together. After literally years of procrastinating, I finally attached all the squares that Scott and I made into an actual blanket shape. I plan on putting a black border around it, but that will be a winter project as it's not pleasant to crochet in summer.
Unpictured:
I went to another meetup with those internet friends at a bowls club and tried lawn bowling for the first time. I wasn't great at it, but it was a fun activity. It was nice to meet some new people, and see my old trivia friends again after over a year.
Speaking of bowls, Scott has gotten very involved with our local bowls club. He's played in a few games now and they've won every one!
He is also back playing basketball, and doing hockey lessons, and subbing for futsal every once and a while. I'm glad he's having fun outside the house and also I'm enjoying my Katrina-time.
I did a weightlifting competition around Australia Day. I was worried that I used up all my PBs at the Christmas comp only a few weeks before, but still managed to get a solid snatch PB and maintain the same total.
A bunch of the weightlifting ladies went out for drinks that evening and I had more drinks in one night than I've had in the last six months combined lol. (Four.) Interesting how easy it is to slip right back into old habits, especially with things like HAPPY HOUR! It was a fun night even if it took 2 nights to get my overnight recovery levels back to normal.
We went to the pool on a hot day and I got a bathing suit tan after 5pm. Insane.
We did one of MEPs online Rotary trivia events with Rose and dad, and Scott and I won!! We won movie vouchers… which we sent on to dad.
I went down to 4 days a week at work and it is GREAT. I truly love it.
Couple family meals/visits with Scott's parents and nana.
Oh yeah Melbourne had a Snap Lockdown for 5 days because of some covid cases that got out of hotel quarantine. They put us right back on to the strictest lockdown level where you only got 2 hours of outdoor time, 5km radius, can only leave the house for 4 reasons, everything non-essential shut, etc. I didn't have much planned that weekend anyway, and still went to work, so it didn't affect me that much other than having to do a few training sessions back in the garage, but Scott had a few things cancelled. And it sure ruined poor Jill's trip to Melbourne.
It worked though, we never had more than ~6 new cases/day and it all cleared up within a few more days. We've been back down to 0 cases/day for a while now, and the active cases are pretty much gone again, so we can go about life without having to worry too much.
PS curling >>> lawn bowls