Sigh, I really wanted to take pictures of our apartment/art today but it's really grey and gross outside and that means our apartment is extra extra dark inside. It's already very dark on a normal day, so now it's like a cave. The lack of light may be my biggest complaint about this place. I really like all the big trees and flowers and plants around our building, but bye bye sunlight.
Instead I will leave you with two Katrina recipes.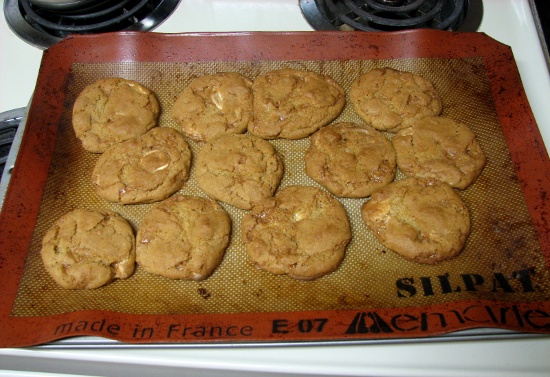 Katrina's Modified NY Times Cookies
My new go-to cookie recipe. The recipe is a bit picky, but you should have seen the original! I simplified it in a few different ways and think that these are still REALLY good, and quite a bit easier. You do have to plan ahead for them though, as they need to sit in the refrigerator for 3+ hours. They're worth it though!
I like this recipe because the cookies turn out soft and chewy, and they don't spread as much as Fannie Farmer cookies. I guess they look pretty humongous in the picture above but they're not! Our oven is really tiny, we even had to buy a new smaller baking pan because the old one couldn't fit. You can see that our silicone mat is too big now. :(
Yield: 50 cookies! This recipe can be halved fairly easily.
Time: 15 minutes of prep, 3+ hours of waiting! 15 minutes baking time.
INGREDIENTS
3 1/2 cups all purpose flour
1 1/4 tsp baking soda
1 1/2 tsp baking powder
1 1/2 tsp course salt
1 1/4 cups butter
1 1/4 cups brown sugar
1 cup + 2 tbsp white sugar
2 eggs
2 tsp vanilla
chocolate chips/disks (white, milk, semi-sweet etc), skor pieces, as many as you prefer
INSTRUCTIONS
Whisk together the flour, baking soda, baking powder, and course salt. Set aside.
In a separate bowl cream together the butter and sugars. I don't have a mixer so I soften the butter a bit in the microwave.
Stir in the eggs and vanilla.
Add in the flour mixture. I do it in several phases to minimize mess, since this recipe makes quite a lot of dough.
Add in your chocolates chips/disks and candy pieces
Cover the top of the bowl and put it in the fridge for 3-4 hours.
Preheat oven to 350º F. Pry of chunks of dough and roll into 1″ diameter balls and bake for 15 minutes.
—————————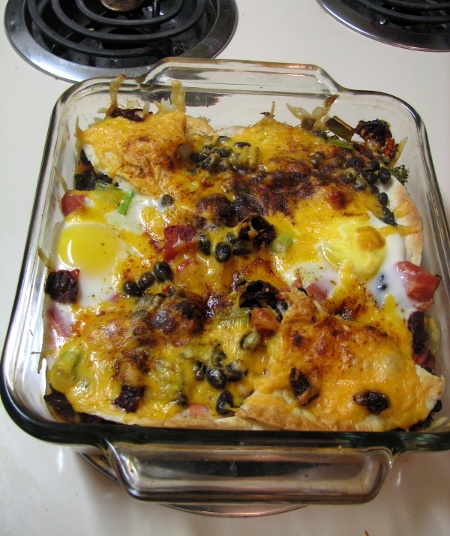 Ummmm… Mexican THING
This monstrosity is what happens when it is my turn to cook. Hehe.
Layered from bottom to top: diced tomatoes, tortilla, black beans, tortilla, cheese, chipotle peppers and sauce, diced tomato, tortilla, cheese, green onions, and two eggs cracked on top. Basically whatever you ingredients you like.
Bake for 20 minutes. Top with a bit of sour cream and some sliced avocado.