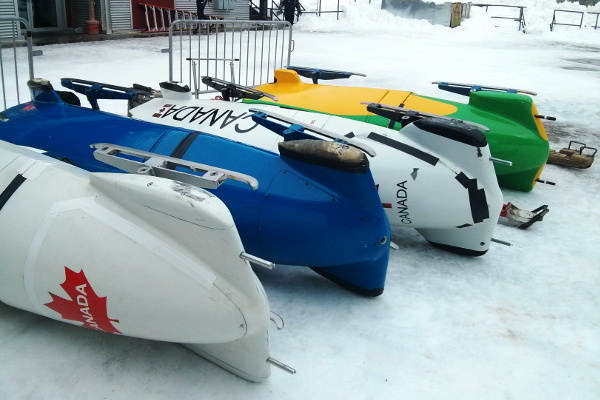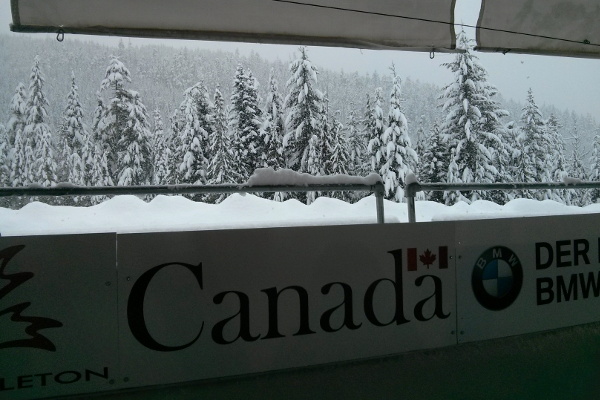 I spent all last week in Whistler volunteering at the IBSF World Cup races as an official. There were three days of official training, and five races (W-skele, M-skele, W-bob and 2M-bob (x2)) over two days. It was really tiring (I spent 48 hours at the track in five days!) but it was also really fun and cool.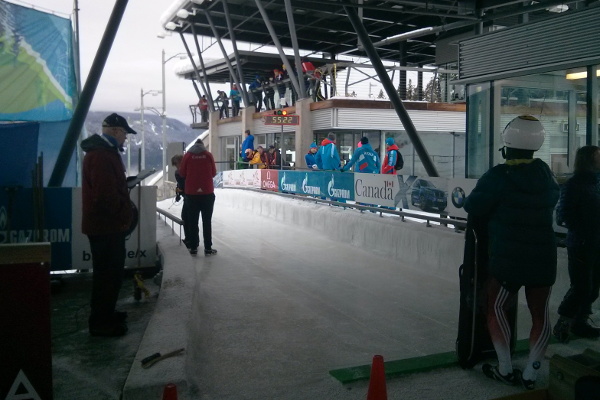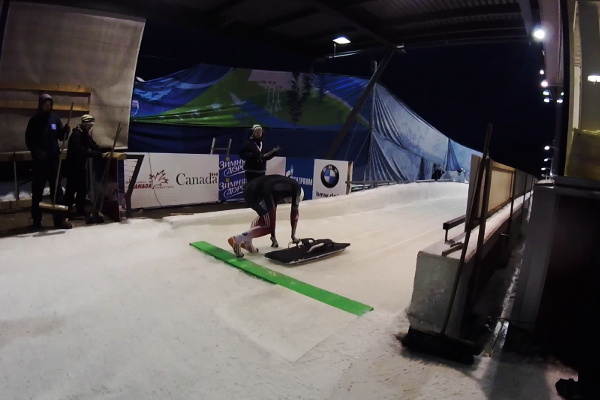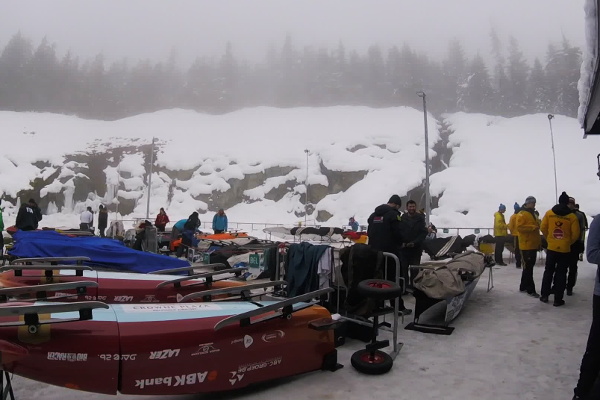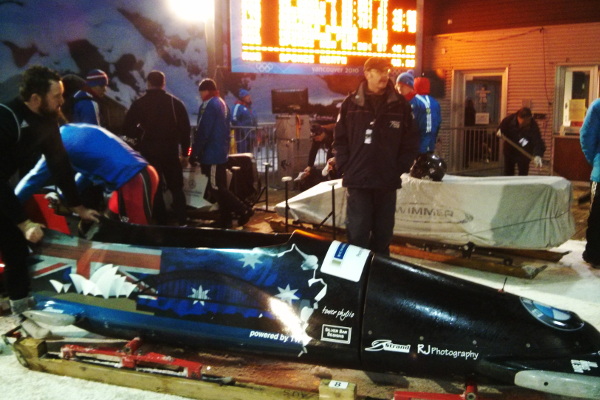 I did a lot of temperature taking, runner wiping, sled marshalling, bobsleigh weighing, icebox timing, scabbard heaving, and many more behind-the-scenes tasks. In between I got to watch a lot of the action and hang out with friends. No cheering though! Officials are neutral.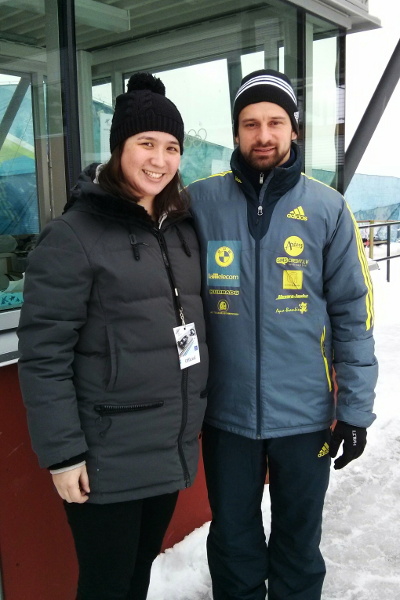 Me and Martins Dukurs! The Usain Bolt of skeleton. He has won 6 out of 6 of the races so far this year, and is on track to win his 7th World Cup title in a row. He has something like 50 World Cup gold medals in his trophy collection. Basically he is my (and everyone else's) hero.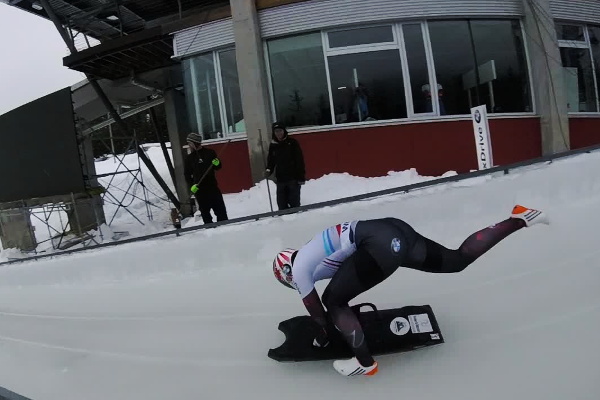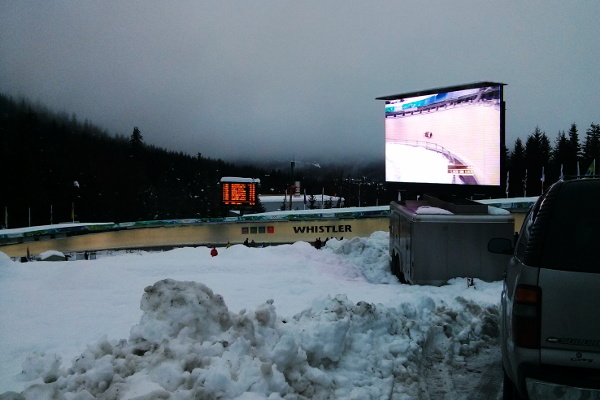 Women's skeleton! I got to do one of the pre-race jobs so that during the race I could actually watch. I started up top, so I could watch one of Jane Channell's famous extra speedy starts, and then slowly walked down to the bottom watching a person or two go by at every corner. Normally the whole track isn't open like that so it was cool to watch people's lines through some of the upper corners.
I watched the last bit at the bottom right beside the finish line where (some) girls were smashing into the wall extremely hard (like me).
Tina Hermann smashed the hardest and she won… so I guess it is a "good" line. Jane came 4th, after setting a new start record.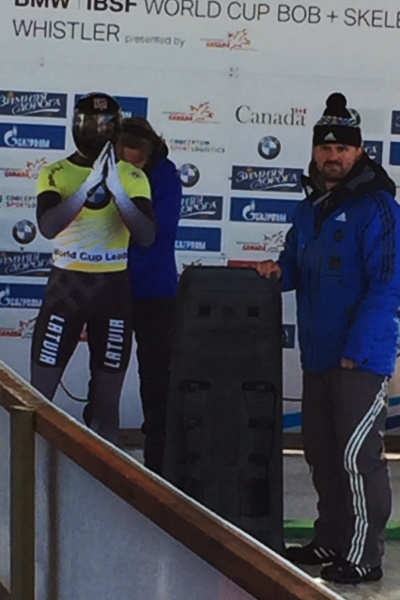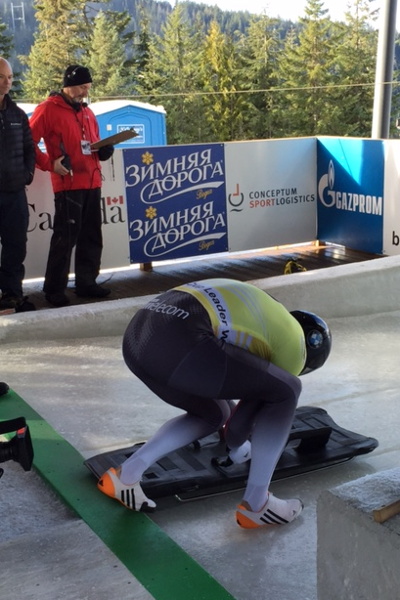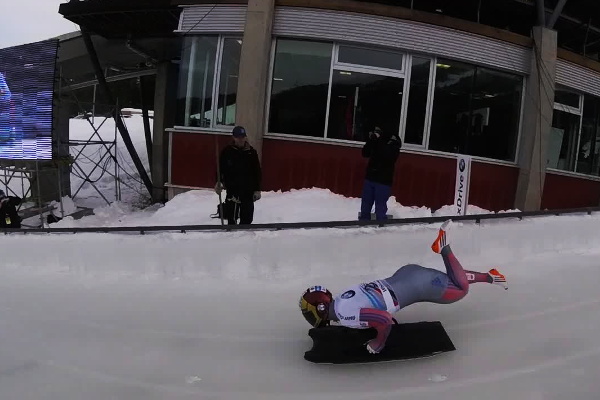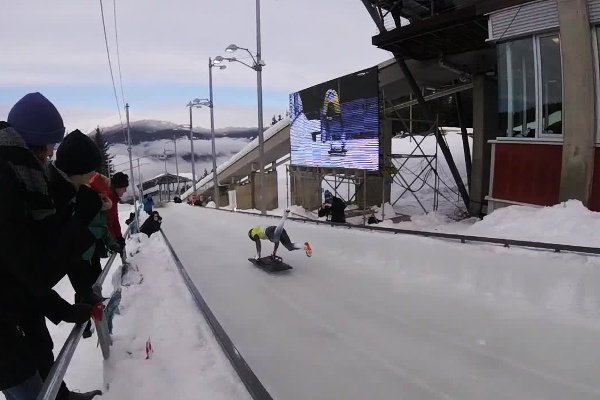 Men's skeleton! Again, I finished up my tasks early so I could watch the race. Scott, Rosemarie and Liz came up to meet me too. It was SO COOL seeing all the ultra fast guys run. Some of them can run soooo far!!
Martins hadn't had much luck in Whistler in the past, he lost the last World Cup in 2012 to a German, and lost the Olympics in 2010 to Jon Montgomery. All through training he hadn't really been doing that well, so I actually started to doubt whether he could keep up his gold streak.
Buuuut… that was foolish, because as usual he blew everyone away. He even set a new track record on his first run. His brother Tomass set a new new one in his second run, but Martins still had enough of a lead to stay in first. Good day for the Dukurs family!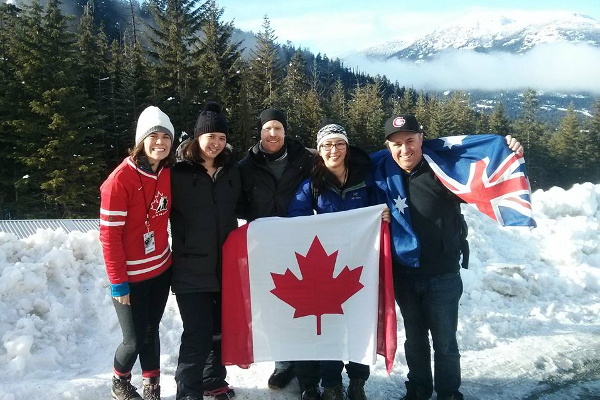 Jon Montgomery was there, watching. He held the track record since the Olympics until that day! Nice guy. I asked him if it was weird for him to be there not as an athlete and he said it was just nice to not have to deal with the pressure.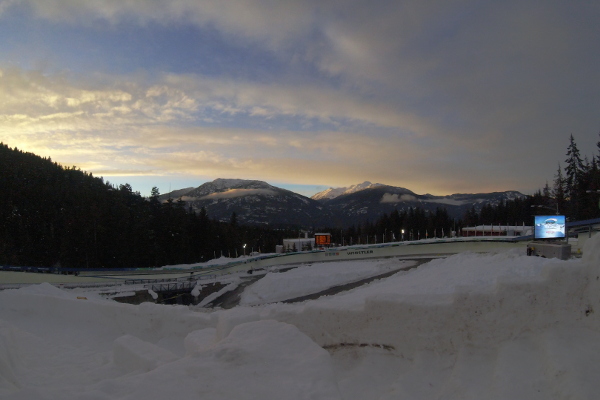 Sunset view on a mini break to the icebar and VIP tent with the volunteer crew. So pretty. So needed at that point. Rosemarie and Liz got to go in too since they did some volunteering for guest services too. :)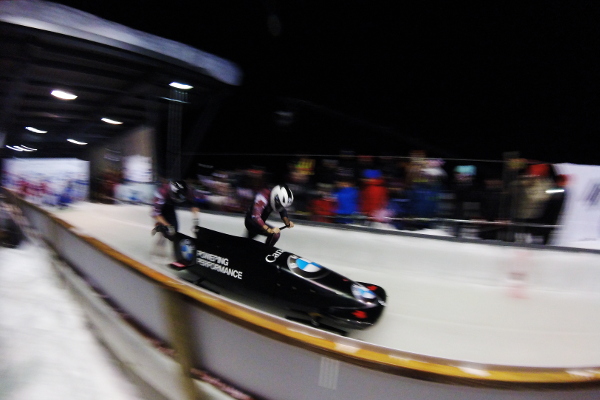 The bobsleigh races were hella exciting. Super duper close races, track records galore, crashes, the atmosphere up top, holy moly it was awesome. I was "working" but still managed to somewhat follow what was going on.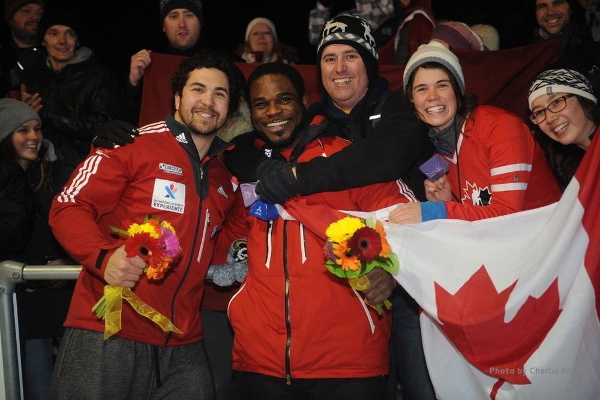 Photo by Charlie Booker.
Scott, Rosemarie and Liz had a blast cheering and hanging out at the finish with the bobsleigh guys. They all had raspy voices from screaming so much. GO GO GO GO GO! That's Chris Spring and Lascelles Brown (who Scott is hugging hahahaha) who won gold for Canada!
Then afterwards Scott and I went out to the Longhorn for the afterparty with all the other officials (and a lot of the athletes). Scott talked to a lot of them. I am too shy. He got an awesome terrible picture with Martins where Scott looks like this :D and Martins looks like this >:( hahaha. Fun times.