When I was in Calgary I stayed part of the time at my teammates' girlfriends' parents' place (holy apostrophe) and part of the time with my friend Ally and her hb (from my university days in Halifax!). Couch surfing like that saved me a ton of money and also it was fun. It's always enjoyable catching up with awesome people that you haven't seen in a while.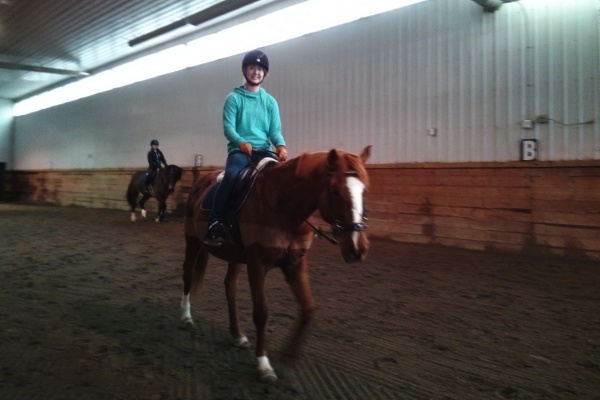 Ally took me to her barn and I got to ride her horse! Actually that is not her horse in the picture above though, that is her friends' horse. We swapped for a bit because I couldn't get Ruffino to go anywhere that I wanted him to, haha. I had a lot of fun riding around. I think the last time I had been on a horse was in Girl Guides.
Lesley came to Calgary for a few of the days that I was there too. Ally took all of us to Peter's Drive In where we all got cheeseburgers and milkshakes and an ENORMOUS bag of fries. It was very tasty, and very reasonably priced.
The extreme Olympic watching carried over from Ottawa to Calgary. Ally even had a 5AM hockey party at her house. I slept through the first ten minutes but smelled bacon cooking so I got up to watch too. Having a morning party is pretty cool because breakfast makes great party food.
I went out with Matt's friends one night in the city. We went to The Unicorn for dinner and a couple drinks. I had perogies and kielbasa that was pretty decent. I was super nervous about riding the train around downtown with no tickets but 2 days later I found out that it is free, hahahaha.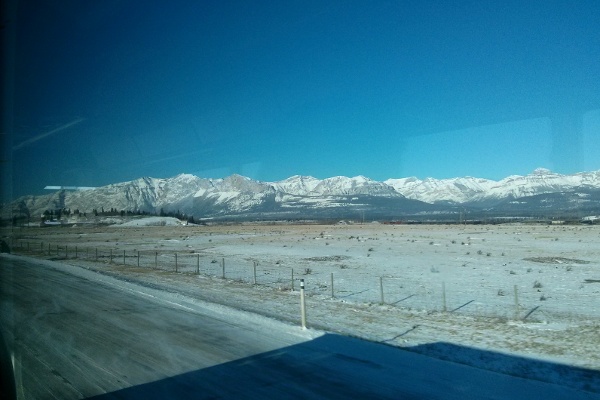 Then it was finally time to catch the bus back to Vancouver. It was 16 hours but it was cheap ($49 including taxes). I've never been through that part of Canada so I picked a bus that left in the daytime. The weather was perfect and it was a very beautiful drive. My butt did start to hurt a lot by the time I got back to Kamloops though.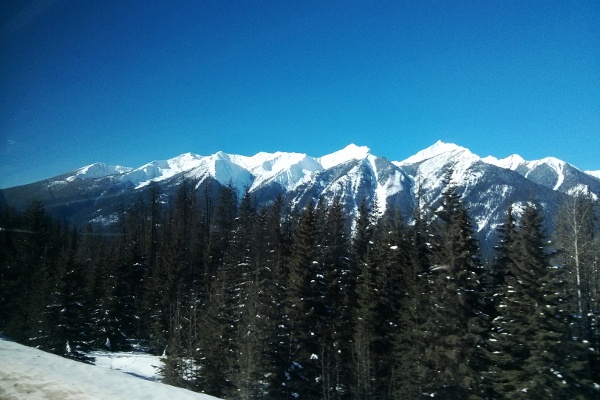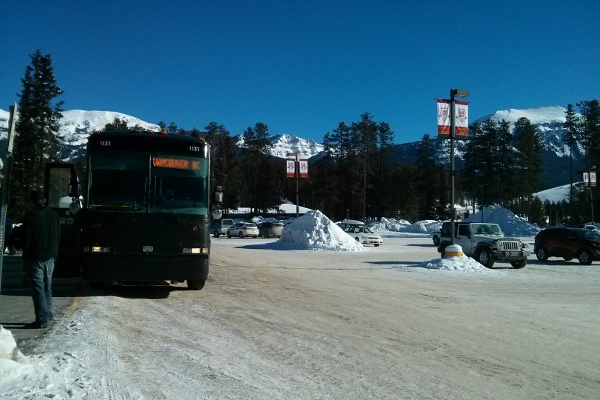 Canmore seemed really pretty. Is Canmore the Squamish of Alberta?
Also I have never seen so much snow as I did around Revelstoke!!! I'm from Ontario but still, oh my word there was so much snow. A meter tall column of snow perched on top of a tiny phone pole??! HAHA! More on the ground. Avalanche piles everywhere. Snowbanks as tall as the bus! Those snow shed tunnel thingies were interesting too. SO MUCH SNOW!!!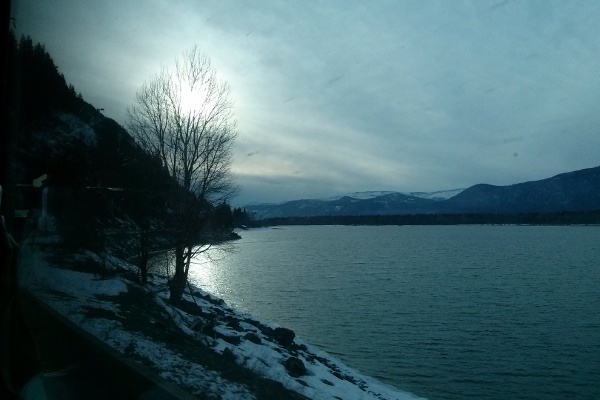 I think this was Shuswap Lake. It looked COLD.
The only really bad part of the bus ride was the dinner stop in Kamloops. By that point I was super sick of all my bus snacks that I brought and just wanted something with some vegetables in it for dinner. I didn't have high expectations, even a McDonalds salad would have done the trick. From the bus stop I could see a ton of decent fast food options, but they were JUST far enough that you wouldn't have time to walk there and get food and walk back in time. Especially because I wasted a few precious minutes using the washroom. Blergh. Torture. The bus stop restaurant actually had zero vegetable items. Unless you count green jello, cuz they had that.
But yeah that was the only bad part. I think I would take the bus again, if it was still so cheap and I still had a whole day to waste. Buses have internet and plugs on them now so it's not even that boring.