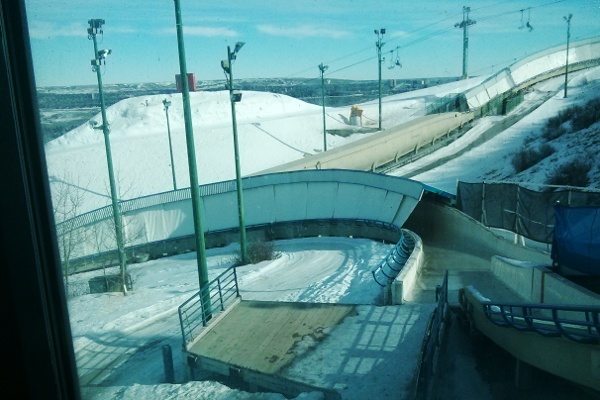 Last last week I was lucky enough to be able to take part of Can-Am week at the COP in Calgary. It was a week intended to give extra coaching and training to new sliders. That being said, Matt and I were definitely the most new out of everyone. Most of the other people had been sliding for a couple years and already had experience on a bunch of different tracks, or at least had a lot of experience on the Calgary track. There were a few guys from USA, a few from Ontario, a whole bunch of people from Alberta, and the four of us from BC.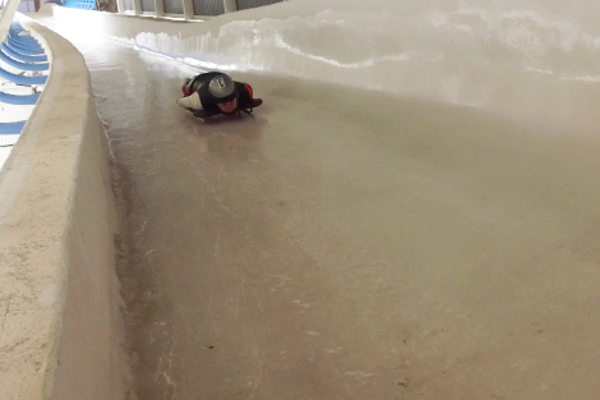 The Calgary track is not near as fast as Whistler. But it does have its own challenges. The main one for us was that it is REALLY REALLY BUMPY. Also really really dirty. Because it is so close to the city a lot of dirt blows in. Also the track workers just aren't as awesome as at Whistler. We are so spoiled at Whistler. There was bird poo frozen onto the track, and also sawdust? Yuck.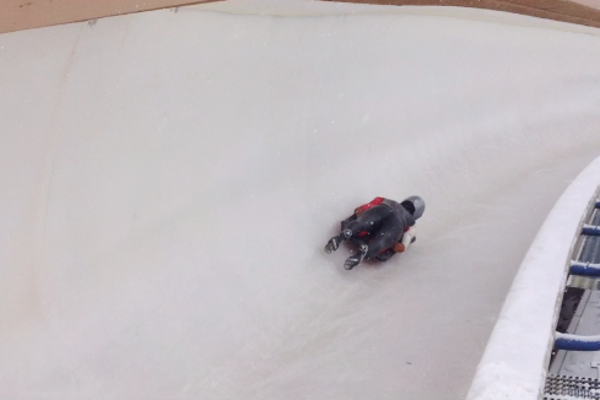 ANYWAY because it wasn't so fast we were able to start from the top on our second run! This meant doing my first ever running start!! (My skeleton/life goal for this season!) The first few runs I did two-handed "running" starts (really I was pretty much walking). Fun! Later we had a couple sessions in the icehouse (an indoor push track practice thingy) where Ivo helped us work on our real one-handed running starts. It did help a lot but I will admit I still pushed somewhat tentatively on the real track because I was terrified of popping the groove and also crashing. PS you can see a video of me doing a running start on my Facebook wall.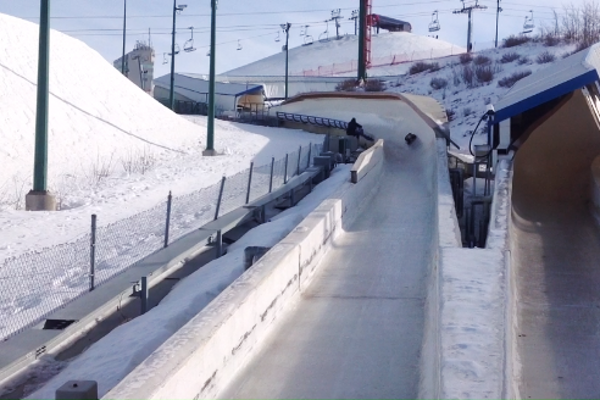 The best part of the week was that there were always at least 3 coaches watching our runs. One coach even took videos. Then after each run they would come give us feedback on how we did and how we can improve. Very cool and very helpful. A lot of the pictures in this post are stills from the videos.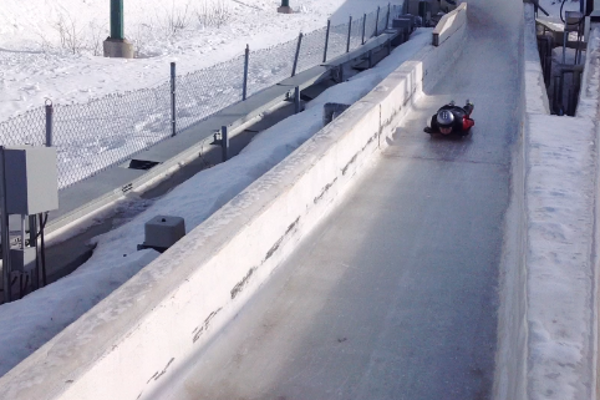 Like I said, the track is not super hard. There are only two parts that I had to worry about. 1) corner 8, which has the potential to flip you over if you go into it too late. I came close to flipping but managed to stay right-side-up the entire week. And 2) the kreisel (a 270 degree corner 3 pressure corner), which I also survived fine. Maybe just because I did "safety steers" though, which helped me but also slowed me down a lot. The fastest speed I got was only 107.9 km/hr!! (The good dudes were getting around 114 km/hr). One time I was NINE SECONDS slower than Mitch. NINE SECONDS!! Was I even on the same track?? I swear there was a short-cut I didn't know about, haha.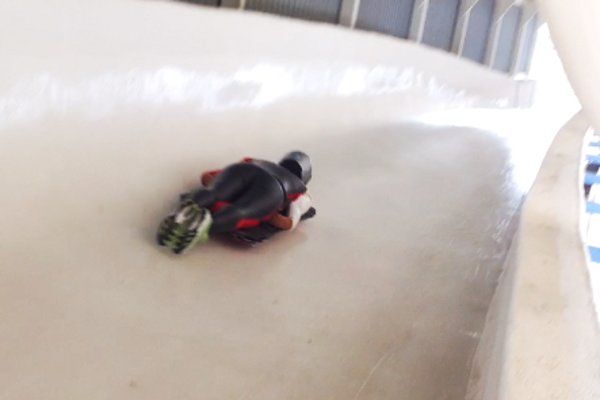 On the last day of the week we had a fun race. I expected I was going to come in last place, and I did, but they were some of my best runs of the whole week so I still felt pretty good. They were my quickest and cleanest runs with my best push times. That's success for me. Also it was really awesome that Lesley was able to come watch, it made me feel supported.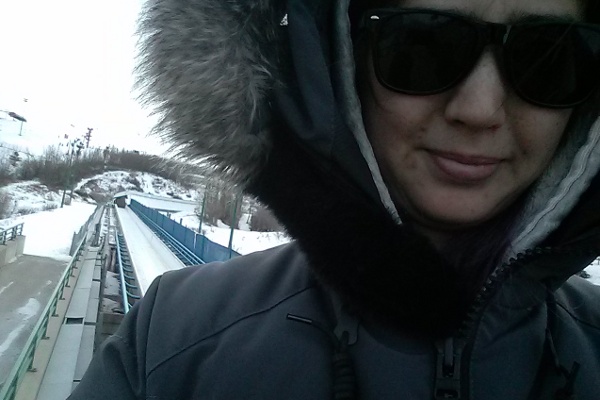 COLD KATRINA.
All in all it was a successful week. I learned SO MUCH. LIKE, SO MUCH. Everything makes a lot more sense now. It was tiring and challenging at times, but also super fun. While it was extremely embarrassing being so bad/new sometimes, the coaches and other sliders were always really encouraging and friendly. I loved meeting other sliders and making new friends. I'm so glad I was given the opportunity to take part in the training week.