I always enjoy the food when I visit America. You just can't get the same stuff for those cheap prices in Canada! The food we had on this trip was awesome. I had a few recommendations written down from several sources (internet friends, New York Times, yelp) and they did not disappoint. Mmmmmmm.
The first day we went in search of Paseo, a Caribbean sandwich shop a little bit out of the downtown area. We had to go to a tourist information center to get instructions on how to get there, then take a bus ride, and then walk up a big hill. But mmmm it was worth it.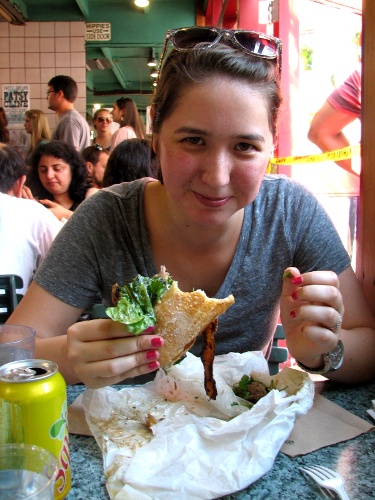 I had their popular Cuban slow-roasted pork shoulder sandwich, with aioli, cilantro, japapenos, lettuce and caramelized onions. It was drippy and moist and SO GOOD. The meat was tender and yummy, the caramalized onions were amazing, and the baguette was tasty. I have no complaints.
Scott had the tofu delight, which was similar but had tofu instead of pork. He liked his too but it was a bit small considering it was the same price as mine (and mine was humongous).
Both of us had sticky hands after eating, it was impossible to keep the sandwiches together.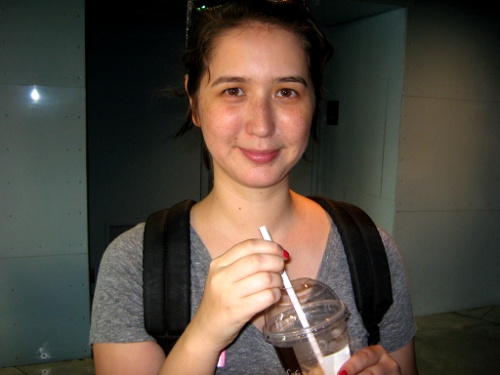 I also tried McDonald's strawberry lemonade that I'd seen on TV but we didn't have in Canada. Verdict: meh. Even though that is basically my favourite drink combination, the strawberry stuff was too sweet and the whole drink was just average. I guess what do I expect from Maccas.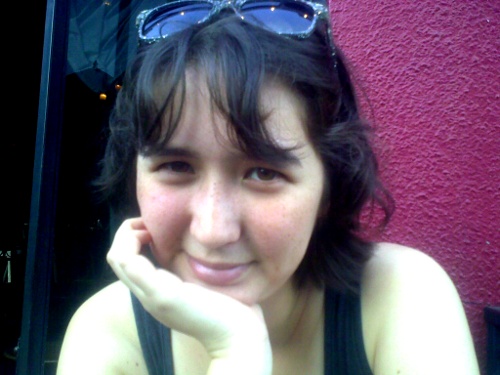 The same day we went out in search of drinks and ended up at Barca, a moody bar in possibly a student area. The music was cool and the patio was good and the drinks were ultra cheap. Awesome.
After getting a bit DRONK we headed off to the Mexican restaurant that Scott had picked (Barrio). It was fancier than either of us had guessed, but mmm delicious.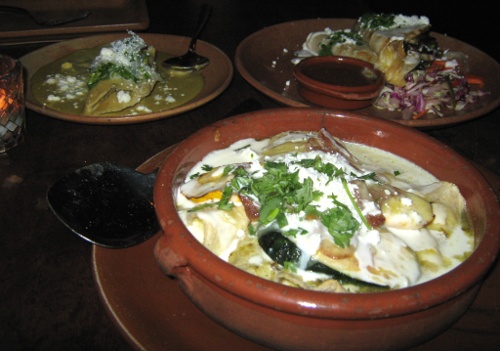 We only ordered two small appetizers and one enchilada plate to share and still ended up with piles of food. In the top left you can see a pork tamale (braised pork in pepita mole, sweet pepper crema, cotija cheese, onion and cilantro, for me, obviously). In the top right is mushroom quesadilla (chipotle roasted portobello mushrooms, oaxaca, jack and cotija cheese, poblano-onion rajas and crema served with pickled vegetables and tomatillo salsa) and then in the foreground is grilled local summer squash enchiladas (with onion-red pepper rajas, jack, oaxaca and cotija cheese and tomatillo sauce).
Everything was super tasty, except for we both thought the corn tortillas were too thick and took away from the tastiness of the dishes.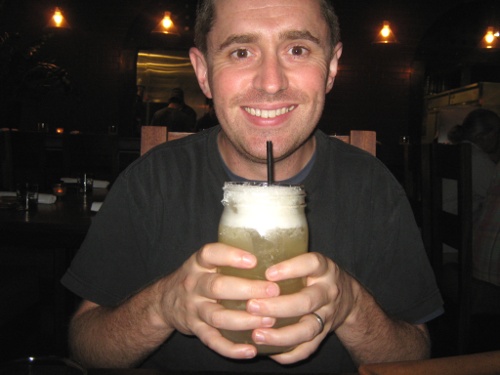 I also had a strawberry margarita and Scott had a margaveza (a ginormous combination of a margeurita and a beer!). He liked it.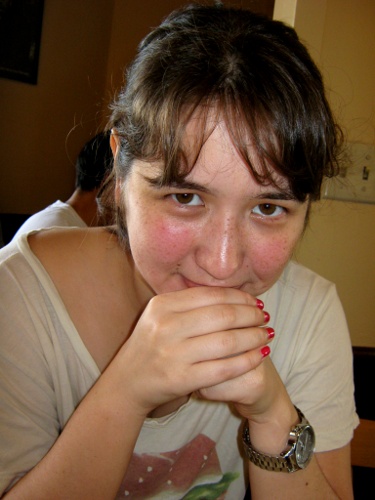 Me with rosy cheeks from walking.
After lazing around for a bit the next morning we headed off for breakfast. The whole walk was uphill, but again, IT WAS WORTH IT. I am still dreaming about this breakfast. We went to Glo's, another recommendation from an internet friend/NYT. It was a small cozy breakfast joint, with a line out the front door.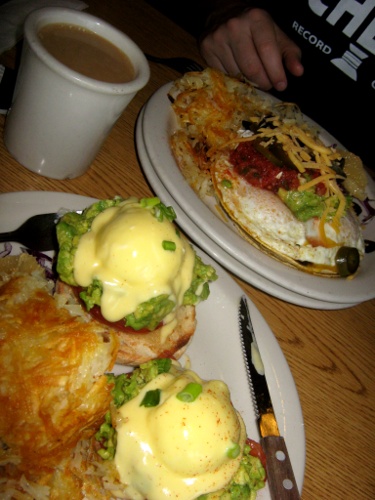 We ordered way too much. I didn't know the dishes were going to be SOOOO big!! We shared the Eggs Californian (avocado, grilled tomato and two poached eggs on English muffins with hollandaise, plus hashbrowns) and the huevos rancheros which I can't find on the menu but basically had eggs, salsa, avocado, tortilas, sour cream, cheese, jalapenos and more, plus hashbrowns.
I'm drooling again just thinking about it. Everything was extremely yummy. We couldn't finish it all, but we did give it a good go. Neither of us even thought about lunch at all, we were so full. Actually I was still kind of full at dinner time, but I knew we should eat something otherwise we'd end up starving on the train.
We ended up getting some light Chinese food near the train station at Ho-Ho Restaurant. Scott had some veggie chow mien and I had wonton soup with a bit of duck in it. Yummy. I don't have any pictures of that.
Well that's pretty much everything we ate over that weekend. All good stuff! The food was definitely one of the best parts of our trip. Now back to my salad….