Last Wednesday Scott and I went to a tasting event in Gastown put on by Vancouver Foodster. We got to try food at eight different restaurants all within a couple blocks downtown. We unintentionally met up with one of Scott's work friends and her bf while waiting in the line. It was great to have some company.
Catch 122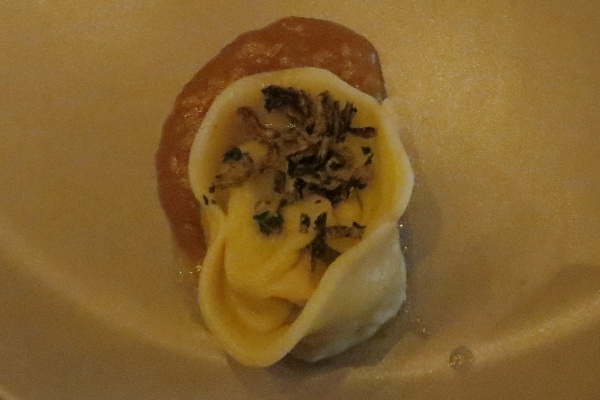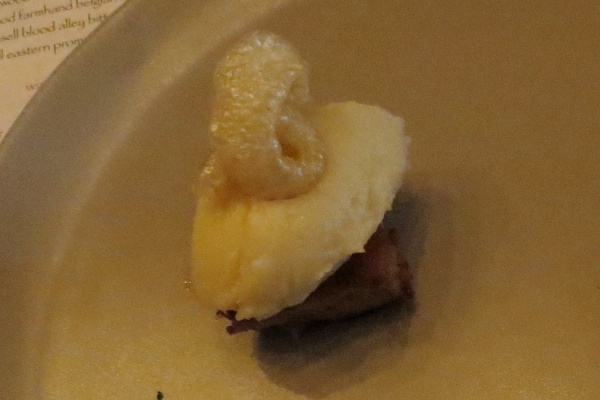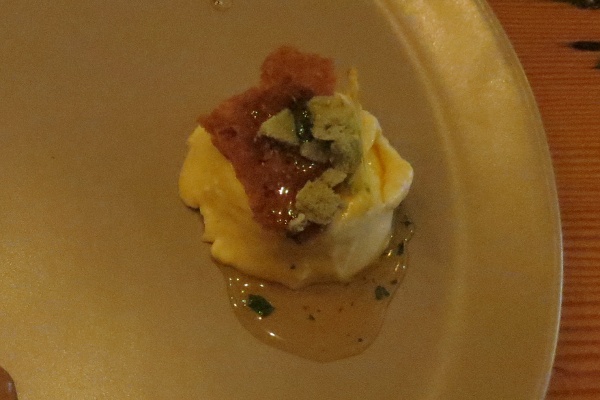 We picked up our food map cards at Catch 122 and stayed to try a housemade tortellini (with cheese, bacon, soubise sauce), pressed confit pork shoulder (with potato and crackling), and krehm broo lay (no idea why it is spelled like that). The tortellini and creme brule were very nice, but I liked the pork the most! It had a great crunch. We all enjoyed the food at this first stop. My dark & stormy was watery and disappointing though, despite house-made ginger beer.
Hives For Humanity @ Hastings Urban Farm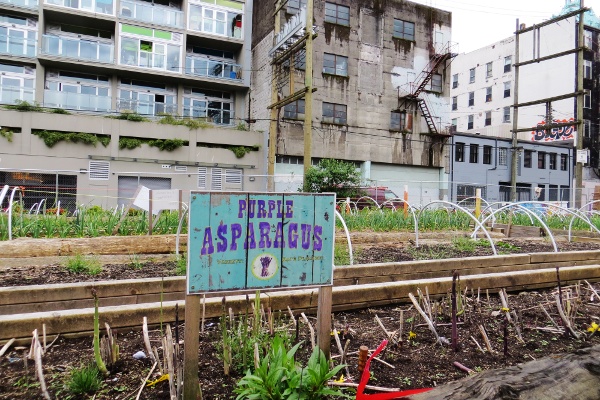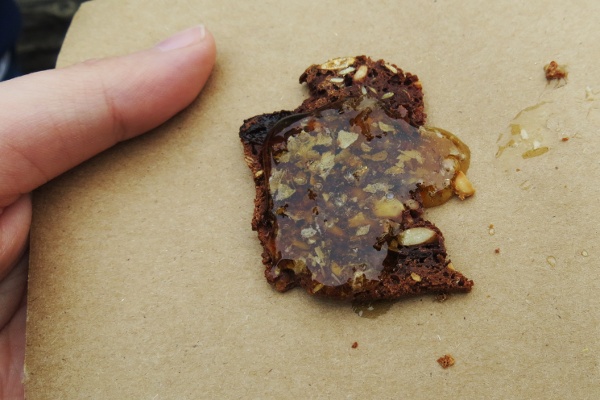 Next we stopped at Hastings Urban Farm for some Hives for Humanity raw honey. We got a quick tour of the farm where we learned all about purple asparagus. It was funny that we had all been down that section of Hastings lots of times before but never realized there was a functioning farm there. I thought I didn't really like honey, but that honey was TASTY! The biscuit was very very nice as well.
Side note, does anyone know how much local honey I would need to eat to help my seasonal allergies? When would it be best to eat it if my allergies are bad from March to April? I know it's possible, but I don't know the details.
Salt Tasting Room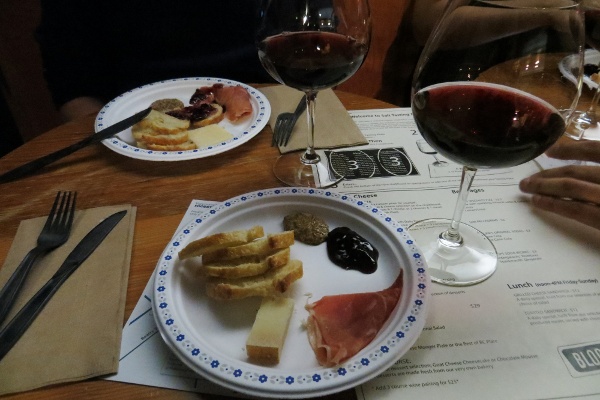 Next stop, Blood Alley for some charcuterie and wine. We got a (paper) plate of meat, cheese, bread, sour cherry jam and grain mustard. I wish I could tell you more about the meat and cheese but we didn't get much info here. I liked the two condiments, and the ham, but the cheese was quite dry and hard.
The Irish Heather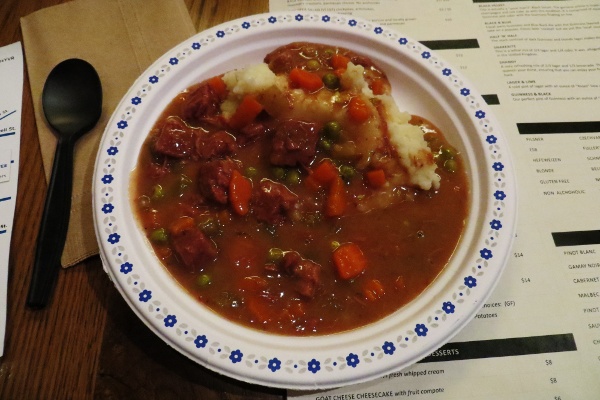 There was a bit of a line at The Irish Heather, but it was worth it. We were given huge plates of steak & ale stew on colcannon. The stew had tons of flavour and the potatoes were sooooooo buttery and delicious. We all loved it. We thought there was a lot of food ahead on the tour so I purposely didn't finish the giant plate of stew even though it was extremely moreish.
I thought it was interesting that I left mostly meat, Scott left mostly sauce, and Charmaine left mostly potatoes. We all have different priorities, clearly. (Her bf left nothing, hahaha).
Milano Coffee
Next stop was Milano Coffee for two tiny cups of strong coffee. I skipped this one so I don't have anything to say about it. No way I'm going to drink espresso in the evening ever.
Bitter
I forgot to take a picture of the pulled pork taco we had at Bitter. We scarfed and ran at that stop because we were starting to run out of time. The taco was meh. The meat was dry in my opinion. Bitter was very busy and all the waiters looked super stressed.
Burgundy
We purposely left Burgundy for the end of the evening because we assumed that goat cheese fondue, beef bourguignon, and chocolate mousse would be rich and heavy. We planned on sitting and having a drink here but it ended up being very different than expected!!
There were no chairs, and the serving was very well organized and efficient! Immediately after entering we were given a tasting glass of wine.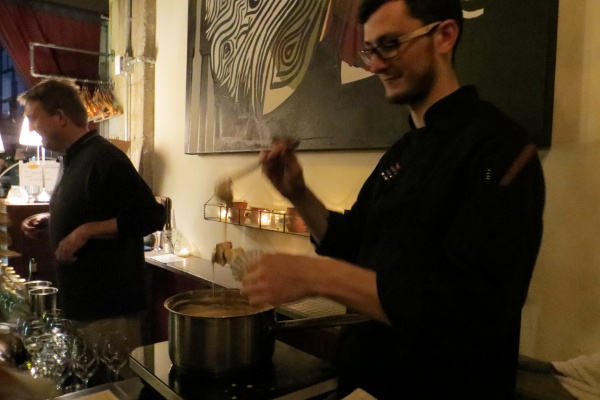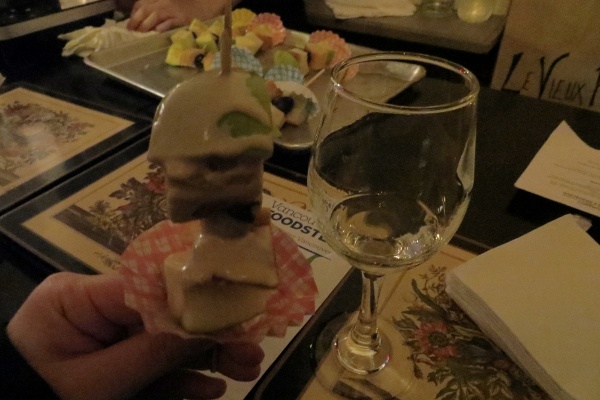 This was the goat cheese fondue! I had been wondering how they were going to serve it!! So you get a ladle-full of cheese poured on a skewer of bread, apple and grape, with a handy muffin liner to catch drips. Genius! I loved it, of course.
After the fondue we got a little glass jar of beef bourguinon. It was good but it was too dark to take a good photo. It was rich but pretty tiny so it wasn't overwhelming.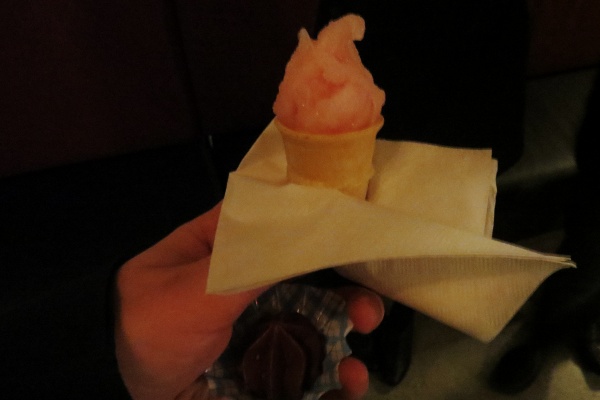 On the way out we got a little dollop of delicious chocolate mousse, and a baby cone of sorbet. I couldn't figure out what the flavour of the sorbet was but it was very tasty and refreshing.
Trees Organic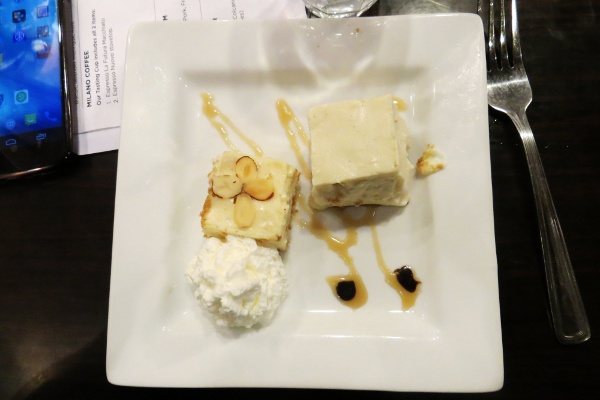 Last stop was Trees Organic for cheesecake. It was mega busy because everyone had clearly left this stop for last. The cheesecake on the left was almond marzipan cheesecake, and the one on the right was New York Cheesecake. The word marzipan turns me off, but really it just tasted very almondy, like the butter tart thingy my uncle makes. I liked it. The other cheesecake was more delicious though, simple and really nice and creamy but not too dense. YUM!
My tips for Tasting Plates events:
Get early bird tickets! The price goes up a lot after the early bird period ends.
Arrive EARLY or LATE for registration. We arrived right at 6PM and the line was pretty long. Registration is open until 7:30PM so maybe it makes more sense to arrive when the initial rush is over (although I cannot guarantee this as I didn't see the line later).
Do it in groups of 4 or less. It seemed like the bigger groups (6+) had to wait a lot longer than the smaller groups.
I already bought tickets to the next one (Main Street) and I'm even more excited to go now! It was a really nice evening.