OH MAN, so much food. The latest Tasting Plates event was the most generous one yet. So much deliciousness.
The evening started at A.G.R.O. Roasters for registration and coffee but I didn't take any pictures there because I don't care for coffee. We basically just took the coffee samples and ran back to the car to get to the next restaurant anyway.
La Mezcaleria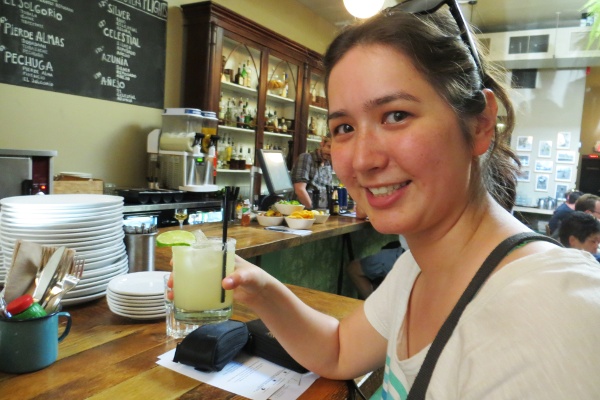 My plan was to have a margarita at each restaurant, semi-serious. It started off well, I had margaritas at the first two restaurants, but then the rest of the places didn't have them, so my crazy margarita crawl ended up being pretty responsible. Haha.
La Mezcaleria drinks are really really good. I love lime.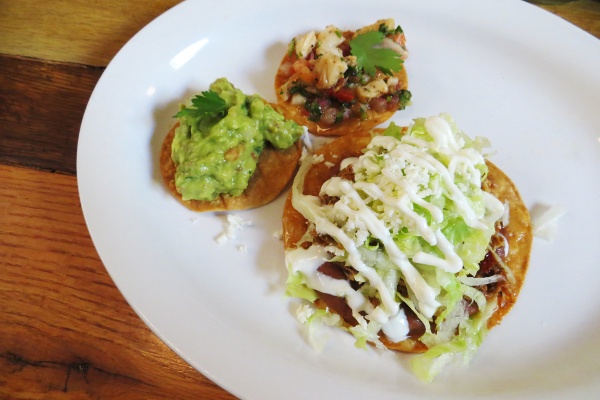 Red snapper ceviche, guacamole, and a chicken tinga tostada.
Everything was awesome. Very fresh and nicely put together. This plate of food was almost enough for a whole meal on its own! We started to realize we were in trouble.
The combination of the tasty food, the live band, and being able to watch the chefs cook made this our favourite stop of the whole evening. I've been there before and I definitely will be returning again.
El Azteca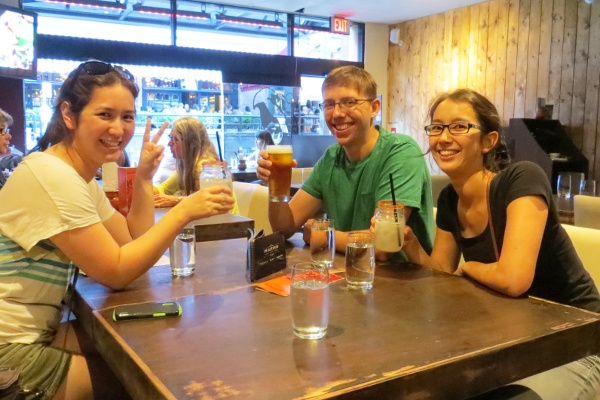 Margarita #2. Half the price, but too sweet.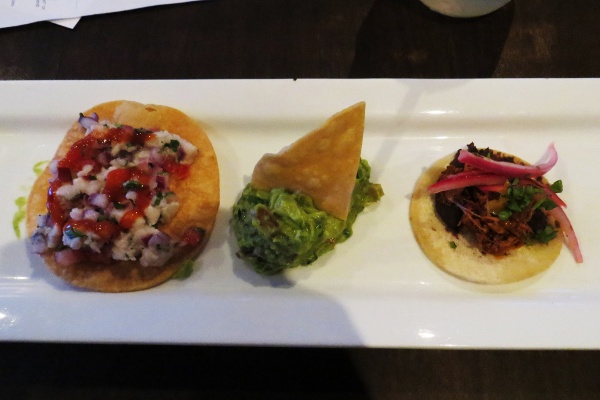 Ceviche, guacamole, and cochinita pibil.
This plate was fairly similar to what we had at La Mezcaleria. So much food! The ceviche wasn't as nice (the strange sweet red sauce ruined it) but we thought the pork tostada was really good. And the chips were nice and extra crunchy.
Las Tortas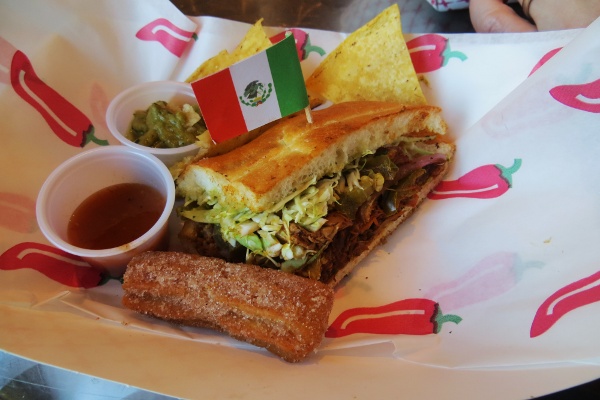 Cochinita pibil torta (sandwich), chips and salsa, and a churro.
The sandwich was pretty good, but I think we were already so full we didn't enjoy it as much as we might have on an empty stomach. My sandwich was ULTRA spicy, but the rest of the group didn't seem to be. My lips were tingling!! The salsas had great flavour. The churro was kind of dense and not great. I'm sure they would be better if they were prepared fresh.
Chicha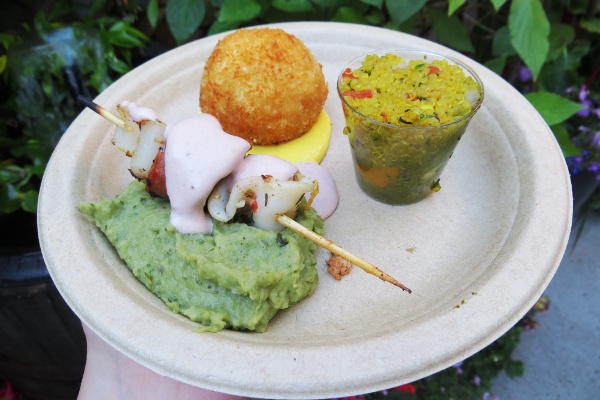 Quinoa salad with mango, cheese and chili croquette, calamari and chorizo skewer, basil mashed potatoes.
I had been wanting to try Chicha for a very long time. It's right across the street from where I change buses on the way to work and I think their restaurant sign is very visually appealing, plus I knew they had great reviews on Urbanspoon. It did not disappoint, this was a great plate of food.
Chicha is a Peruvian restaurant so the flavours were different than everywhere we had been so far. The salad was refreshing, the croquette was indulgent, the skewer was intriguing, and the mashed potatoes were comforting.
Guanaco Food Truck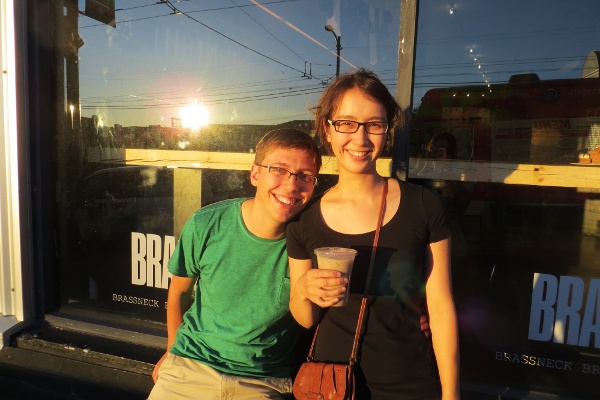 Horchata while waiting for our food. Sweet but not tooooo sweet.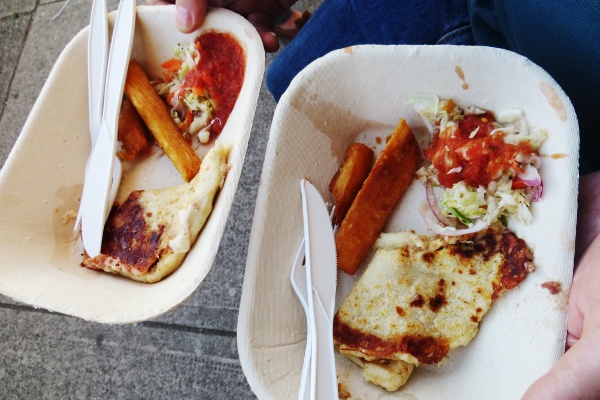 Pork and chicken pupasas and fried cassava.
Cheesy corny goodness. These were nice but I was basically exploding at this point so I didn't have that much.
Sal Y Limon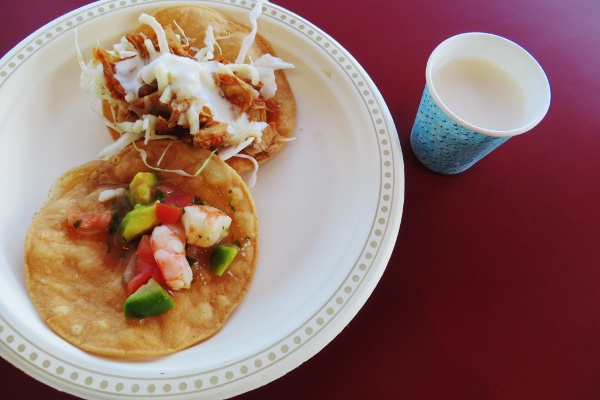 Last stop. Shrimp ceviche, and chicken tinga tostada.
The ceviche was actually not very nice. But the chicken tostada was pretty decent. Again, I was pretty much in a food coma so I just had a bit of each and gave the rest to Lauren.
Lauren basically thought it was the best night ever because he got to eat all his food plus all the food Rosemarie and I couldn't finish, hahaha.
Their horchata was very sweet.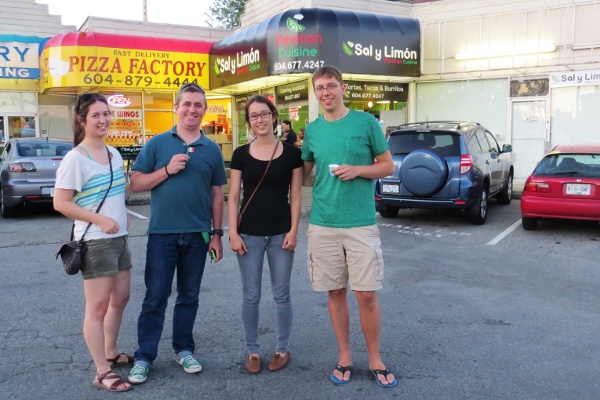 SERIOUS FOOD COMA. A great night of eating. It was the best Tasting Plates event yet, I think.