Um just let me say OMG YUM. Best meal I've had in a long time.
Winnie recommended this restaurant to us in Toronto. She said it was like a tapas place where you can try all sorts of weird things like tongue and bone marrow. Sounded awesome to me, and it totally lived up to my expectations.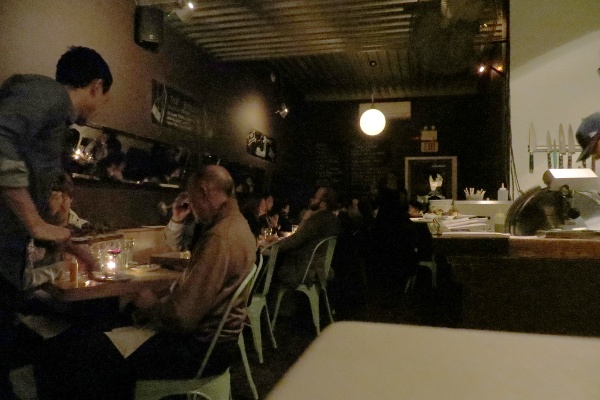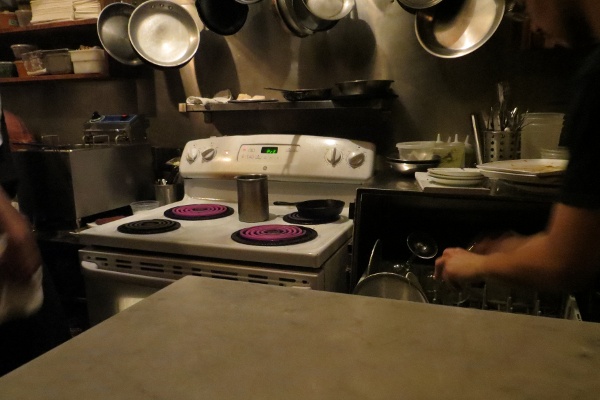 It's a small restaurant, so we had to sit at the bar, but that was cool because then we could watch them cook. Those last two pictures are the entire kitchen! They cook everything on a regular kitchen stove! Also the poor guy in front of us just did dishes in the worlds tiniest dishwasher the entire time. I wonder how long he has to do that job before he gets to move up the ranks?!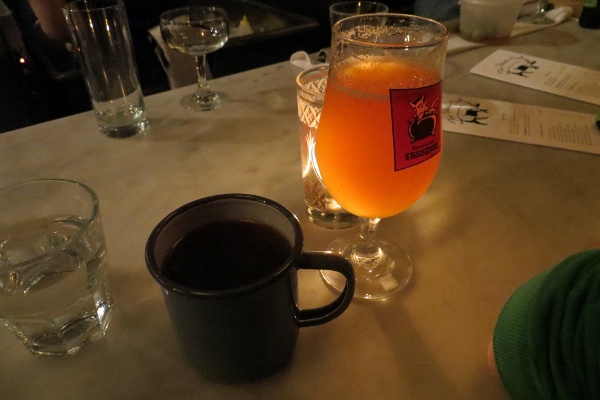 I had mulled wine and Scott had a fruity beer.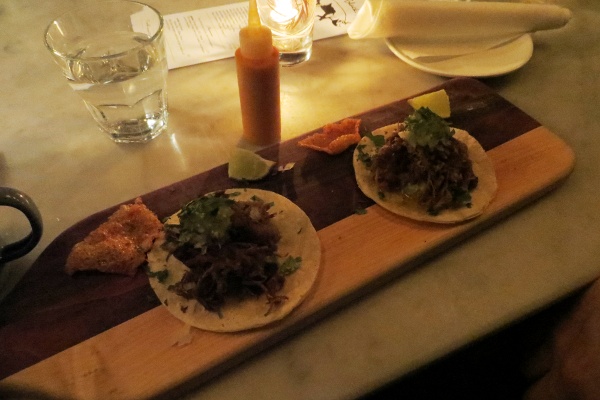 We started with two pork carnitas tacos. They might look like just regular tacos but these were probably the best tacos I've ever had. The pork was plentiful and tender, the guacamole was extra creamy and flavourful, and the tortillas were super soft. You could also put some crunchy pork skin on it for some crunch and some lime and hot sauce. The flavours were strong and worked well together. Really really delicious.
Next we had the bone marrow. It was very oily and rich, but also amazing. It came with a salse verde type of thing, salt, and bread. They combined together beautifully. I had been wanting to try bone marrow for a long time so I'm glad I finally got to try it!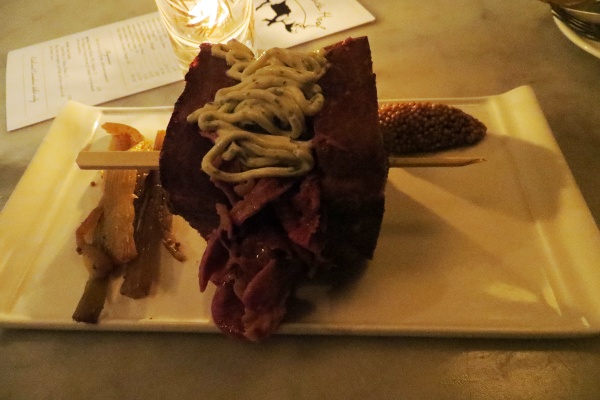 Then we had tongue on brioche. There was a mountain of shaved tongue, brioche, pickled celery, some type of mayo sauce, and a mustard seed(?) sauce. The tongue was tender and salty and good. It reminded us of corned beef or pastrami. I don't think I would have realized it was tongue if no one told me. The mustard sauce was awesome and again the flavours worked perfectly together. We devoured this whole dish in no time.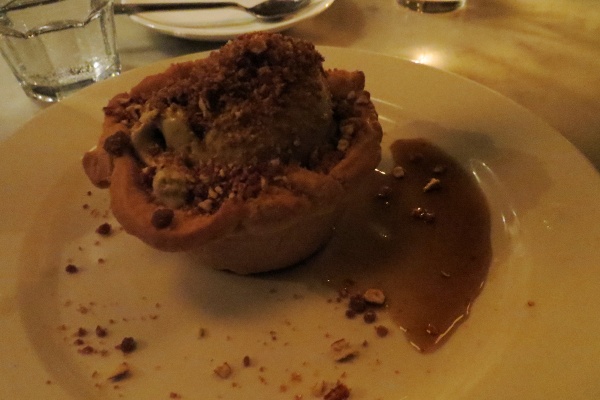 Even though we were already pretty full I decided we should still order the dessert. I am SO GLAD we did because that was like the best dessert of all time. We were dying from how delicious it was. It was a warm butter tart with raisins, topped with pistachio-maple ice cream, stout jam, and crunchy pretzel streusel. PERFECTION. The pastry was buttery and flaky and tart filling was sweet with pops of sour from the raisins (and I usually hate raisins!). The contrast of warm butter tart and cold ice cream was also pleasing. Finally the pretzel topping added crunch and saltiness to the dish. Please send me about 100 more of these!!!
Anyway if you can't tell, I HIGHLY RECOMMEND THIS RESTAURANT. Everything tasted well thought out and balanced. ~Flavour profiles~ are their speciality, in my opinion. Also it cost a lot less than some of the fancy meals we've been to, and I enjoyed it fifty times more. Check it out soon!!