Last Friday Rosemarie, Rob, Scott and I went to the Eatery for dinner. It was our third time there and since we are all adventurous meat-eaters now we went all out and got all sorts of crazy sushi.
We had tempura vegetables and tempura tuna to start. There are no pictures of this because we were all extremely hungry and wolfed it all down really quickly. We all thought the tempura was really well done though, better than average tempura. I don't like how large they leave the pieces of broccoli and cauliflower, but that's me being picky. Rosemarie REALLY loved the tempura green pepper… she wanted me to write that.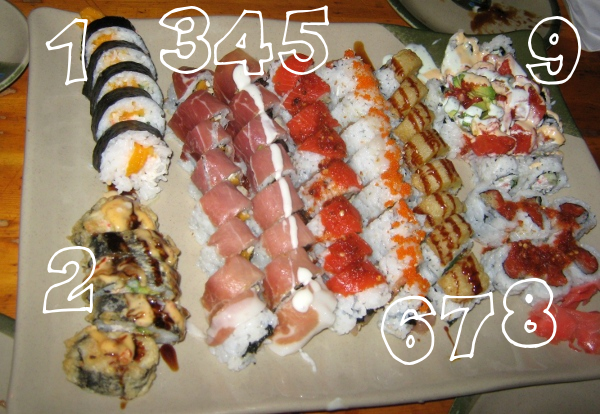 Here are the rolls that we chose:
Papaya New Guinea: papaya, crab, cucumber, mayo
Viva Las Vegas: crab, eel, avocado, cream cheese, spicy misonnaise (tempura style)
Italian Stallion: prosciutto, papaya, eel, cream cheese, hot pesto sauce
Figa Roll: figs, blue cheese sauce, tempura crunch, wrapped in prosciutto
Spicy Salmon Crunch: spicy tuna, cucumbers, spicy salmon, tobiko
Sweet Heart: spicy tuna, scallop, tobiko, black sesame sauce
Electric Banana: eel, avocado, tempura banana
Crazy Spice: salmon, tempura bits, hot chili sauce
Tex-Mex: california roll covered with tomato, avocado, roe and salmon
I loved everything except maybe the spicy rolls (#5 and #8). Both of them were so spicy that I couldn't taste anything else of that piece plus the next piece that I ate. I think the Crazy Spice roll actually just had chili and garlic Sriracha sauce on it. Would not order those again. But Rob liked them, so to each his own.
Top 3 rolls of the night:
Katrina & Scott both say: Figa Roll, Italian Stallion, Electric Banana
Rosemarie says: Figa Roll, Viva Las Vegas, Tex-Mex
Rob says: Electric Banana, Crazy Spice, Spicy Salmon Crunch
The fig roll was really really delicious. I have never really eaten figs before but now I want more because that roll was especially pleasing to my mouth. Mmmmm. We had tried the Italian Stallion roll the last time we went to the Eatery so we already knew we wanted it again. So delicious. And the banana roll was just cool, the banana was really sweet and tasty.
Rob and Scott ate all the ginger pretty quickly and asked for more and the waitress brought over a new plate with seriously more than a cup of ginger! We thought we were going to have to pay for that, but it wasn't on the bill. Woot.
Anyway we all had drinks too like sake margaritas and the bill ended up being just over $30 each. Not cheap for us students but a nice treat once and a while for sure. The Eatery is definitely one of my all-time favourite restaurants.