PARTY TIME SATURDAY NIGHT IN POST. Scott is out at a Metallica concert and I'm in watching Gilmore Girls 2.0 I mean Bunheads. And I'm ok with that!!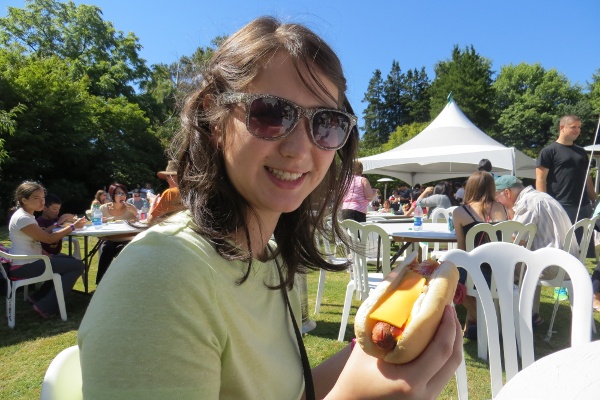 We went out to the PNE earlier today. Scott's work was having an event so we got in for free and they had a BBQ for everyone. I didn't eat much there though because what is the point of eating boring BBQ stuff when there are so many other interesting food options to be had at the fair!!?!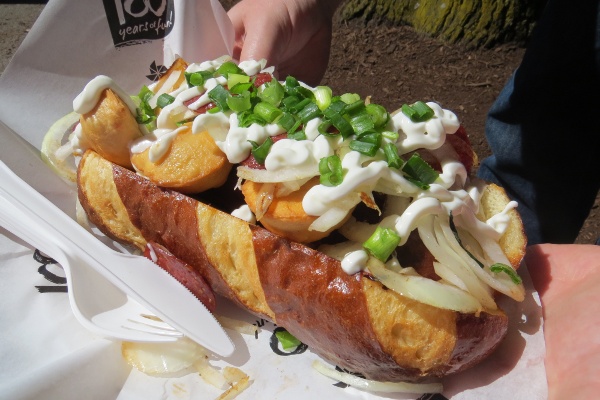 It ended up being a double hot dog day. That's a pepperogi hot dog. It had perogies and stuff on it. I had read about it on the internet last week and was pretty excited for it, but it ended up being pretty disappointing. It was so dry. I regretted choosing it. We didn't finish it. We also had a slushie but that was it, I even passed on deep fried Oreo's. Dunno why I'm so boring lately.
We also only went on one ride (Gravitron). Gah everything was so expensive!! And it didn't make sense to get a ride bracelet on a Saturday. So we went home. :/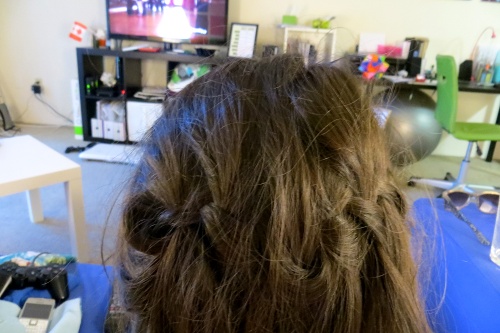 It is really hard to take a picture of the back of your own head!!! Also I should probably take pictures of my waterfall braid BEFORE I go to an amusement park.
Anyway so today didn't end up being the most fun day ever, but it did make me even more excited to go to Six Flags Magic Mountain on the way to Fiji (hopefully).
Side note: I just saw on the Magic Mountain website that they now have the WORLDS TALLEST DROP RIDE. Scott is going to LOVE THAT!!!!
ALSO, what the heck, tickets only cost $39.99?? That's like the cheapest good amusement park ever! I CAN'T WAIT!!!!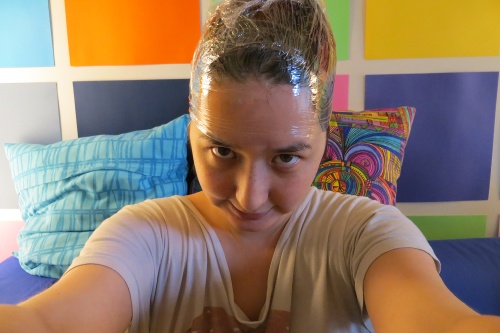 Lastly here is a creepy picture of myself doing a coconut oil hair treatment. I guess it made my hair a little bit softer but not really a significant amount. I think I'll just stick to putting coconut oil on popcorn. (That is really good by the way.)