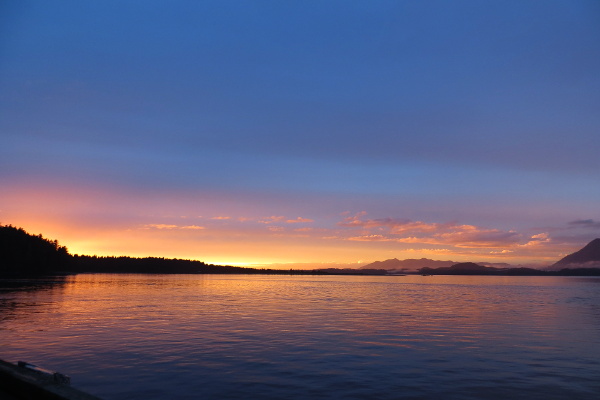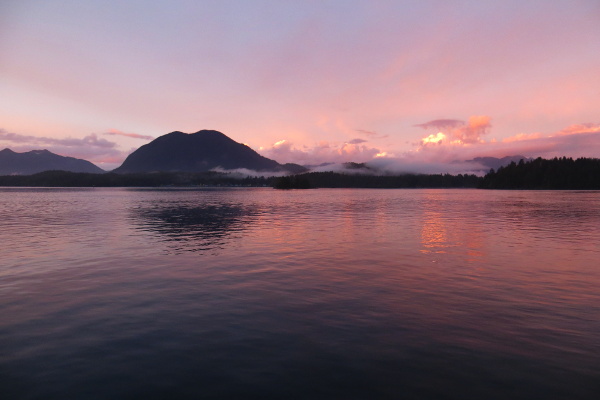 We arrived in Tofino right at dinner time. We checked into our cabin and then headed into town. By chance we ended up on the pier right at the right time and saw a GORGEOUS sunset over the harbour. So nice.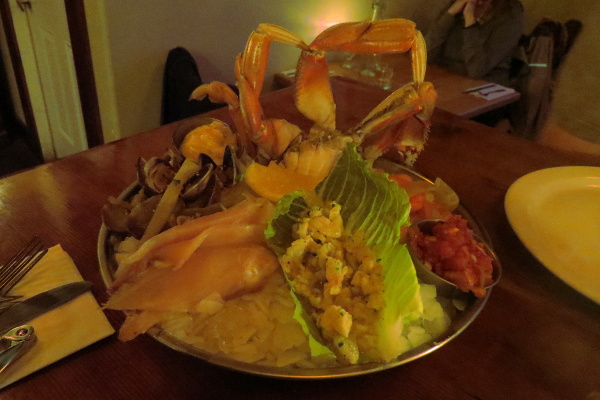 Dinner at the Ice House Oyster Bar overlooking water and the fading sunset. Not sure why this restaurant doesn't have a Zomato profile, it was great! All their waiters have man buns and/or beards and are very enthusiastic.
I had a cider mule (BC Rumrunner cider w/ fresh lime, house made ginger syrup and vodka) that was huge and very tasty. I love when cocktails aren't tiny things!
We shared this cold seafood platter that came with ceviche, smoked halibut, clams, crab and shrimp. The smoked fish and ceviche were particularly great. We also split a challah bread pudding dessert.
I really like the glasses from the Tofino Brewing Co. Actually lots of things in Tofino are wave-themed: the pedestrian crossings, the bike racks, etc. Cute.
Tofino is pretty awesome. It's relaxed and beachy with tons of awesome food options. We spent a lot of time chilling out at our cabin or the beach just staring out at the ocean, watching surfers and paddle boarders and dogs and campfires. Our cabin was right on the water and it was lovely to hear the waves crashing on the beach all the time.

One day we drove down to Ucluelet to walk the Wild Pacific Trail. We did the lighthouse section and part of the coast section. Both very nice walks, quite easy on well made trails, with beautiful ocean views. We kept looking for whales but didn't see any.
Ucluelet was verrrrrry quiet, and the lunch we had there was pretty terrible, so neither of us really liked the town, especially compared to Tofino. Also the drive between the two towns is ultra boring.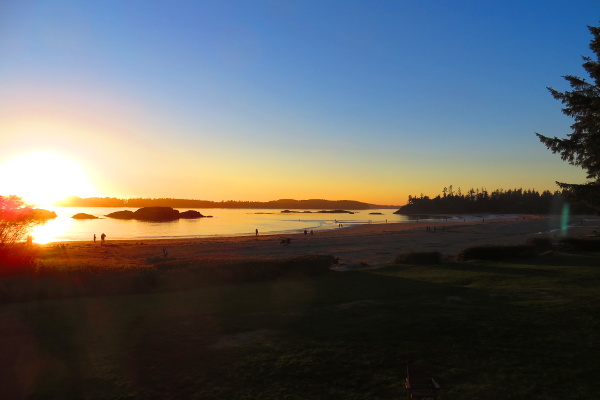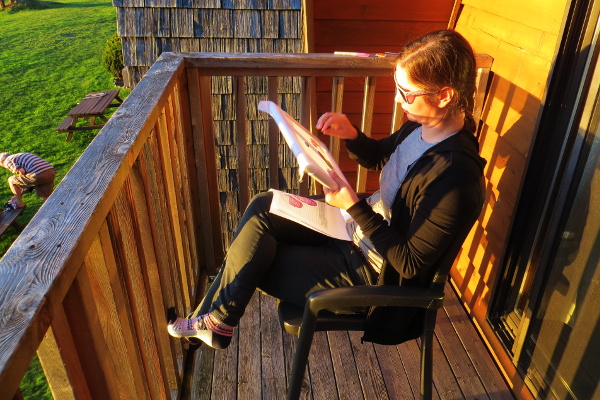 Cross stitching on our porch while watching yet another gorgeous sunset. Not pictured: glass of wine. Perfection.
It was sunny every day, which was great (but no storm watching). Too cold to swim though. I was planning on surfing, but kept procrastinating, until the last day when I woke up early all ready to go… until I checked the surf report and saw that the waves were 1 foot tall. Dang it. It was dumb of me to assume that the waves would be the same (good) every day. :/
Another trip highlight was the hot springs, but I took so many pictures I'll have to make it into another post. Plus I have three more food reviews that I'll have to make into separate posts too. Tofino overload, sorry not sorry!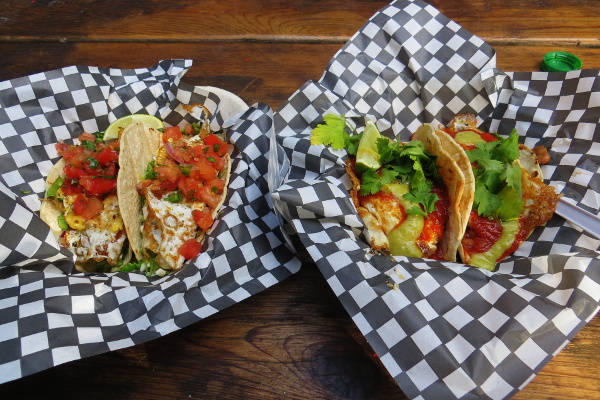 We made most breakfasts at our cabin (bagels with cream cheese and local smoked salmon or tuna, OM NOM NOM), but the first morning we went to Wildside Grill.
I ordered the breakfast tacos (fried eggs, cheese, chipolte mayo, salsa, guacamole, lettuce, cilantro and green onions in a corn tortilla) and Scott got huevos rancheros (two overeasy eggs, cheese, pinto beans and salsa roja, guacamole, cilantro and green onion in corn tortillas). They were sloppy deliciousness. The eggs exploded with runny yolk. I liked the breakfast tacos slightly more than the huevos because of the freshness of the salsa, but both were definitely great.
Apparently Wildside Grill has the best fish & chips in town, and possibly better fish tacos than Tacofino, but we didn't have enough meals on our trip to make it back. Next time!