Wolf in the Fog is a relatively new restaurant in Tofino that got super duper popular after winning an award last year. It's a pretty big restaurant, with a surfy vibe, with mismatched thrifted dishes. They have an incredibly interesting cocktail menu, large sharing platters, and small dishes to choose from.
I had two drinks. The first was the Hanging Garden: gin, martini bianco, sorrel and lemon. It tasted awesome. It SMELLED awesome. So refreshing. Sorrel is my new favourite herb, it's sweet and a little bit sour when you chew it, like a candy. The second drink was the Cedar Sour: cedar infused rye, lemon, thyme and egg white. This one also smelled amazing, like walking through a forest. It was a bit stronger, but very drinkable.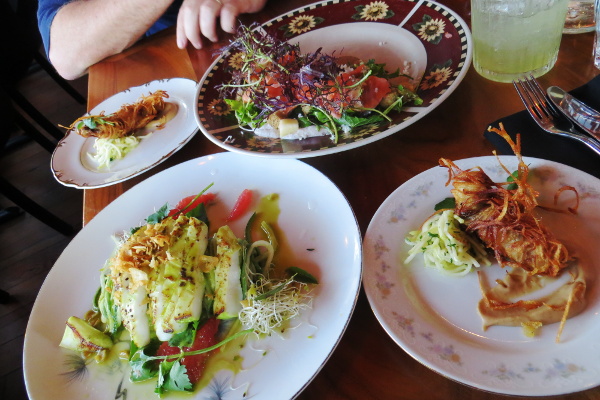 We ordered a whole bunch of food, hehe. Everything just sounded so good!!
Potato crusted oysters sounded so intriguing, but wasn't our favourite. It had some kind of thick paste inside of it that was a bit stodgy. The potato was cool, but I think I just prefer my oysters raw.
We got a salad that had smoked trout, beets and a whole bunch of other things that I can't remember now. Their menu is seasonal and the same salad isn't on there any more! Oops. Anyway it was a good salad and they were pretty generous with the smoked fish.
We also got a squid dish that had grapefruit, cilantro, basil and sprouts. The squid was cooked perfectly tender, not chewy at all. It was lovely. Well balanced dish.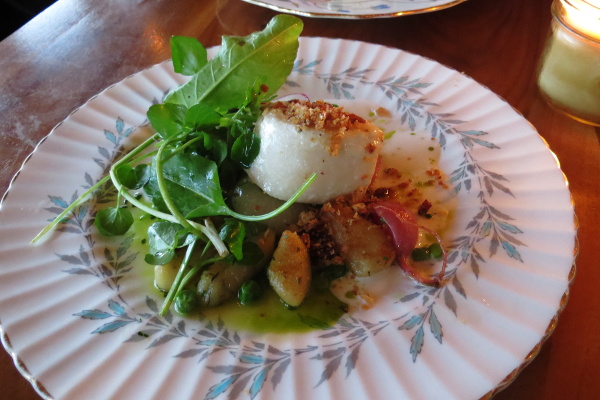 We also split an entrée. They were very accommodating and split the dish on to two plates for us. We had the halibut with gnocchi, sorrel, peas, pickled onion, and again more that I am probably forgetting. The fish was cooked perfectly and I loved the fresh lemony sorrel.
We were stuffed but still found room for dessert. We had the sticky date caramelized banana sundae and it was awesome. Sweet, salty, bitter, creamy, crunchy, warm and cold. Checks all the boxes.
Overall we were very happy with our meal and experience. They really do have helpful staff, who will help you decide things and get stuff split if you want. I would love to go back and try a few more of their unique cocktails for sure.