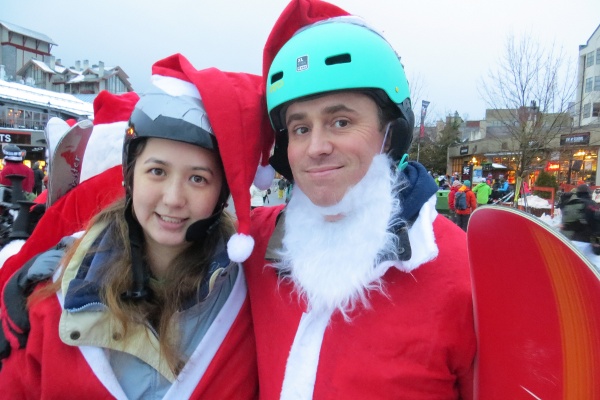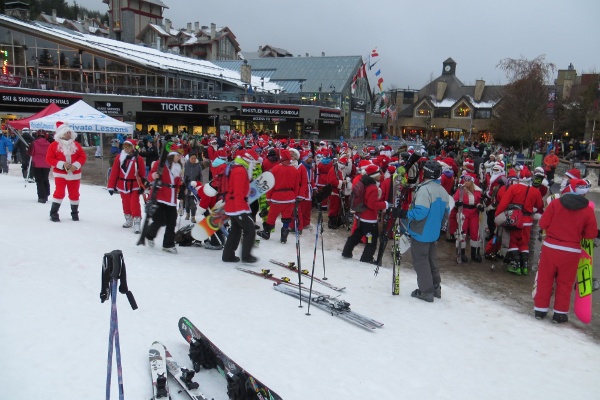 Last weekend was SO FUN! Skeleton, Santa Day, Hotel, Hot Tub, etc etc!
Scott, Rose and I drove up to Whistler super early to dress as Santa and get a free lift ticket. There were 165 Santas this year!! You can see a bunch of pictures here. Scott and Rose had a great day on the slopes but I am saving my ticket for another time because I had skeleton.
It was pretty warm out so the skeleton track wasn't its fastest, but I still managed to go 120.07 km/hr on one run on Saturday. I'm still the only one of our little group to go 120+ and now I've done it twice!! Hehe. The track seemed extra smooth? I don't know, it felt like a different track than last month. I didn't have any of the same problems I had last time.
Sunday was even warmer. We shared the track with some sliders from Korea and the US, plus two 2-man bobsledders! It was actually really cool to watch the mega-thighed Koreans and the crazy bobsledders. Do you know how often bobsleds crash?? A LOT!!! (Although we did not see any crashes.) I do not see the appeal of bobsled.
I had a couple great runs and a couple terrible runs! Lots of bumps, oops. I feel like I am learning tons at the moment though so it's all good.
And the best part…. I get to be in a race this coming weekend!! I will be competing in the BC Cup Race 1 and 2. :D :D I am so iksidid!! I will go up on Friday for practice, and then the races will be on Saturday and Sunday. By the way I am still not sliding from the top but there are enough of us that can go from Lower Ladies that we can have a real race.
The other part that made the weekend supah fun was that we booked a hotel room for Scott, Rose, Chris, Matt, and I to all cram into. Hot tub party times! I really enjoyed myself. I rate last weekend A+. I hope we can have another like that again.