July 16th – July 21st, 2016
July 16: Our overnight bus was supposed to drop us off in Bangkok at 6AM, but it got in early… at 4AM. It was still dark and there was nothing around except extremely annoying taxi drivers. I was very sleepy and quite annoyed. Eventually we figured out that we were pretty close to Khao San Road where there was a 24 hour McDonalds. I had a burger for breakfast with all the drunk people and we just waited around for a couple hours. Eventually we took a taxi to our hotel with hopes of being able to check in early, but instead they said to come back at 2PM… approximately EIGHT hours later. Sigh. At least we were able to drop our bags off though.
So then we went to Chatuchak weekend market. One of the largest markets in the world. It has EVERYTHING, like new and used clothes, snacks, art, (possibly endangered) animals and fish…
Best way to kill time in Thailand: massages!!
Finally we could check in to our hotel. I can't remember what else we did that evening but I'm pretty sure I was asleep by 8PM.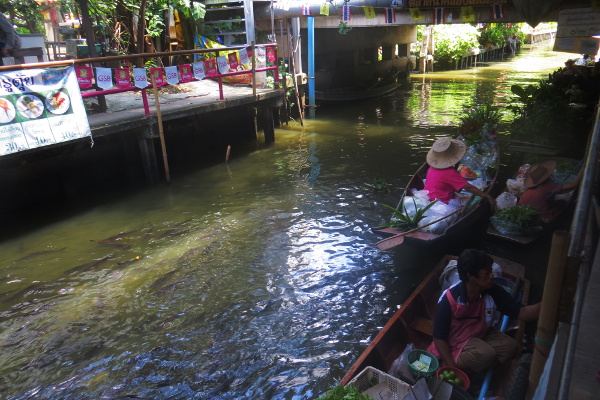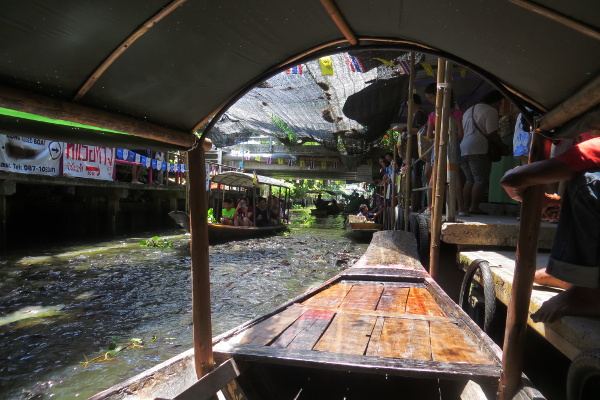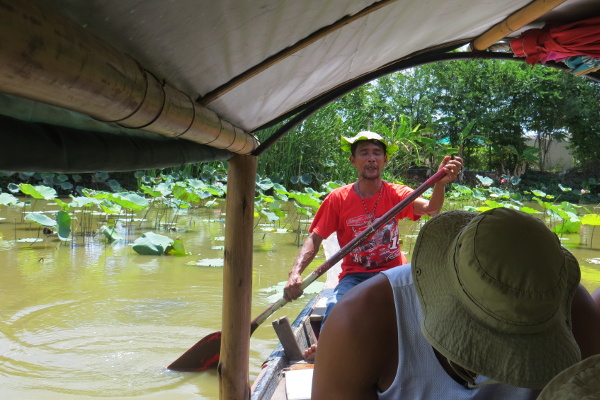 July 17: We took a taxi to Khlong Lat Mayom floating market. This market is much smaller than the one tourists normally go to, but it's way closer and way more relaxed. There were a few people selling things from boats, but most of the market was food stands on the land part. I saw tons of things I have never even heard of. It was really hot though and I don't have much appetite when I'm overheated, so we didn't actually try that much. I did enjoy my passion fruit slime over soda and ice very much though.
We also took a 20 baht boat ride around the area, paddled by a funny Thai man (see above lilypad hat). It's too bad we couldn't understand him because it seemed like he was giving A LOT of info about the area. It was still a nice relaxing tour though. It was by far the cheapest boat tour I've ever been on (about $0.75!).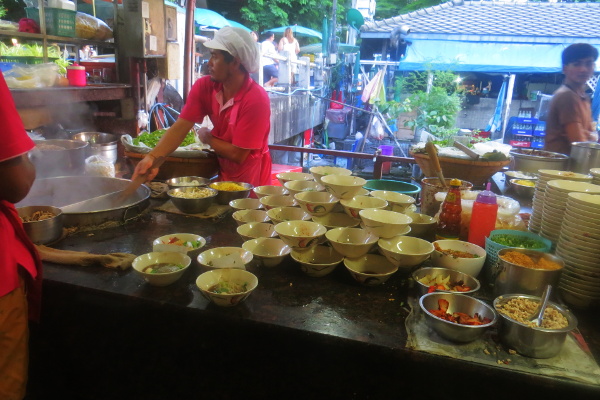 That night we went out for boat noodles. These are very small bowls of noodles for 10ish baht each ($0.37). People have competitions to see who can eat the most bowls. I had 4.
July 18: Shopping day!! We went to Siam Paragon, Siam Discovery and MBK mall. We thought we might buy phones but chickened out. Actually I don't think we bought much at all, just did a lot of browsing. That night I got the most vigorous Thai massage of the trip. She really worked my muscles. I decided it was like someone else foam rolling you for you. I did feel pretty great afterwards, once the torture was finished.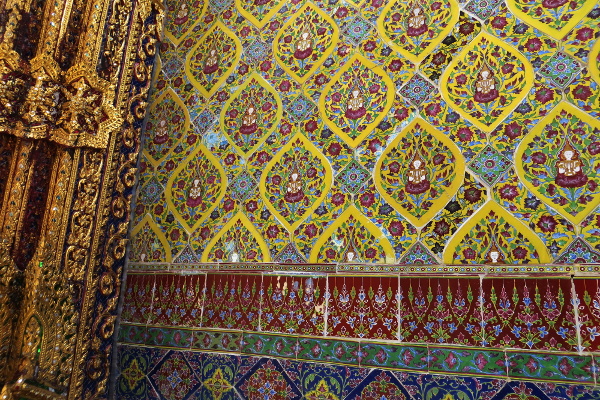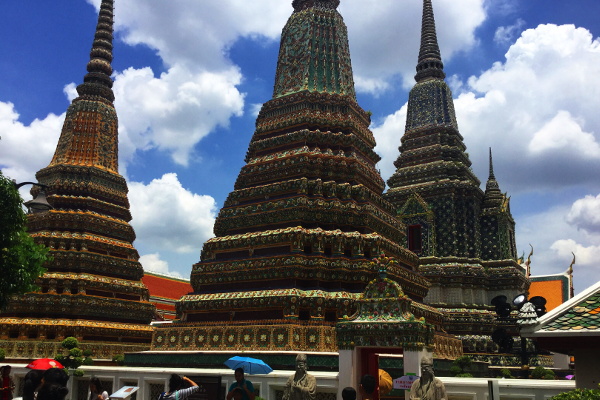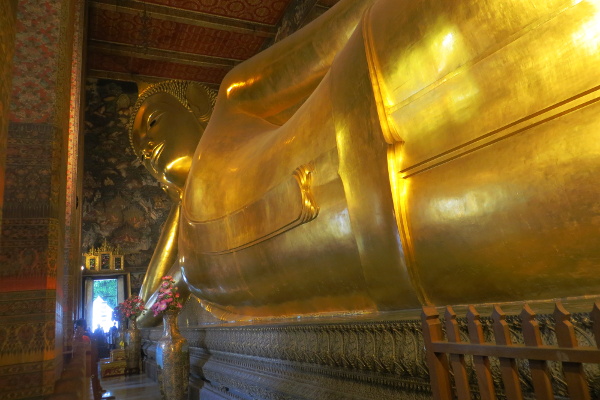 July 19: Temple day. It was Asalha Puja (a Buddhist holiday) so the temples were extra busy. We went to a few. There was singing, praying, sermons etc. At Wat Po you could also pay for a zodiac candle that you throw into a melting pot and then ladle a scoop into the gigantic candle mold. You could also line up to get patted on the head by a monk with a wooden stick brush thingy. We did that.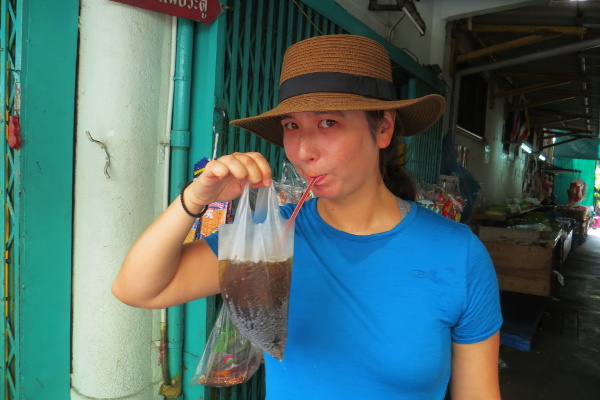 Coke in a bag after overheating in Chinatown. I don't drink Coke very often but that was dang refreshing.
That night I planned dinner at a nice fancy restaurant a short cab ride away from our hotel as a treat for our anniversary (on the 14th). But pretty sure our cab driver ripped us off, and then dinner ended up costing twice as much as I expected, and then no cab would use the meter on the way home so we had to walk. Didn't end up as fun as I had hoped.
July 20: Our last day of Bangkok, Thailand, and vacation. We did last minute shopping at Platinum Fashion Mall and Central World. We got jeans and t-shirts, and gifts for the nieces and nephews. Then we saw the BFG… what a nice movie.
That night we went to one of the open air restaurants near our hotel that was always filled with locals. I had minced chicken with morning glory and a fried egg, and sticky rice. Scott had papaya salad (duh). Really nice and really cheap.
And then we went for one final Thai massage, at the vigorous place. It was great.
July 21: Relaxed morning and then packed our bags to fly home. :'(
I really enjoyed Bangkok this time. I have been there a few times before but this time we really crammed in a lot of fun activities and it ended up being really great. Plus it seemed easier to do things? I'm not sure if it's because the city has changed or I am just less young/inexperienced. But yeah for the most part it was way easier to get taxis, directions, information, and use public transit, and I don't think we really got scammed at all either. Success!