July 2nd – July 16th, 2016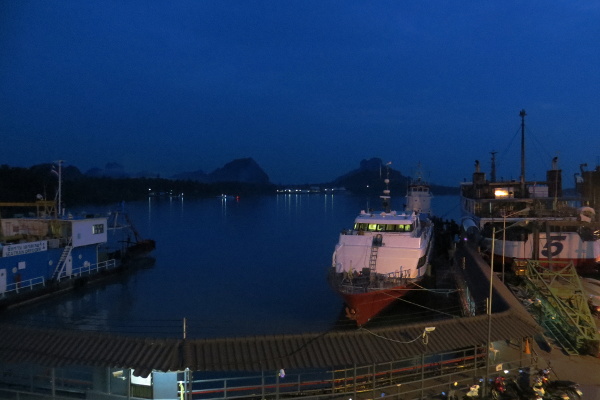 Perhaps I was a bit ambitious trying to get all the way from Berlin to Phuket, and then Phuket to Ko Samui (by land/boat) all in one continuous trip. It ended up being a VERY long trip.
metro and bus to the airport (0.75 hr)
fly to Cologne (1 hr)
fly to Phuket (12 hr)
go through immigrations (2 hr)
airport bus to bus station #1 (1.5 hr)
truck to bus station #2 (0.25 hr)
bus to Surat Thani (4 hr)
bus to ferry terminal (1 hr)
ferry to Ko Samui (2 hr)
taxi to hotel (0.75 hr)
Total: 25.25 hours. Yeah… a bit much with all those steps. At least it was cheap?!
But we made it to the fancy boutique hotel in Lamai in time for my 30th birthday the next day. Birthday morning I got woken up by Scott grabbing my foot from the door and yelling "THERE'S ONLY 15 MINUTES OF BREAKFAST LEFT!!". What a wakeup.
The breakfast was amazing. Breakfast each day started with fresh juice and a platter of fruit (mango, watermelon, dragon fruit etc.), then pastries and pancakes with amazing homemade jams (passionfruit, raspberry, lemon etc.) and ham and cheese slices. Then they would make you an omelette or plain eggs with bacon or potatoes.
We got a much needed post-Camino foot scrub, and then I went for a fancy birthday massage on the hotel rooftop. We lazed around in the pool/beach/AC all day, with Scott making me a new cocktail he invented: The Belt Buckle (passionfruit nectar and champagne).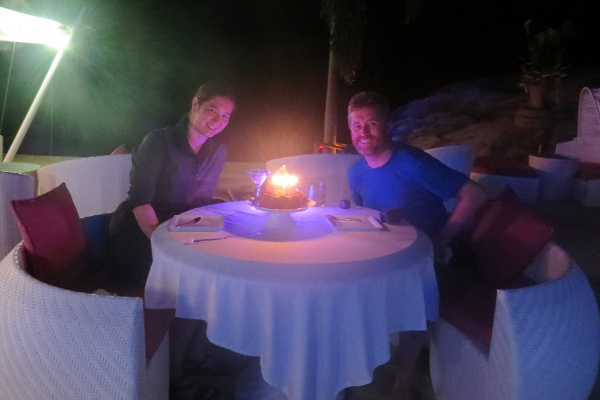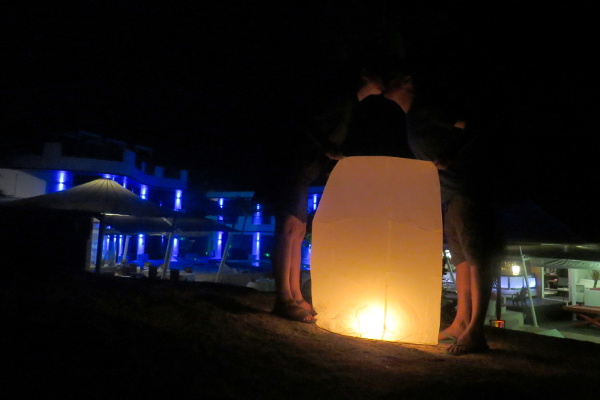 We had dinner at the hotel. We shared papaya salad, and Scott had satay (which we later realized has quite a bit of coconut milk in it and is therefore on the banned list) and I had a chicken and cashew dish. It was all nice but the best part was that Scott had organized an amazing chocolate birthday cake for dessert. It was SO GOOD. Then after dinner the hotel people surprised us with one of those giant paper lanterns to set off. Pretty sure it's still flying to this day.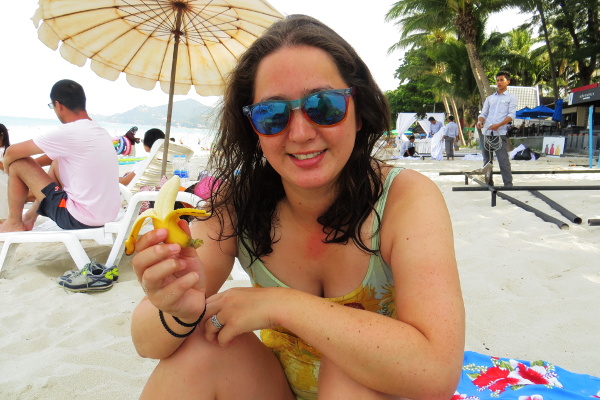 After a few days at the fancy hotel we moved on to Chaweng. We went to the beach every day to swim and read. There was a lady on the beach selling chilled mango and teeny tiny bananas. The mangoes were SOOOOO good, I never used to like them that much but now I can't get enough.
Scott got a foot massage that made his baby toe turn purple and swell up. Bahaha. We took a break from massages for a bit after that.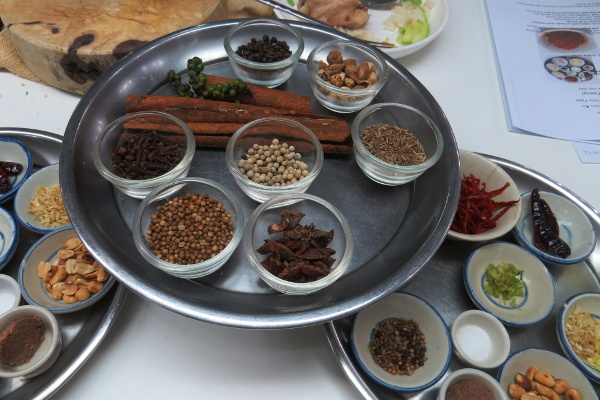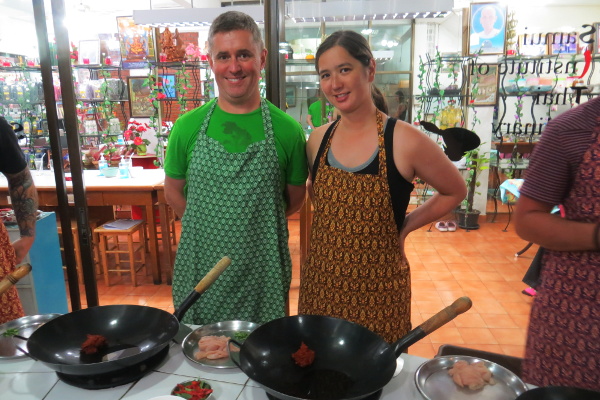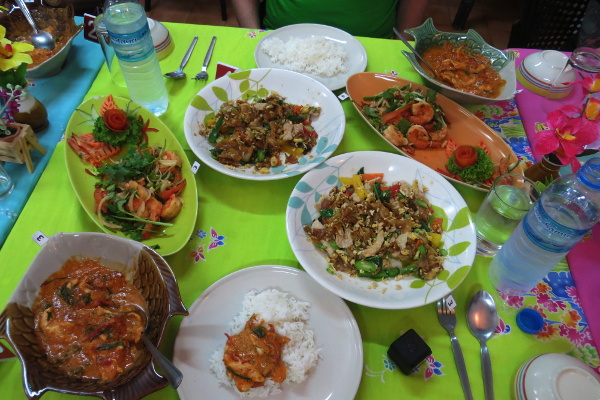 One of the highlights of Ko Samui was taking a cooking course. It was so well organized, and we learned a lot about the ingredients. The actual cooking part took about 1 minute per dish in the super hot woks. We made shrimp salad, panang curry paste, panang curry, and pad see ew with pork. I liked the panang the most.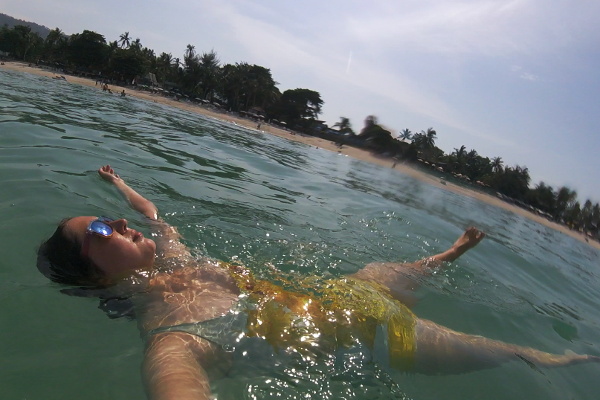 Ko Samui was a bit too city for my liking so the next day we took the ferry to Haad Rin on Ko Phangan. We purposely avoided going during full moon, so there weren't many people around, and the beach was lovely.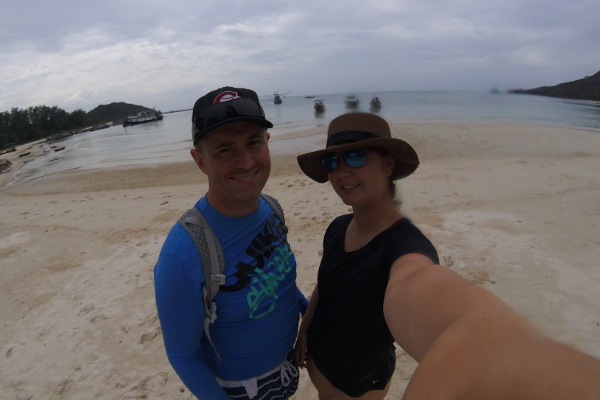 One day we went on a snorkelling trip around the north part of Ko Phangan. It was cloudy and windy, so the snorkelling wasn't life changing, but it was still nice to get out. There were lots of different types of colourful fish. And we saw monkeys on the drive back! They were sitting up on the power lines. V cool.
Haad Rin was nice but it got a bit noisy at night, so we moved onwards to Ban Tai. We found an awesome shack restaurant that was super cheap and delicious, and our hotel had a very nice pool, so we were set for a few more days.
Favourite foods at the moment:
Mango shakes. Pretty much daily.
Mango crepe. With nutella and condensed milk.
Papaya salad. This was one of the only foods that Scott could eat in Thailand, since almost everything else was fried, or made with coconut milk. Good thing it's a delicious dish.
Spicy fruit salad. This was the other thing that Scott could eat. It had dragon fruit, pineapple, apple, tomato, green beans, shredded carrot and peanuts in a chili fish sauce sauce.
There was also a night market that we could walk to that had all sorts of cheap food stands. Scott was able to eat bbq chicken skewers and I had things like curry puffs, samosas and spring rolls.
After a few days of relaxation in Ban Thai we continued on to Bangkok via ferry and bus.