Real Talk: we only walked about half of the Camino de Santiago. 400 km out of 800 km. I had every intention of doing the whole thing, but when my feet got destroyed and every step felt like being stabbed in multiple places, we decided to take the shame-bus for a bit in the middle.
Which happens to break my recap into two nice chunks. So here is Part 1.
May 10th – May 19th, 2016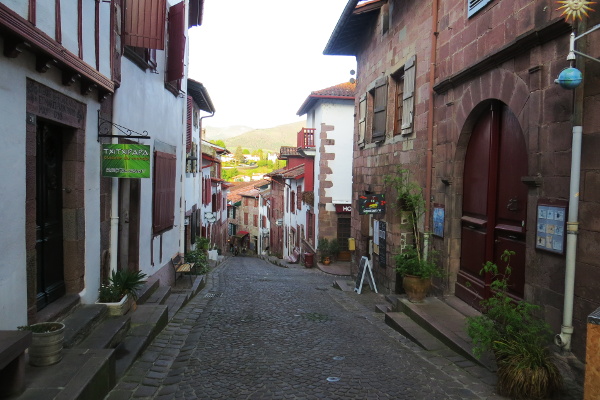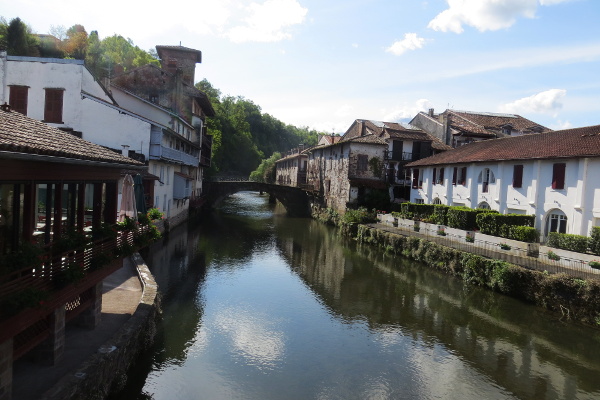 St.-Jean-Pied-de-Port, France, one of the most popular places to start the Camino de Santiago. We made the last train of the day there with literally 1 minute to spare. The train was only one car long, filled with nervous peregrinos. Some more interesting than others, ex. the guy who bought the wrong train ticket and was pronouncing it SAINT-JEEN-PIDE-DE-PORT, and the lady who already faceplanted immediately after getting off the train because her boot lace hooked onto her other boot. I hope their caminos improved from then on.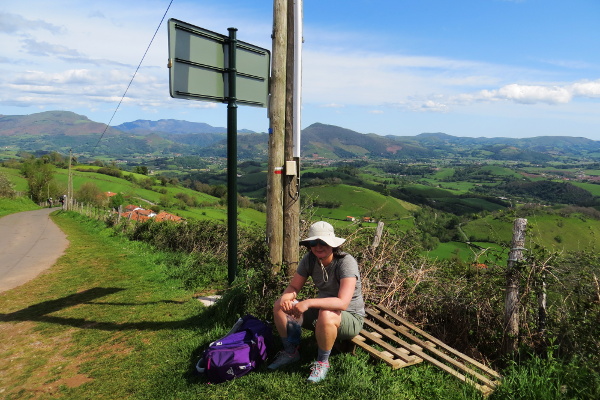 The first day of walking. The first stage of the Camino is probably the hardest one, because it's climbing about 1400 metres of elevation, then a very steep downhill, over 25 km until the first big albergue. I knew that was going to be really hard for me, so I booked us beds in Orisson a few weeks ahead of time. That way you break the climb into 800 m/8 km and 600 m/17 km the next day. I'm so glad, because then it didn't matter that we had a late start (due to waiting for the post office to open to mail some stuff to Santiago) and that I had to stop 800 times to catch my breath (and enjoy the amazing views). Orisson does a group dinner too where we met lots of nice people that we would continue to meet over the next couple weeks.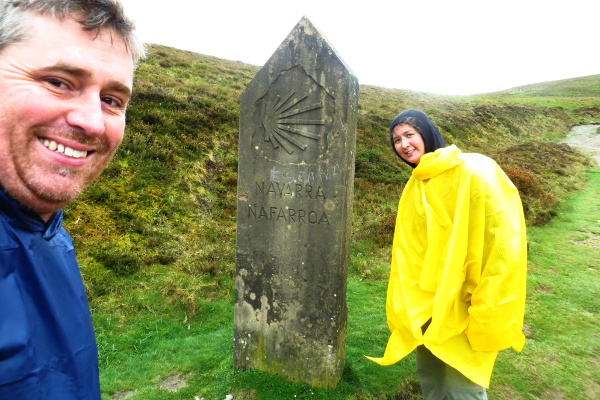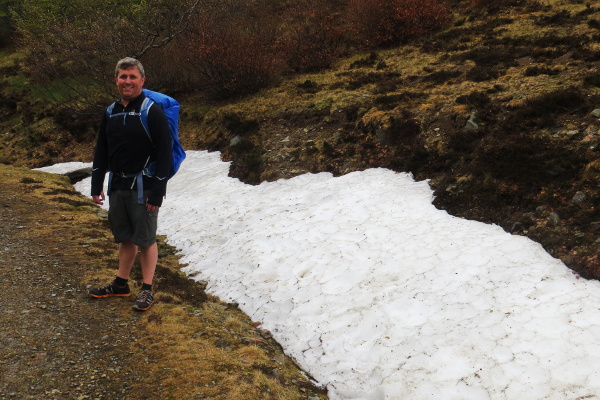 We crossed into Spain on day 2. We had to break out the ponchos over the next couple days, and there was still a bit of snow! The steep downhill sections were painful, but at least they are less tiring than uphill. Calves felt like rocks.
At this point you start to get used to the routine: wake up early, walk, breakfast, walk, lunch, walk, find an albergue. Shower, do laundry, rest. Group dinner. Early to bed. REPEAT!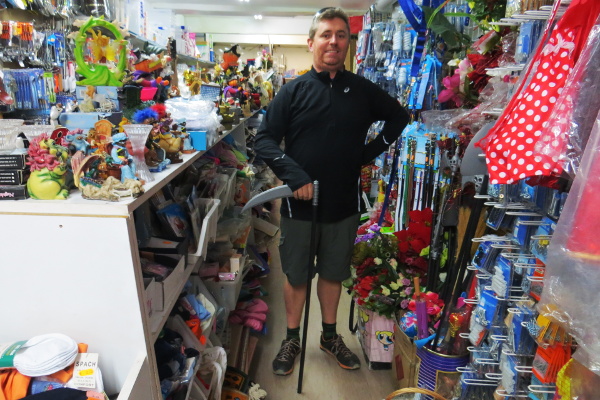 If this wasn't made out of such flimsy plastic it would have made the best walking stick ever.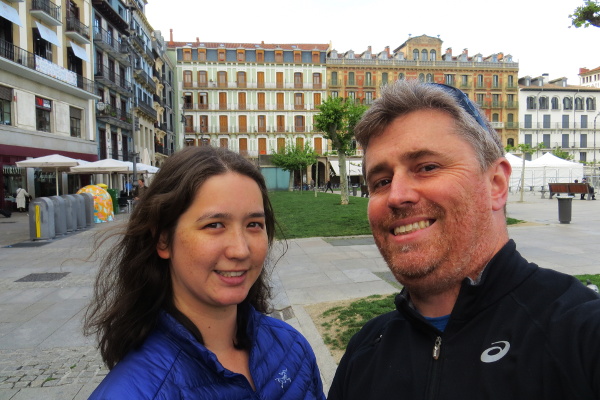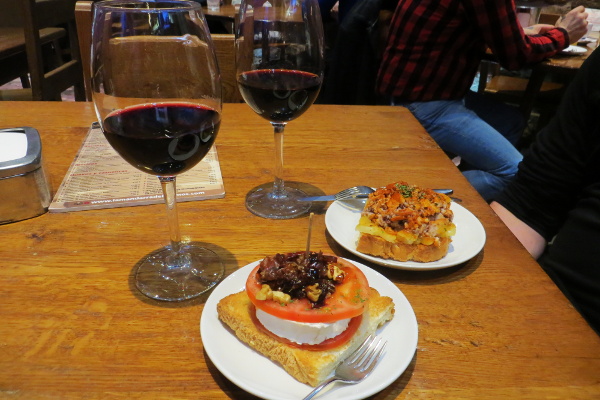 Civilization! Pamplona is the first "big" city that you walk through. We went to Vodafone to get a SIM card and the sales guy was the nicest person ever. He wrote out recommendations for albergues and 2 great pinchos (tapas) bars. We went to one for lunch and the other for dinner and they were both really nice. We had things like cheese-filled crispy balls, crab dip, tuna casserole puff, and toasts with stuff on them. The one in the middle of the picture had a huge slab of goats cheese, tomato, walnuts, raisins and candied jamon slices. Wash that all down with a 2€ glass of vino tinto, if you please.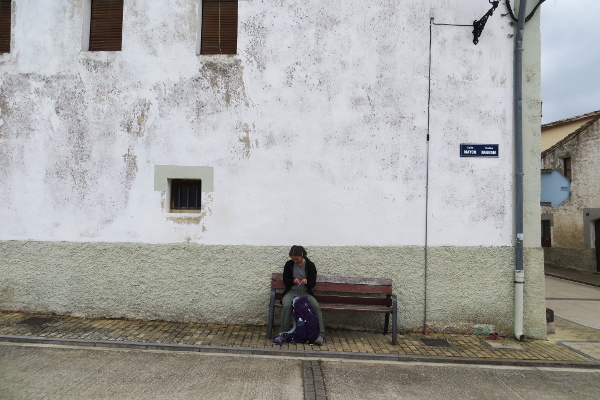 I started getting blisters on about Day 5. :( In retrospect, I should have just worn comfy Nike's or sandals, instead of heavier hiking shoes.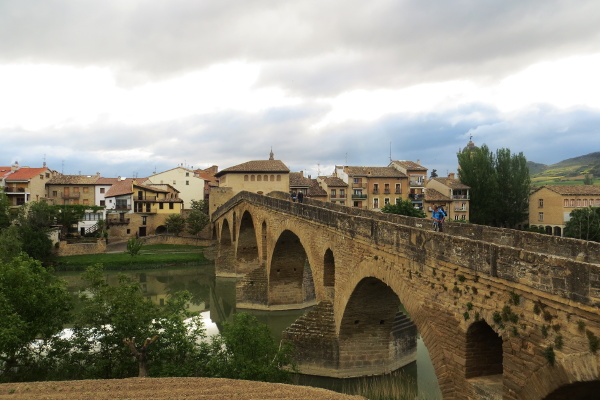 We walked over some pretty epic bridges. I can't believe some of them are like 1800 years old! That is amazing! Some of the small old towns were so so so cool.
Favourite foods at the moment:
Breakfast: fresh squeezed OJ, tortilla (Spanish omelette), croissants, cafe con leche
Lunch: bocadillos, especially a really fatty jamon, tomato and oil one we got at a bakery
Snacks: chorizo, Milke bars, bananas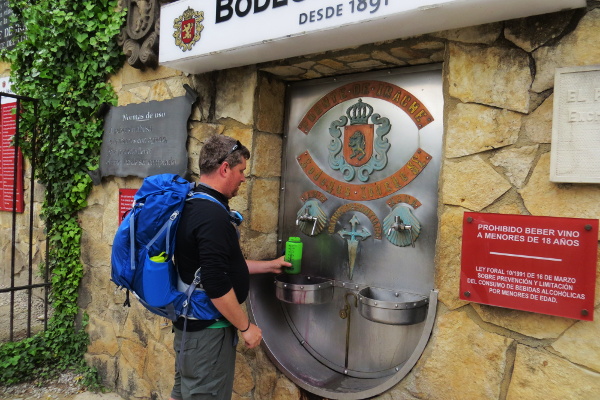 Free wine fountain! Scott filled up his water bottle a bit for later and it was surprisingly good. Apparently the winery gives out 100 L/day for free. Pretty amazing.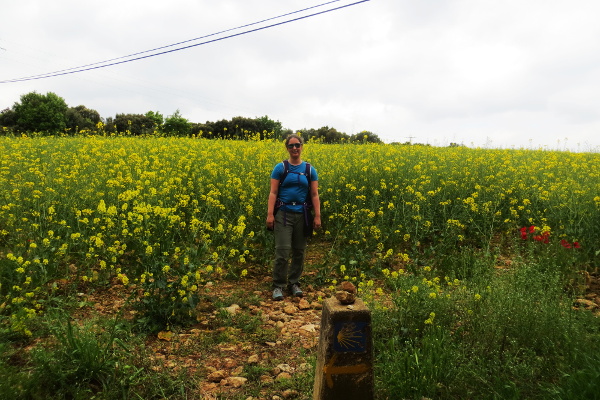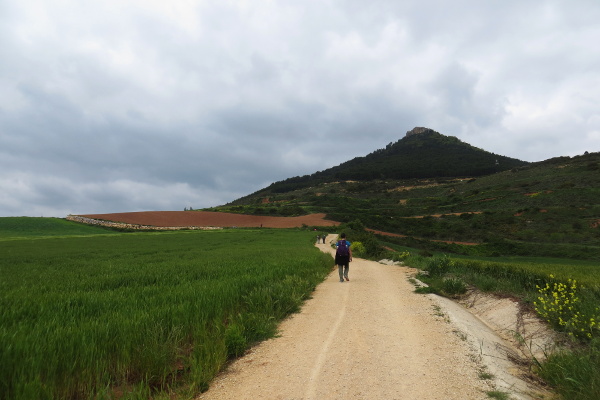 So much walking. Through more beautiful landscape. We were doing about 18-25km/day at this point. Scott could have walked more for sure but I was having major problems with blisters. A Dutch couple told me how to thread a thread through them to drain them, which did help quite a bit. I needed a day off one day though, so I took the bus and Scott walked 30 km on his own.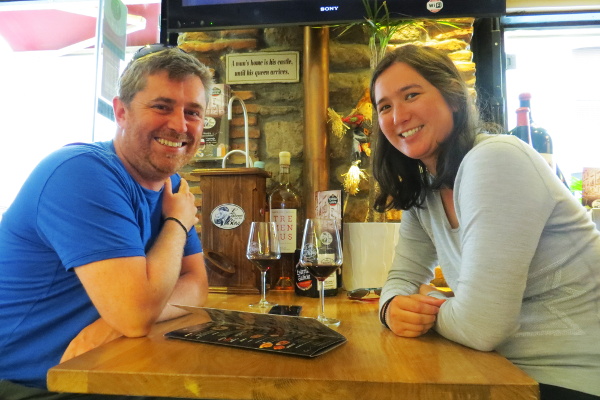 More pinchos in Logroño. Another city, which was always awesome after a few days of towns with population 20. I found a store that sold Keen hiking sandals, which worked way better. It's all about keeping your feet cool, I think. New shoes helped immensely, but I still needed to wait for my existing blisters to heal up a bit.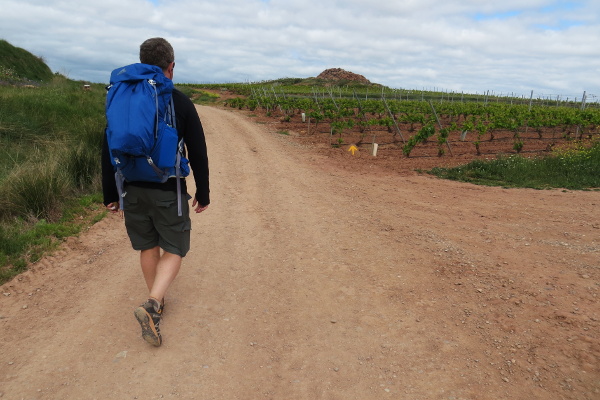 We walked a couple more days through Rioja country, after getting me new sandals, but the blisters were still painful so I was really slow. We started calculating how long it would take if we kept going at this rate, and thought about who we wanted to visit all around Europe afterwards, and then eventually came up with the difficult decision of skipping a bit of the walk.
I think Scott was a bit sad, because he was going fine up until then, but he also didn't want me to be in so much pain. We figured that if we took the bus and just did a bit of light sightseeing in Burgos and Leon then my feet would have a bit of time to heal up and we could at least walk enough of the last part of the camino to get our compostelas. So that was that.