May 20th – May 30th, 2016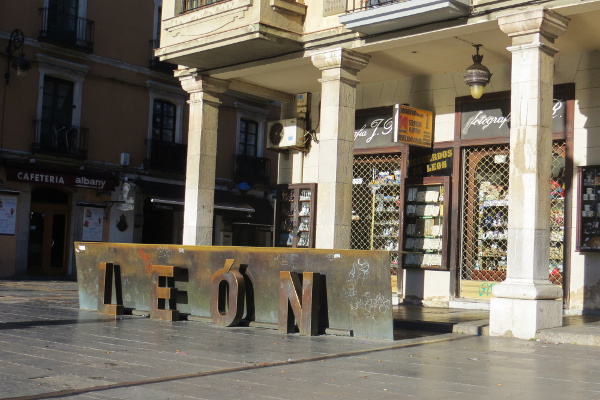 So we took the bus from Burgos to Leon. With a bunch of other guilty looking peregrinos. But whatever man, you can do your camino however you want. Right?
Moments after I took this picture the bells in the enormous church right behind us started frantically ringing, and then a HUGE crowd gathered right behind the sign. They were carrying candles and giant crosses and all sorts of stuff, and then when they'd filled up the whole block they all walked very slowly and quietly into the church. It was intense!
The next day we had an amazing chocolate breakfast feast, and then caught the train to Sarria, a town about 100 km outside of Santiago. 100 km is the minimum distance you need to do to be able to get your Compostela if you are walking (or on horseback). If you bicycle, you need to do 200 km minimum.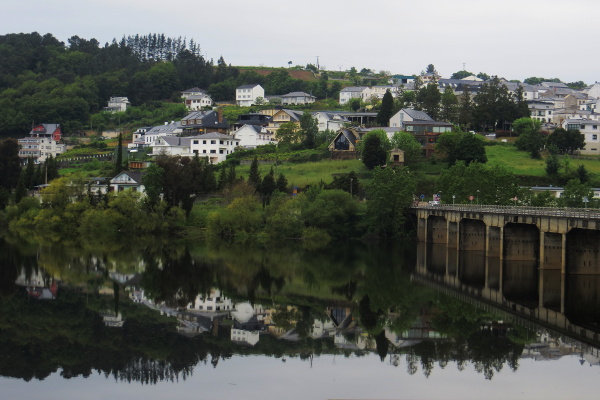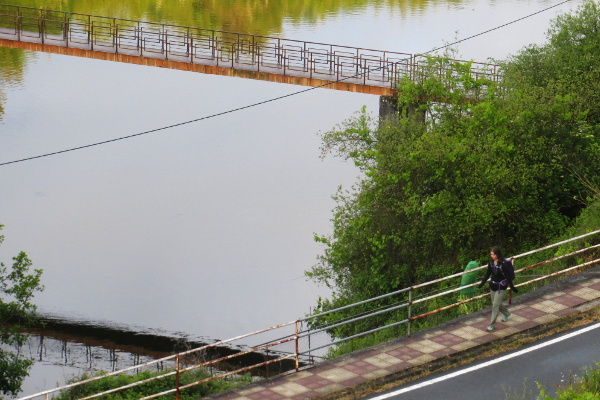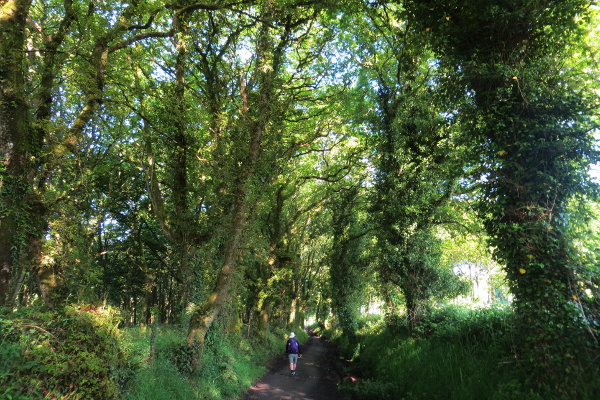 At this point we were coordinating with Annukka (Cassia's mother-in-law), who was on a roadtrip in Galicia, so we would arrive in Santiago around the same time as her. The timing worked out so that we only had to walk average 15 km/day, which was very nice and relaxed.
We stayed in one "town" that had a population of FIVE. They took very good care of us.
We almost got stuck staying at a Jesus albergue (with mandatory prayer time, a 1hr Jesus movie, God dinner, God games, and God breakfast), but I put my foot down and said I would rather walk 80 more km if we had to, and we awkwardly escaped. Thankfully there was another regular albergue just a bit further down the path.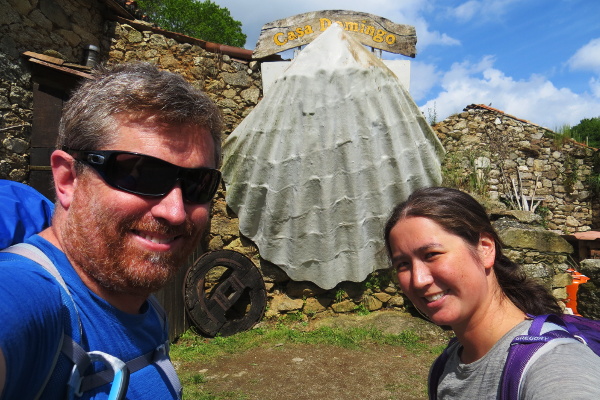 The whole camino you just follow the trail of shells and yellow arrows. This one was bigger than average.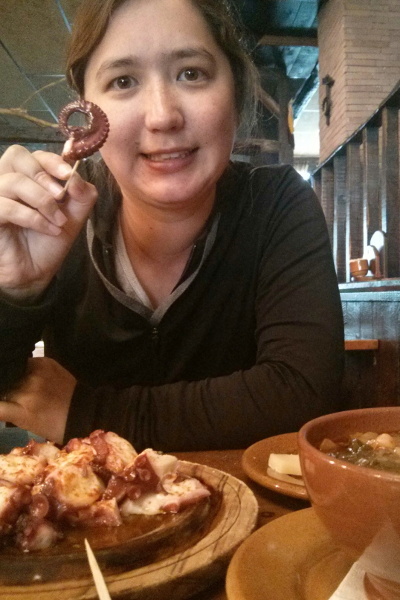 One of my favourite dinners: pulpo (boiled octopus with salt, olive oil and paprika), Galician soup (kale, white beans, pork), and Galician cheese.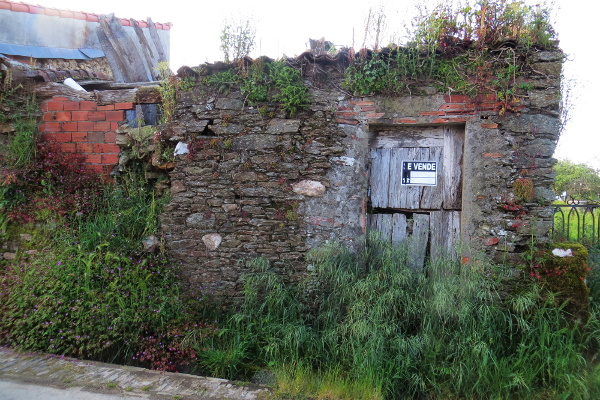 A bit of a fixer-upper!
The biggest cheese plate ever. I think it was 5€. The cheese was mild and tangy and soft, like havarti. We put half of it in a ziplock bag and ate it the next day on our sandwiches.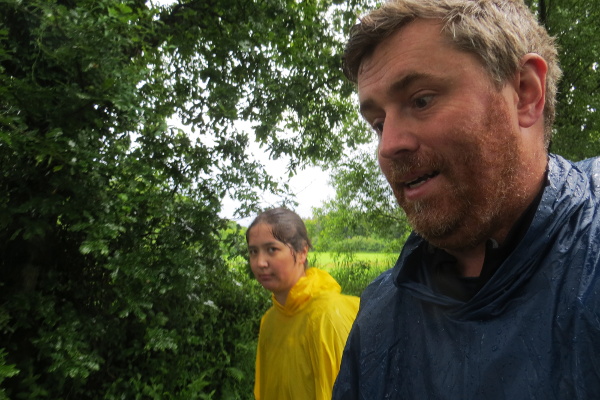 We had pretty good weather our whole camino. Besides the second day when we got rained on a bit, the rest of the time was about 15 degrees and cloudy, which is perfect for walking. Then the last two days of the whole experience it POURED. It was horrible. 20 km x2 in non-stop rain. Hands and feet looked like raisins.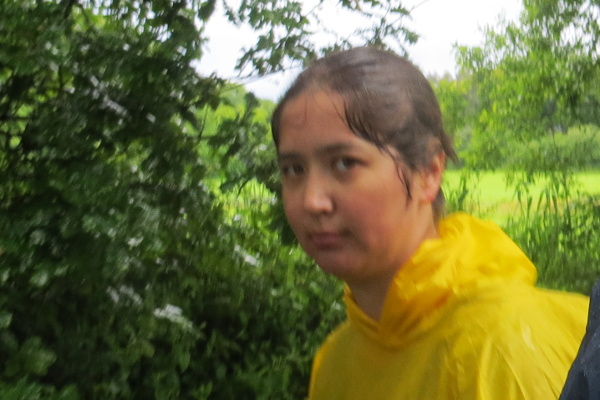 I was clearly LOVING LIFE. This is Scott's favourite picture of the entire trip.
Finally we arrived in Santiago de Compostela. And it was sunny. The church was large and in charge.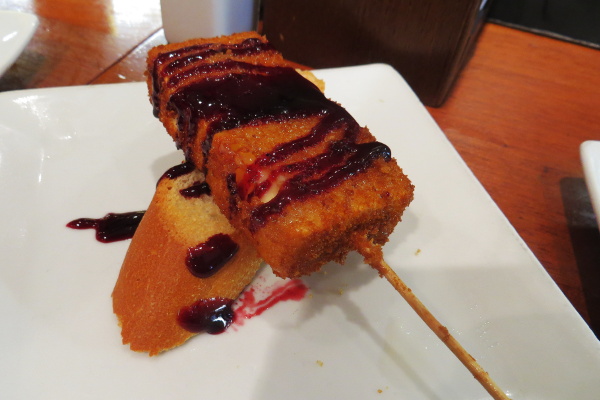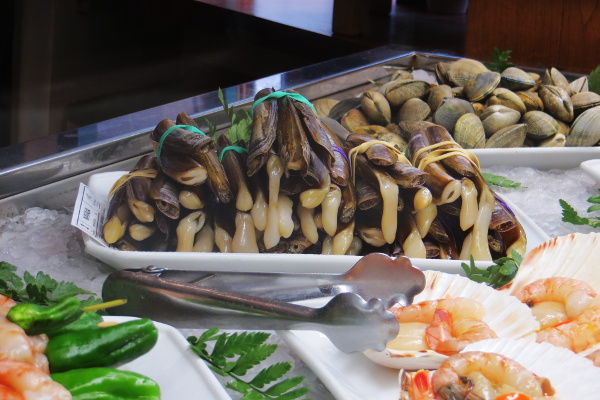 We had had lunch pinchos while we waited for Annukka. The cheese on a stick was amazing, and I was thoroughly entertained watching the Navaja (Razor Clam) ooze out and suck back into their shells.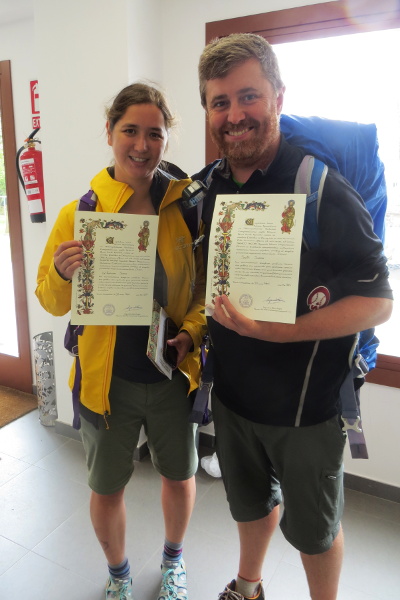 It is important to carry your pilgrim passport all the way along the camino. In order to stay in an albergue and get the pilgrim price (5-10€/night) you have to produce your passport to get stamped. And then in order to get your certificate at the end, you need at least 1 more stamp per day, for at least the last 100 km, which you can get at cafes, churches, shops, bars etc along the way. Then when you finally get to Santiago they inspect your passport at the pilgrim office and if you pass you get your Compostela, a fancy Latin certificate (that also apparently guarantees your entrance to heaven).
We did it!