One of the best things about the food blogging conference I went to was the food. So many yummy meals, and no one judging you for taking pictures of your plate, haha.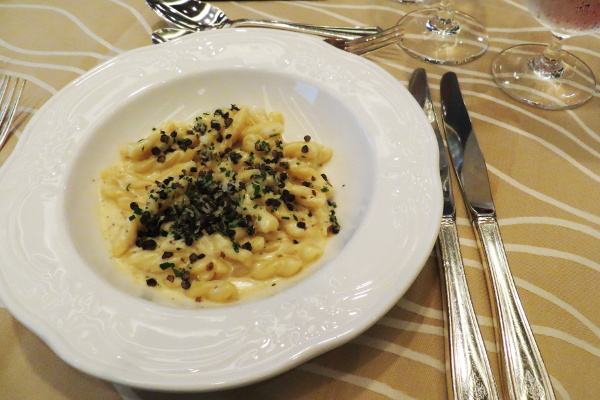 The first dinner was put on by the Dairy Farmers of Canada.
First course, four cheese truffled macaroni with a lentil crumble. Deliciously cheesy with an earthy flavour. The lentils were crunchy, but with an odd texture between your teeth.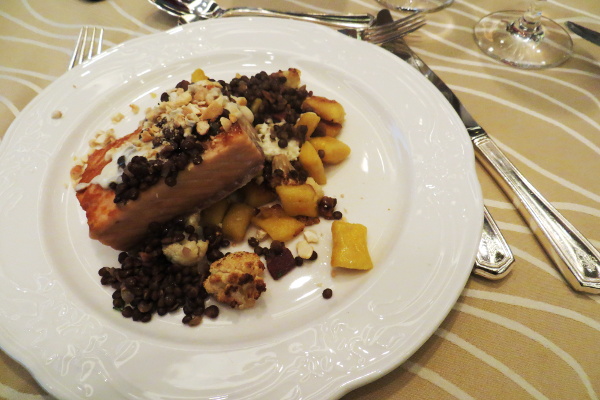 Main course, roasted salmon with lentil & bacon vinaigrette, ricotta gnocchi, caramelized cauliflower. Loved the (sustainable as per Ned Bell) salmon and the gnocchi.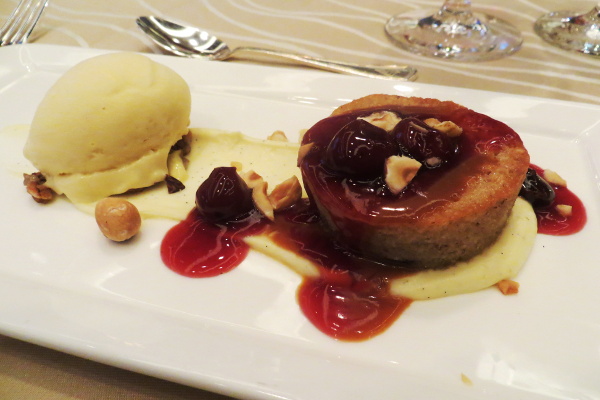 Dessert, red wine pear & hazelnut financier, salted caramel sauce, toasted wild rice ice cream. This was SUPER YUMMY. The little cake was moist and sweet, with slightly sour cherries (wait did they switch the pear for cherries? not sure) and salty caramel to balance. And the ice cream was totally smooth and creamy and sweet with a hint of rice flavour. Nom nom nom.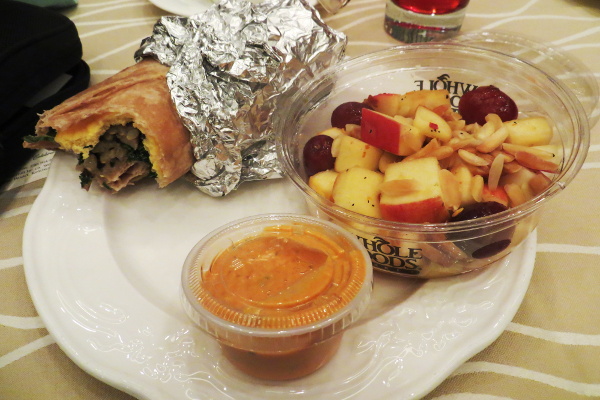 Whole Foods breakfast. A Japanese breakfast burrito that had smoked trout, eggs, mushrooms, sticky rice, nori, kale seaweed salad, red curry mayo all in a tortilla. Fruit salad that was sweet and SPICY. I loved the burrito! I have never eaten a breakfast wrap like it before. I heard from other people that they didn't really like this breakfast, but I thought it was super unique and good.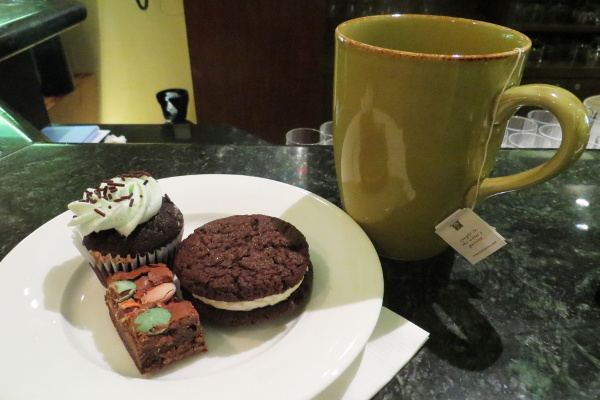 Morning snack break with treats from Butter. After 4 weeks of not eating any sugar, this tasted incredible. The brownie was super rich and the "Oreo" was awesome. I got a copy of the Butter cookbook in my swag bag and when I'm back on sugar I am totally trying these recipes first. So decadent.
We had a make-your-own-sandwich bar for lunch but nothing too crazy so I'll skip it.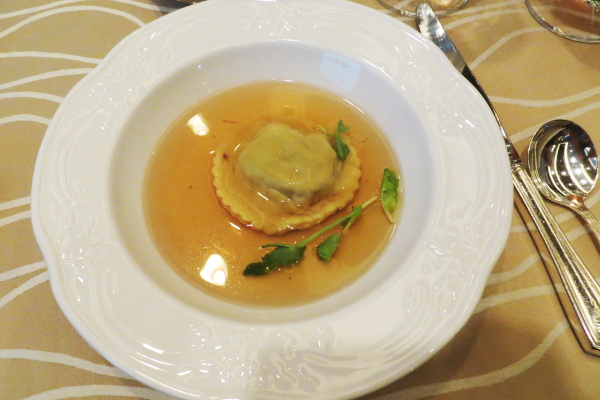 Dinner on the second night from Mushrooms Canada and Ontario Beef.
First course was a beef cheek & portabella ravioli in a Samuel Adams beer consommé. I always giggle when they make single ravioli dishes on Masterchef so I was pretty amused to finally get to eat one in real life. And they always go on and on and on about consommé being perfectly clear on TV too, haha. Anyway it was nice. I am not a beer drinker, and I could taste it in the soup, but it was still lovely. And perfectly clear.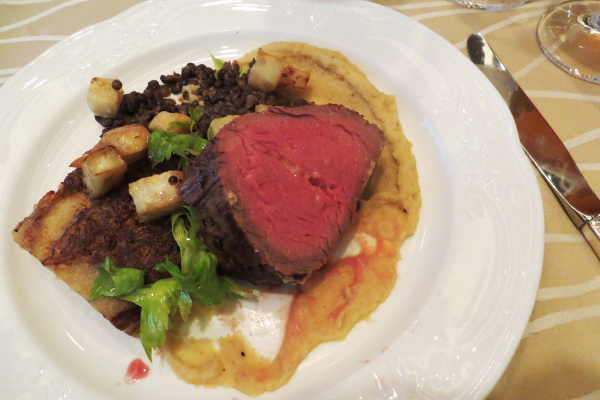 Main course, the star of the entire conference imo, roasted beef with shortrib & mushroom gratin, lentils, caramelized celery roots & hearts. I knew the beef was going to be good when I realized there were no sharp knives on the table. This beef was so tender you could pull it apart with your fork. So nice. The gratin was also rich and savoury and crispy and soft. Everything else was fine, but I definitely gave the beef and gratin priority.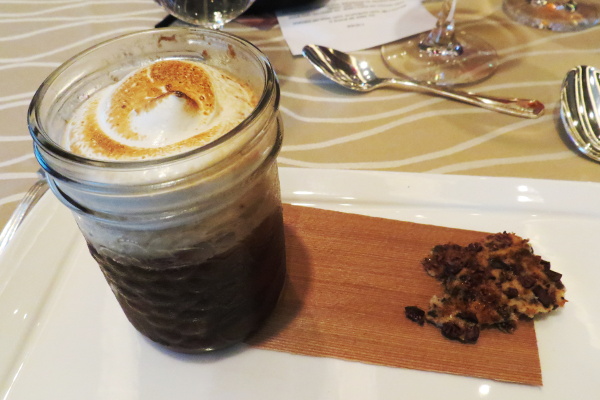 Dessert, coffee chocolate float with a marshmallow top, preserved cherries, lentil cookie. A lot of people loved this, but I can't drink coffee so I only tasted bits and pieces. I did like the cherries I dug out of the jar, and the cookie.
Next morning we had an omelette bar for breakfast from the Burnbrae Farms but I forgot to take a picture.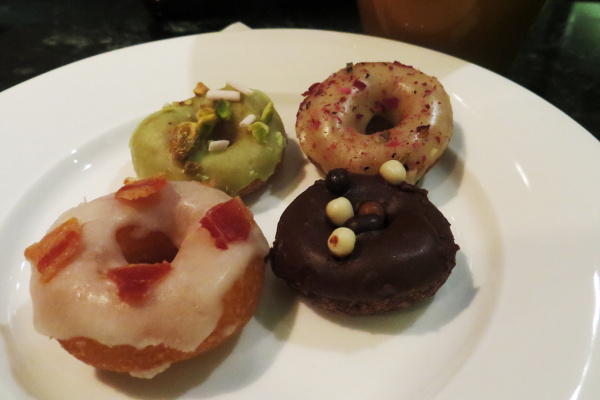 Morning snack, mini doughnuts from Cartems Donuterie. Everyone was losing their head over how cute they were. They looked good but I found them overly oily.
The last day we got to order food from Foodee for lunch. I had a Tacofino chicken karaage burrito, with chicken karaage (duh), rice, cabbage, avocado, and more. Loved it. It had tons of chicken in it and lots of flavour.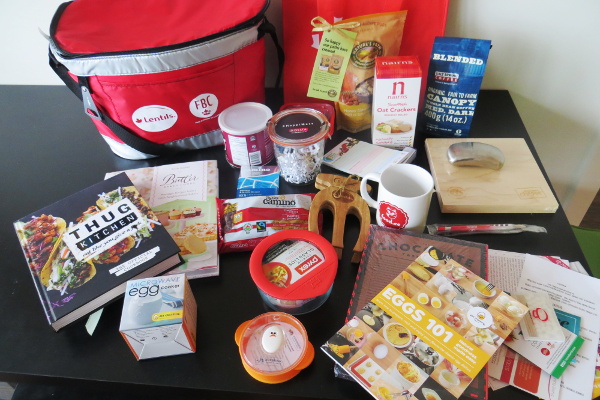 So much swag! They sent us home with tons of things from all the sponsors including two full cookbooks, glass containers, egg cooking thingies, a portable cell phone charger, granola, and lots more all in a sweet insulated cooler bag. I was very impressed with the swag bag!! Plus I think there are still a few more things on the way.
Other great things about the conference:
really useful seminars about the ethics of blogging, finding your niche, increasing traffic, etc etc.
meeting tons of other food bloggers from here in Vancouver and all over Canada
copious amounts of wine
So glad I decided (last minute) to go.