July 14th was Scott and my first anniversary! Scott got me some flowers and candy and I got him some CFL tickets for this Friday. Then we went out for a fancy dinner at Tojo's. We ordered the 5 course and vegetarian omakase which basically means 'trust the chef'. It was exciting and delicious. I had been looking forward to this meal ever since we moved to Vancouver. Tojo is one of the top rated restaurants in Canada!
To drink I had a cocktail with sour tangerine and guava that was super tasty.
1st course: I had a tuna tartar thing that was super light and smooth and fluffy and soft and delicious. Scott had a spinach salad that he liked a lot but it was very tiny so he was sad.
2nd course: I had octopus. It was decent, not rubbery whatsoever. I'm sure that is pretty much as good as octopus gets. Not my top choice of seafood really. Scott had a seaweed salad, which was ok, but maybe a little plain.
3rd course: Yellowtail with some stir fried stuff. Quite tasty, but cooked fish < raw fish, in my opinion! Scott had a croquette that I don't think he liked very much because it was not very Japanese.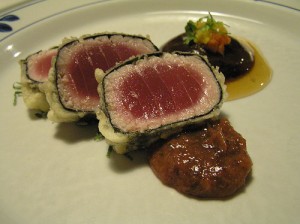 4th course. Picture stolen from travelwithamate.com
4th course: OMG delicious tuna thingies. From the menu: Red tuna wrapped in nori seaweed with a light tempura crust, served with sour plum sauce. The slices of tuna were perfect looking: raw in the middle, cooked around the outside. PERFECTLY flakey. Scott got a mushroom dish that he liked a lot (finally).
5th course: SUSHI! Yay! Both of ours were really good. We each got a variety plate, which is what I always wish I could have at sushi restaurants but is usually not an option!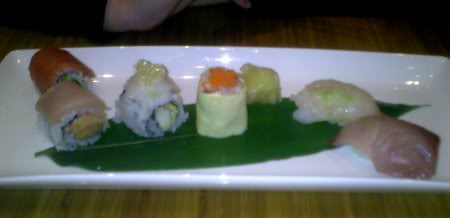 My plate had a raw prawn sushi (blech), yellowtail sushi (om nom nom), a piece each of Great Canadian Roll (Atlantic lobster with asparagus inside with smoked Pacific salmon on top), Spicy Tuna Roll, Golden Roll (crab, scallop, salmon, and sweet shrimp rolled in an egg crepe), and the most delicious piece of sushi I have EVER eaten:
Pacific Northwest Roll (West coast Dungenss crab and avocado inside-out with scallop and flying fish roe on top).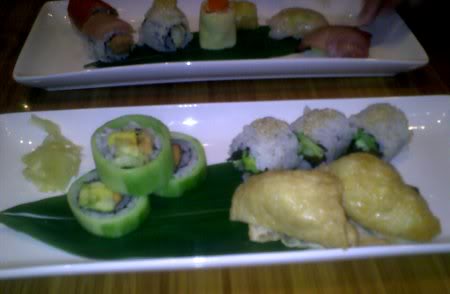 Scott's plate had two of those bean curd pillows with rice on the inside, a few pieces of a roll with pineapple and lots of other veg inside, and a few pieces of a roll that was wrapped in cucumber instead of seaweed.
Sorry for the terrible pictures, we didn't bring the camera with us to dinner.
Then for dessert we had ginger ice cream with tasty citrus fruit on the bottom, and a pannacotta type thing that tasted good but I didn't really like the jelly texture.
Overall I was very happy. Scott's wasn't very good value though. We both left full, after about a two hour dinner since you have to wait a bit in between each course. It was a fun experience and maybe when we're DINKs we can go back. Maybe Scott will eat fish by then.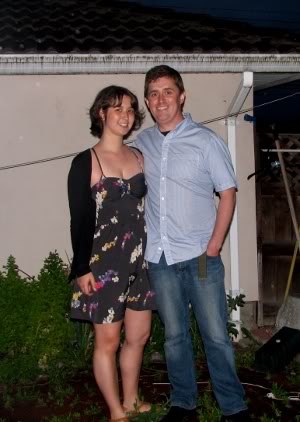 Can't believe we've been married a whole year! It's passed by quick.