This semester is FLYING BY! I've already finished 2 out of 3 rotations, and that is great.
Epson is sending me some free ink because I called to complain about my printer saying it is empty even though I can hear ink sloshing around inside of the cartridges. The free ink is awesome, but the whole problem started because of the extreme crumpling action that the printer does every once and a while and that is not fixed at all. Blergh. I do not recommend Epson printers.
Our Halloween was very uneventful. We didn't have any trick-or-treaters because we live in an apartment building. We didn't carve a pumpkin this year. We didn't dress up or go out. We didn't even buy any Halloween candy!! WE DIDN'T EVEN HAVE ANY CANDY AT WORK!! >:(
This weekend should be plenty exciting though. 6 hours of skeleton!!! I am extremely excited. I'm not sure how fast we'll be able to go though because it's still quite warm up at Whistler. So I might not break 100 km/hr this time, but I hopefully learn some new stuff, and after I've finished the "course" my options for skeleton are much better.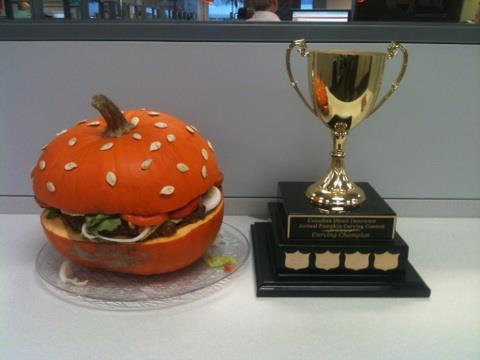 Wait!! Scott did carve a pumpkin this year. At work!! He won a prize! Actually that is a pretty epic hamburger pumpkin. I am super proud of him.