+ Scott and I figured out how to make kettle corn at home. It's super easy. I may never eat anything else again. I will take some pics and post the recipe the next time we make it (probably tomorrow, haha).
+ I won a scholarship for my performance at school last year. YAY! It's the Brenda Clark Nuclear Medicine Technology Scholarship. How fancy.
+ I was thinking maybe I could do some posts about nuclear medicine. I could write up some of the explanations that I give to patients and show you some of the equipment and maybe some of the types of pictures we take? I am tired of people having no idea at all about what I am studying. Would you be interested in some "intro to nuclear medicine" posts at all?
+ Scott and I are (probably) renting a car this coming weekend and going up to Whistler. Brian and I are going to do skeleton school. And Brian and Morgan have moved up there permanently now, so Scott and I get to stay with them. :) Was that confusing? Hope not. Anyway of course I am super pumped about skeleton and if we get to do the course we will be able to join any training sessions now instead of relying on the SFU ones. WOOOO. Brian really got hooked last year so he's probably going to be doing it a lot this season!! Hopefully I get to go a few times as well.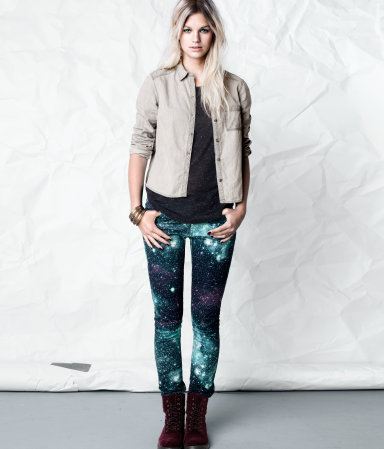 + H&M has
SPACE PANTS
and I really want a pair. The H&M at Metrotown didn't have any though. I'll have to check out the store downtown.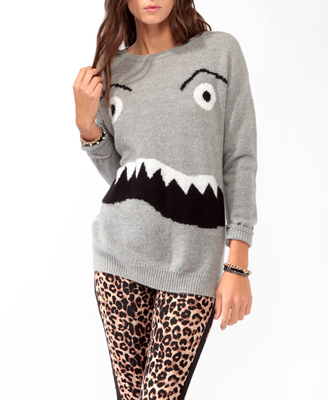 + And this is the
best sweater ever
. They only have it at the American Forever 21 though. Bummer.
+ My hospital placement is going fine. Not great, but fine. I don't think I could ever be loud enough to fit in there, really.
OK BACK TO BUMMING AROUND. BYE BYE!