The week after we moved into our house was exhausting. Working and unpacking and trying to fix things up the way we like, while realizing that we don't have any of the right tools… the place was a mess.
I wanted to change all the locks in the house, as you do when you move into a new place. So we unscrewed all the knobs and locks that we wanted to replace and did an inventory and headed off to Bunnings. Only to realize that locks are very complicated and they didn't have the right combinations of what we wanted. And that one of the holes in the door was the wrong size (not the one in the picture).
So we investigate buying locks online (much easier!) and borrow a hole saw and try to cut the right size hole. And fail. And borrow more tools. And fail. And every day the front door is just flapping in the wind while we're at work (we could lock the screen door at least). After a week or so we give up and hire a locksmith.
A bathroom tap broke off on like Day 3, lol. Lucky real estate agents. I had intentions on changing it to a lever style tap until I realized that there are about 80 million different types of tap spindles. After three trips to Bunnings I ended up just replacing the knob with the exact same type of ugly knob. At least it was just a couple of dollars.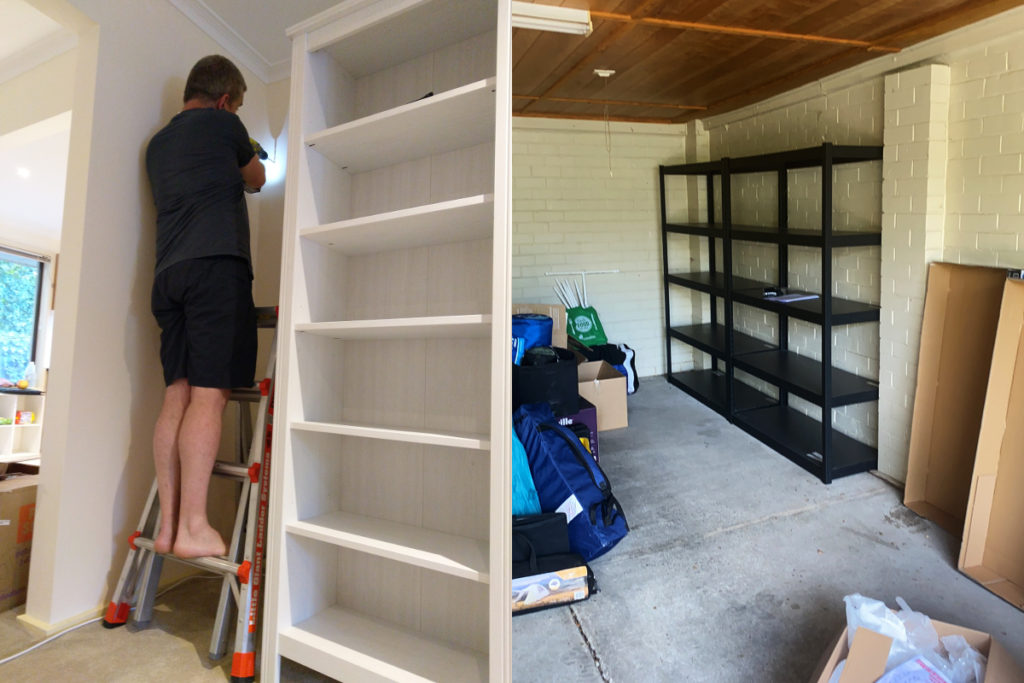 It took us a whole night and some minor fighting to put up a whiteboard (on a hollow door, had to use weird anchors) and anchor two bookshelves to the wall (multiple trips to Bunnings for a drill, drill bits, stud finder (that didn't work) and drywall anchors). Scott built those two garage shelves by himself one morning though, which has really tidied up the garage.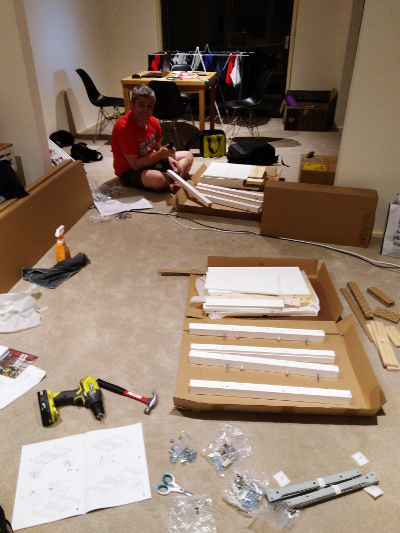 I went to Ikea three times to get two more shelves, two bedside tables and a stool, then return a stool, then return the returned stool and get a different stool. I was not aware that bar stools came in different heights. Scott built most of it. Good job Scott!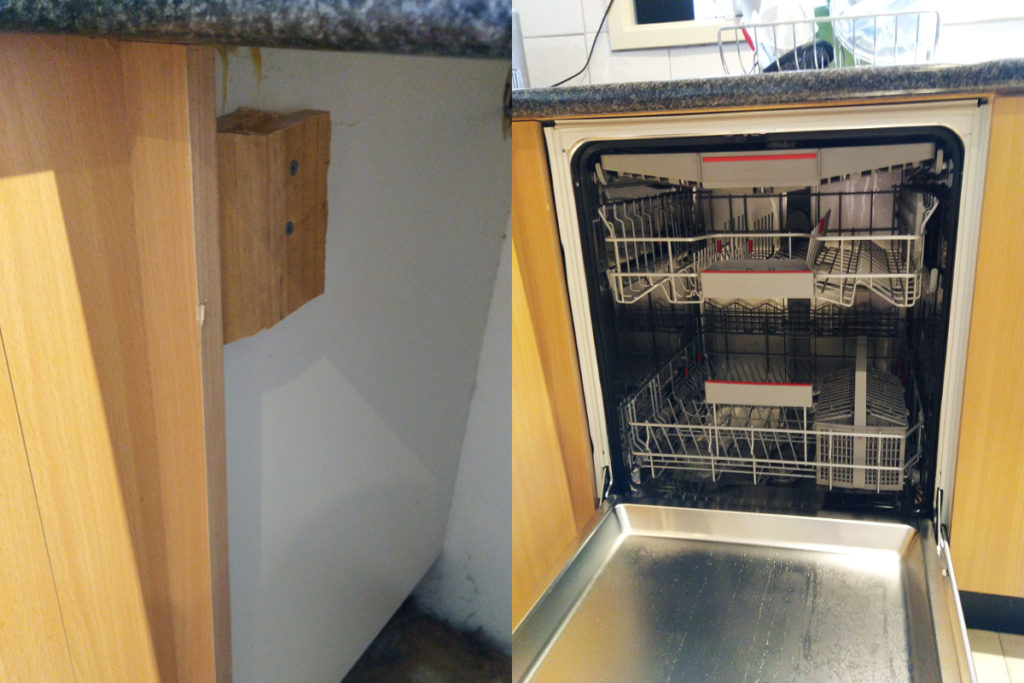 The dishwasher that came with the house was hilariously named Silencio. One night we turned Silencio on before bed and when I woke up in the morning IT WAS STILL ON. Also it was leaking. So we ordered a new dishwasher.
They were supposed to install it for me. Just as the dudes were leaving he was like "So I have to show you something" and proceeded to show me that he had only actually screwed in the dishwasher on one side because the other side was too far away from the cabinet, and that I wouldn't be able to use it as is. UGH. So I spent the whole rest of the morning trying to get a piece of scrap wood that I could use as a spacer, sawing it in half with a 10cm hacksaw to double it up because it was too thin, unscrewing and pulling out the dishwasher, rigging up the spacer and then reattaching everything. Thankfully it all worked and it's secure and running very nicely and very quietly now.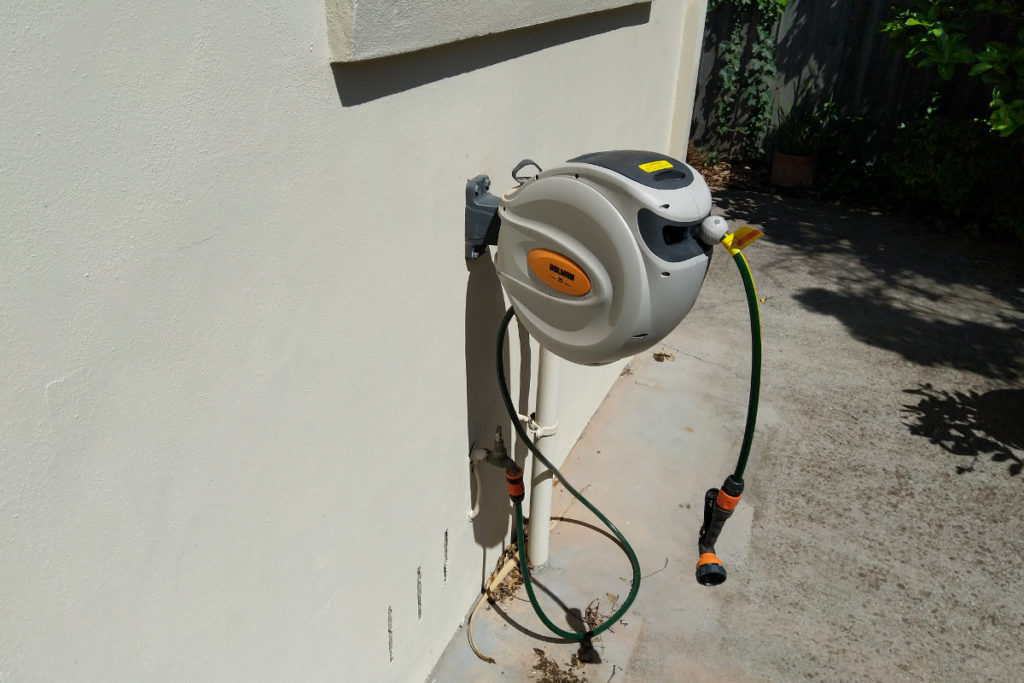 This lil' buddy also involved borrowing tools, and two trips to Bunnings (drill bit was too dull). Scott's whole body is sore from doing the drilling but the hose reel is nice and sturdy and very handy for watering the garden. Our plan is to get like four big veggie boxes.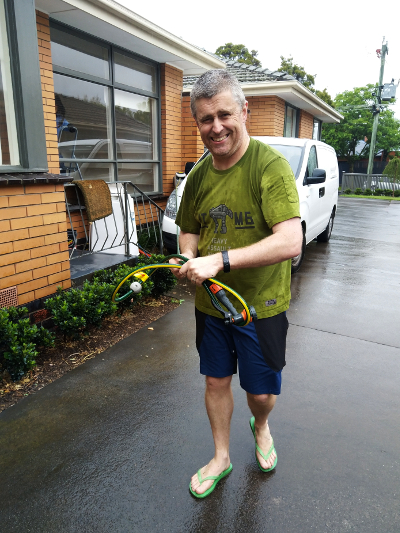 A miserable morning of cleaning the exterior of our old house on a unexpectedly cold and rainy day. :P
So yeah, we made a lot of mistakes. The learning curve was steep. I do have a new appreciation of all the building stuff dad taught me as a kid though, thank goodness I have somewhat of a base knowledge of tools and construction and houses from all those days at the cottage. We wouldn't be able to do anything on our own without that (and Youtube).
Short term plans:
a small shelf in the laundry room to put detergent and stuff on
some kind of medicine cabinet in the bathroom for more storage
new power point on wall with tv OR thread power and tv cords through crawlspace/roof
clean eavestroughs
make some kind of bracket for weather station
go all the way under the house and take a closer look at everything
Long term plans:
fix the water damaged floor in laundry room/kitchen/bathroom
ditch carpet and redo floors
ducted heating???