My friend Janine (my roommate from first year of university) was in town this week for work. I met up with her downtown to hang out the other day!
She had heard about Japadog from some other friends so we knew where to have lunch already. We went to the actual Japadog restaurant on Robson because it was a crazy weather day (we had hail, rain, sun, and snow all within a couple hours). The restaurant was packed but we were able to get a spot at a table by the time our food was actually ready.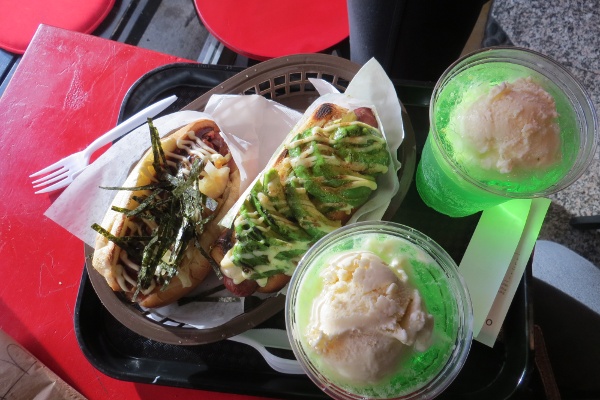 We got the spicy cheese terimayo hot dog and the special avocado hot dog and split them both. Janine ordered us some melon floats and fries as well (not pictured). Everything was very tasty!! (The only negative I would say is that the avocado one had just a bit too much cream cheese and mayo.) The fries reminded us of something else but neither of us could figure out what. Maybe some kind of chip flavour or something? I liked them and would order them again.
Has Japadog lowered their prices or do the stands and the restaurant have different prices? Because I had Japadog once before a year or so ago and it was like $9.50 for a hotdog! I do remember the hotdog being a lot bigger. Now they are around $5-$6 and smaller, which is better, in my opinion.