Lockdown cooking has been fun, to be honest. We have been eating well.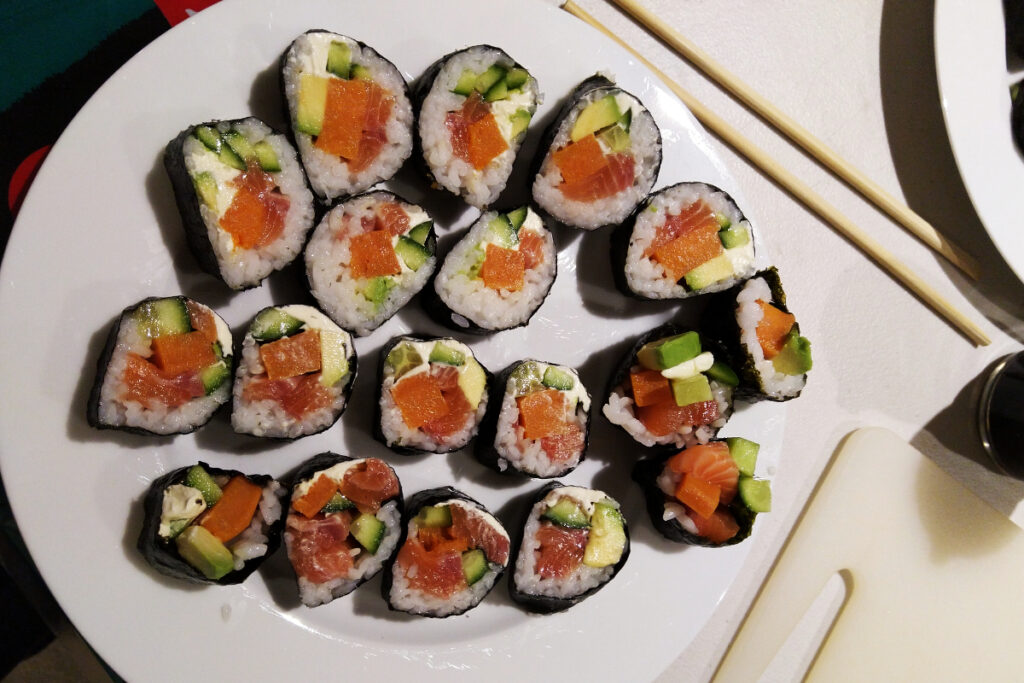 Homemade sushi with salmon, steamed yam, cucumber, avocado, cream cheese.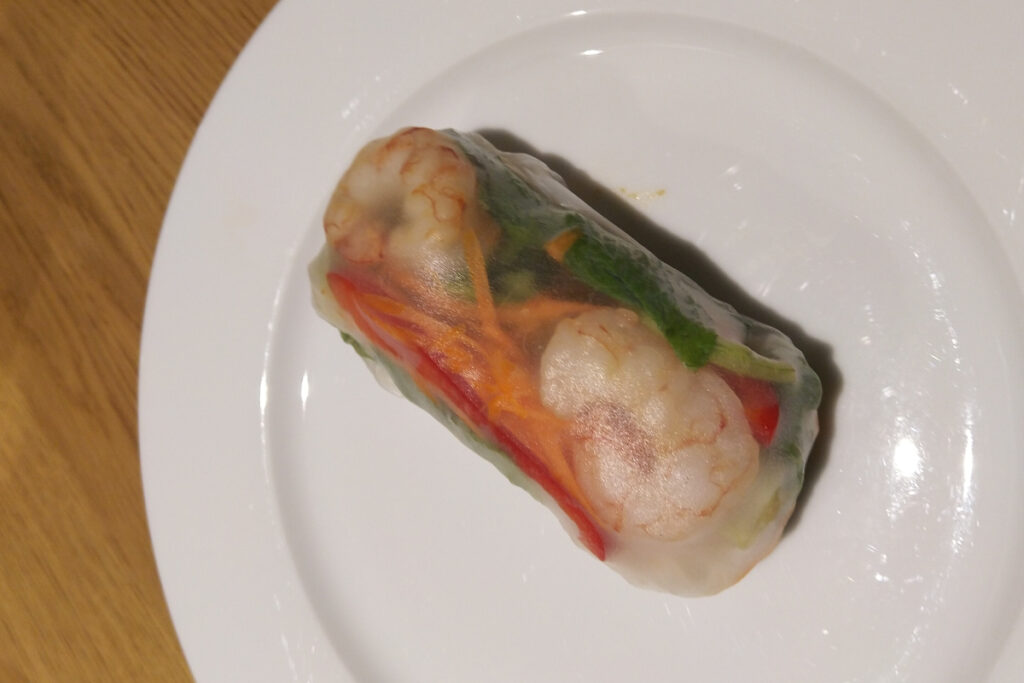 Rice paper rolls with shrimp, rice vermicelli, tons of vegetables, cilantro and mint. Dipped in the most tasty peanut sauce.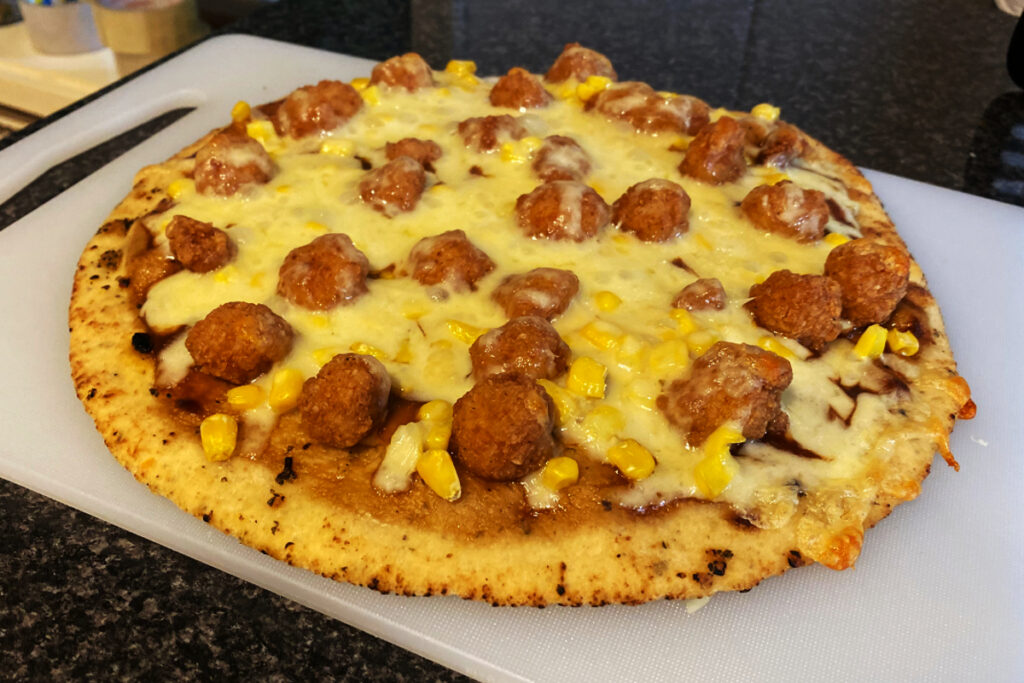 Scott made this for me after seeing it on Facebook… a KFC popcorn chicken pizza with corn and gravy. LOL.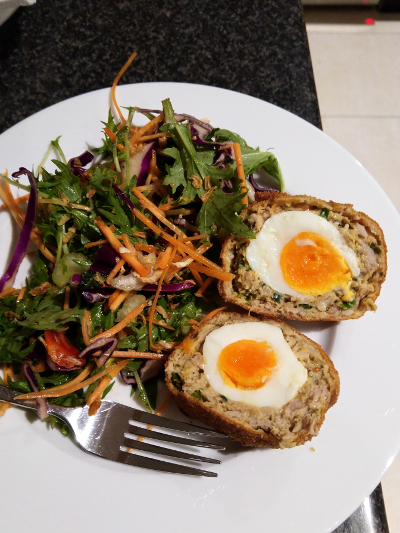 Scotch eggs and salad. These were a bit hard to make, but sooo delicious! If I made them again I would try to get smaller eggs so it doesn't use as much sausage per egg. The sausage stuck to my hands so much and was so hard to get to seal around the egg and do the breading, but somehow they held up well during deep frying and in the end came out great!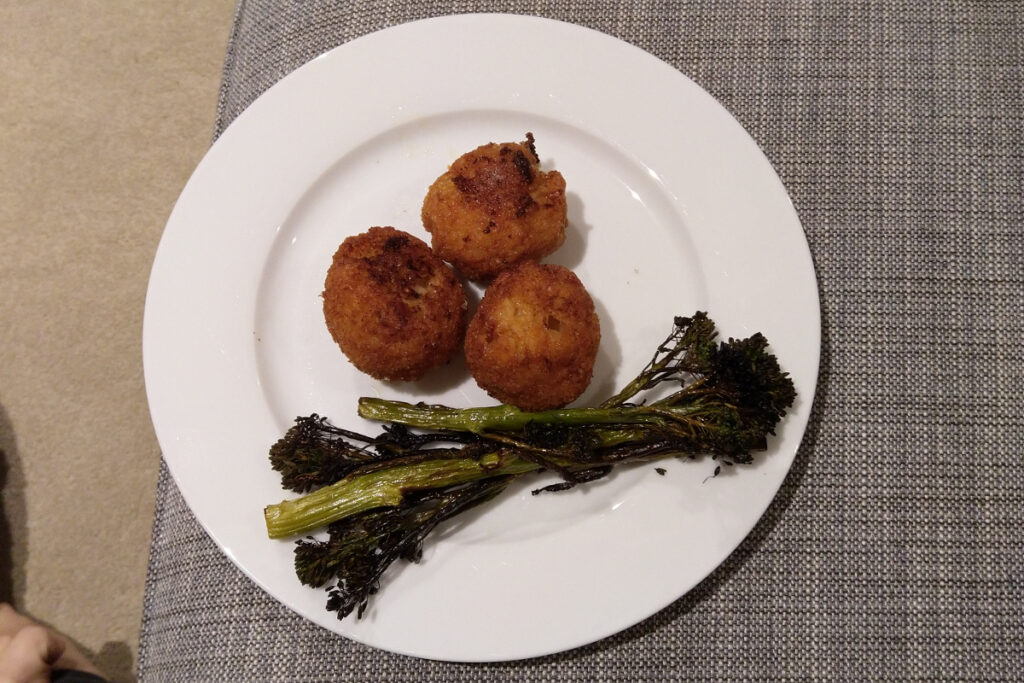 Arancini and umm… charred broccolini. The deep frying adventures continue. Scott made the arancini. It took a long time but they were delicious!!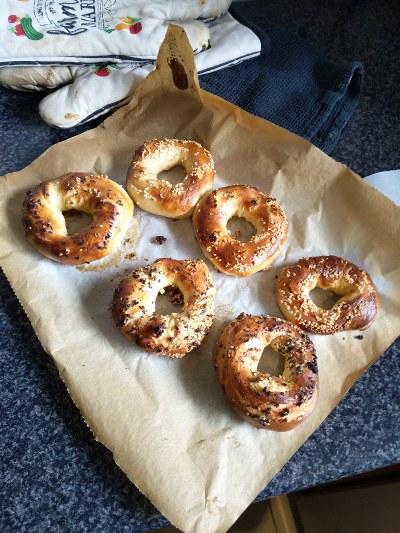 Montreal style bagels. Not linking the recipe because I don't recommend that particular one. I don't like the bagels in this country much so I have to make my own. Still needs some work.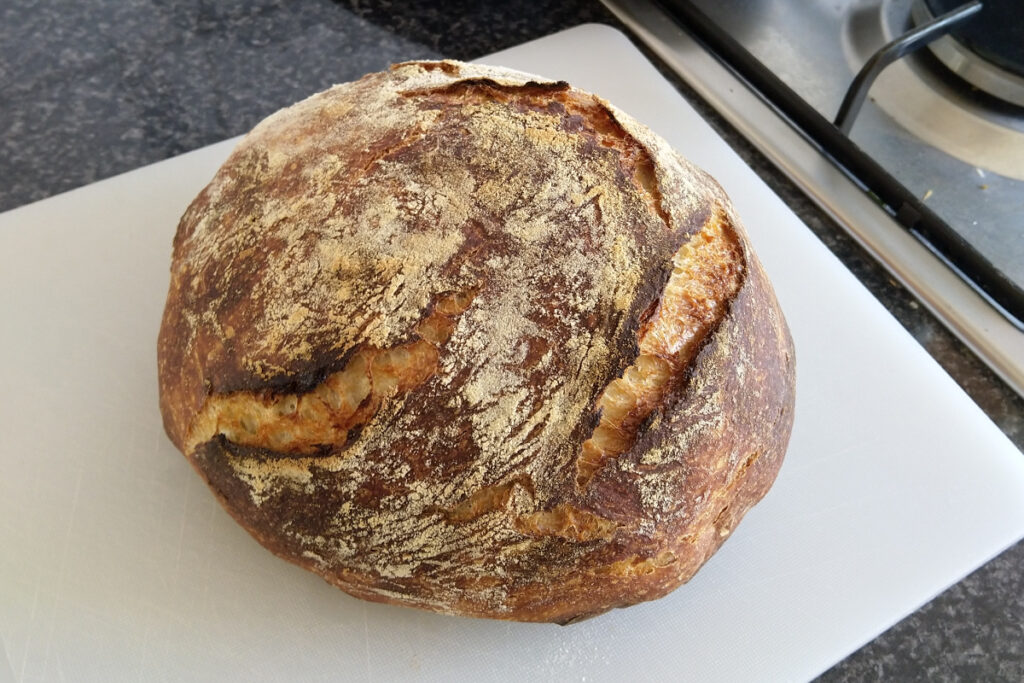 A quarantine classic, although not sourdough, just regular no-knead bread.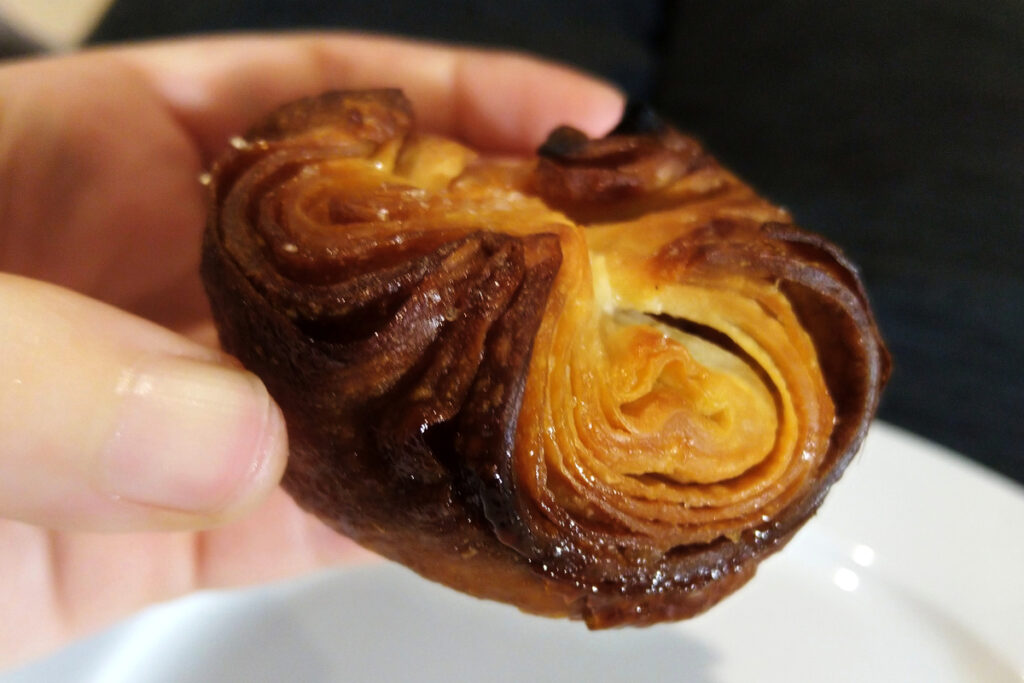 Kouign-Amann. This took me EIGHT HOURS. It wasn't actually that hard, but the whole process was like "do one fold, roll, then chill for 30 minutes". It was the one day I was happy that our house is never hotter than 15 degrees…. perfect for laminating pastry.
Scott made Arnott's Monte Carlos. Yum. Did they ever release the Kingston recipe?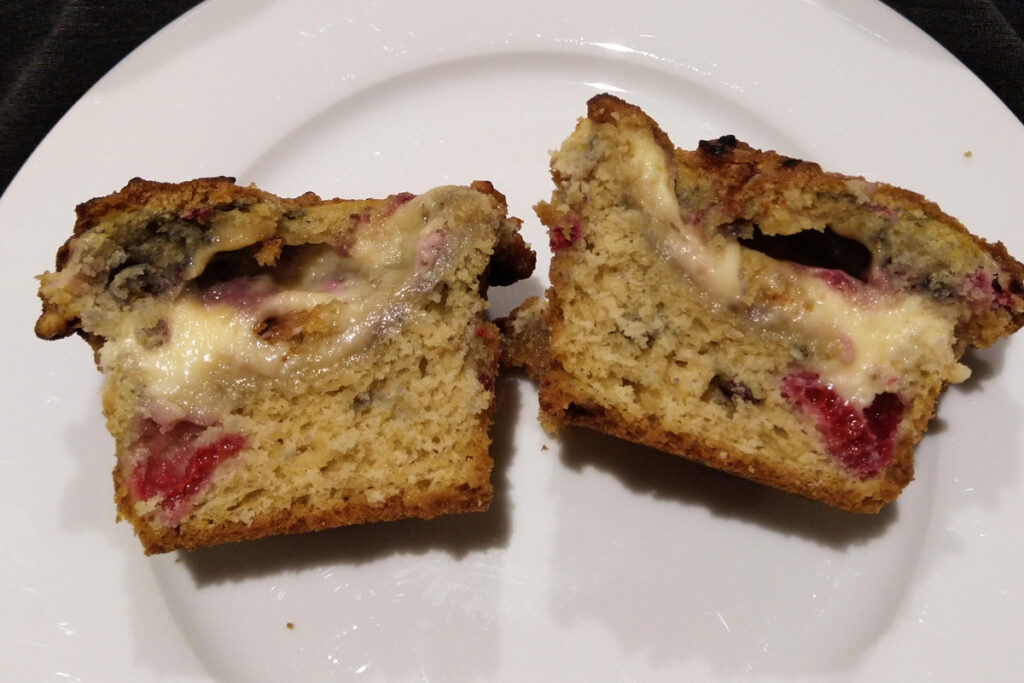 Raspberry cheesecake muffins. They don't look that hot in the picture but these were SOOOOOO GOOD. I'm coming around on cooked fruit. These muffins have a cream cheese filling and a super delicious crumble topping. I think I'll make more of these v soon.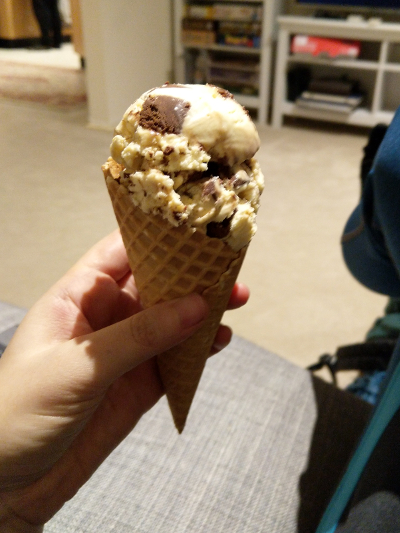 Almond Brittle and Salted Chocolate Ganache ice cream. I've written a lot about Salt & Straw ice cream. We once drove all the way from Vancouver to Seattle for ice cream. Then a couple months ago I realized that Salt & Straw might have a recipe book. I looked it up and yes they did, and wow it was available at the shopping centre right around the corner from us here in Melbourne. Shortly after I'm making batches of brittle and ganache and making my all-time favourite ice cream at home. And it's perfect and delicious and I am so happy.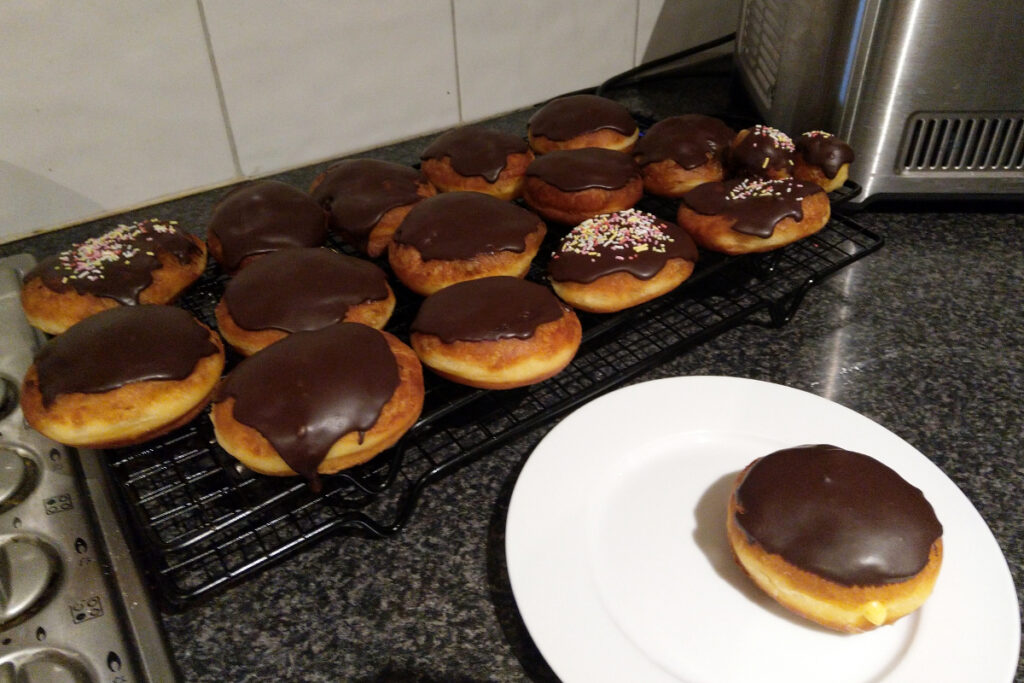 Scott made Boston Cream doughnuts. Don't they look awesome!?!
Scott made more doughnuts for the one time we were allowed to have a family gathering. White chocolate glazed, and filled with passionfruit curd.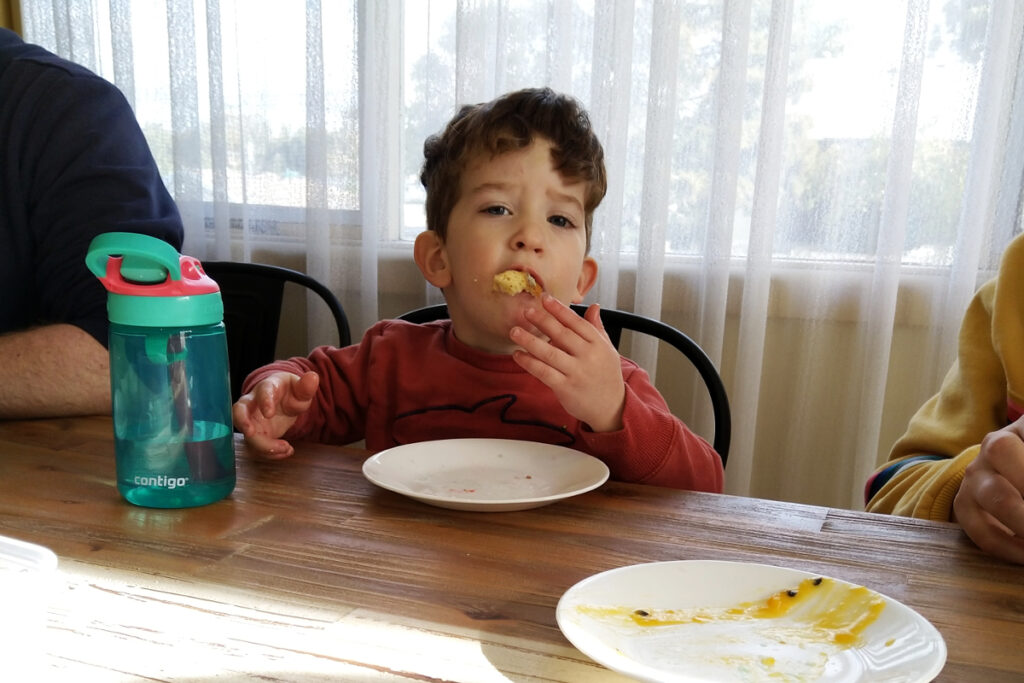 Myles approved.