Scott couldn't come to Fiji with me, but we WERE able to spend a mini long weekend together in L.A. on my way over. We've been really unlucky with coordinating our holidays lately so even 3 days away together was special. BTW Scott and I have awesome trips together!! Oahu, Seattle and now Los Angeles have all been really really really fun trips!
The day we arrived we picked up our rental car, checked into our (really GRAND) hotel and then headed towards downtown L.A for the basketball game. We thought we'd have time to get something for dinner before the game started but traffic was silly and we ended up barely making it to the game on time. So we ate unlimited popcorn until my heart exploded. Nutrition!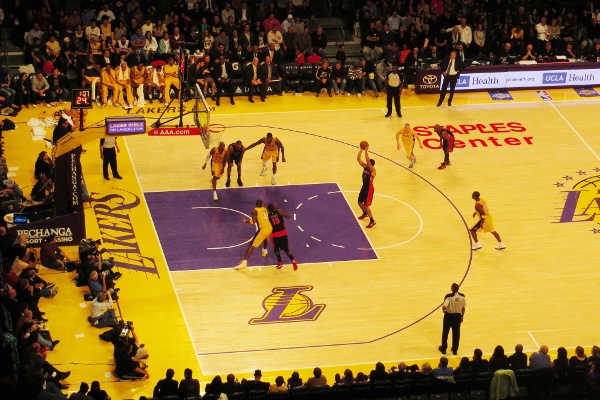 I didn't really expect to be that interested in the game but it ended up being SO FUN!! It was the Lakers vs. the Raptors so I had that Canadian connection. Both teams are pretty bad but the game was super super even so it ended up being really exciting. The Raptors were ahead at many times! It was fun to cheer (quietly) for them. The game actually went into overtime but the Lakers won by 2 points right at the very last second. It was nuts!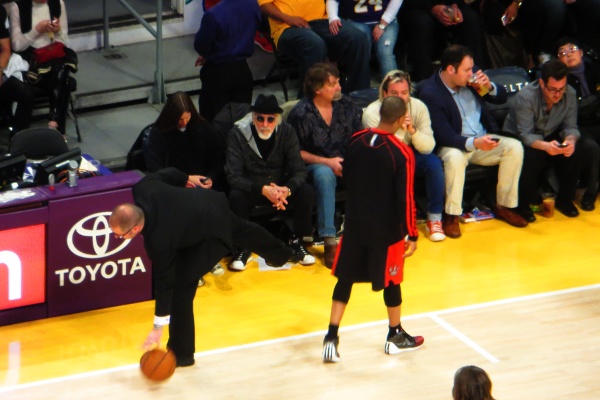 No Jack Nicholson but Scott thinks that sunglasses dude is Larry David (I am unconvinced)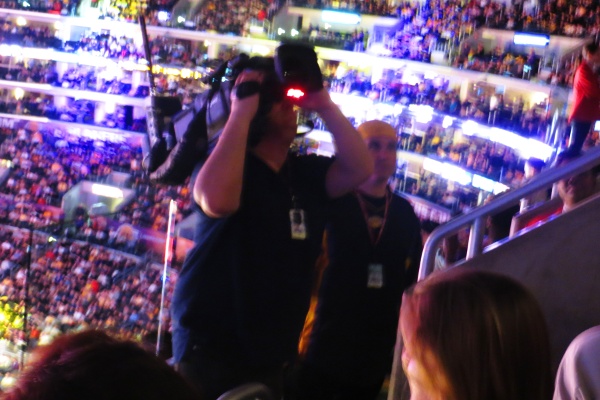 This camera dude came up to our section to film a group of fans behind us and then Scott popped up from his seat and his head filled HALF OF THE HUMONGOUS JUMBOTRON for 0.5 seconds. It was very very funny (to us). Hehehe I am still laughing. It was kind of like this, but better.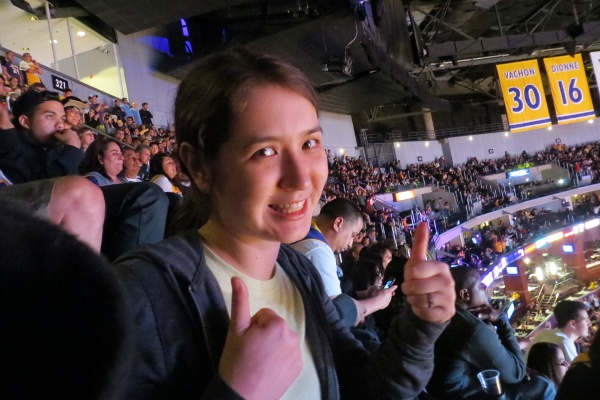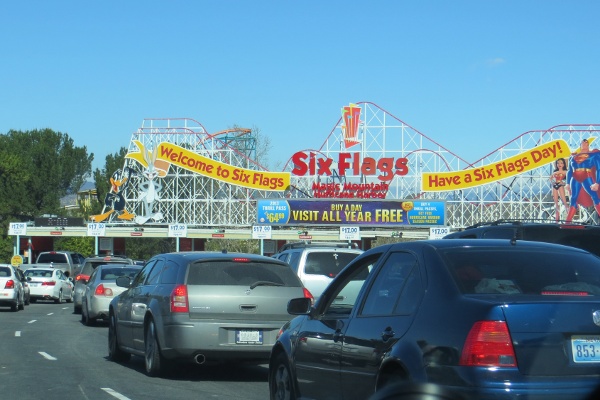 The next day we went to Six Flags Magic Mountain. :D :D I was really excited but Scott was a little nervous because he thought he didn't like rides that much. But I forced him to go on the roller coasters and he slowly began to enjoy it more and more!! Now he actually LIKES loops and going upside down and stuff!! YAY!!! (this means I can make him come to more amusement parks hehehe.)
The lines were kind of long and a couple of the coasters were closed, including the 5D (??) coaster called X2 that I reallllllly wanted to try. That sucked, but we still had a great day and we got to ride pretty much everything that we wanted to.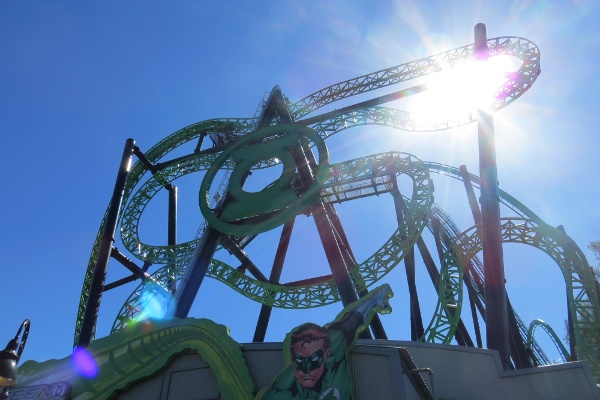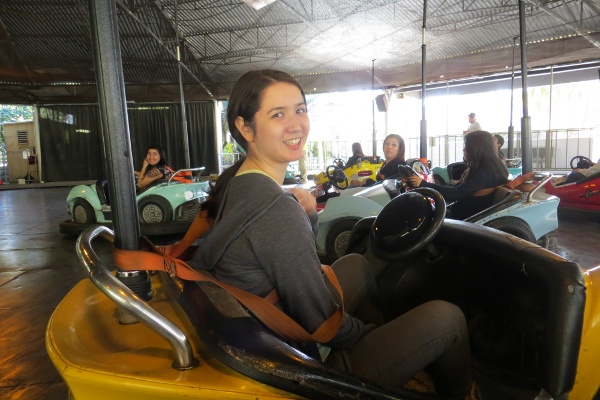 The park doesn't have very many non-roller coaster rides. They had bumper cars but they didn't even have a ferris wheel! Not that I care… I'm there for the coasters!! Oh FYI there is an app that you can download for your phone that tells you how long the lines are for each ride!! I wish I had known about that ahead of time because that could be soooo useful!!
The best roller coasters were Tatsu (a flying coaster where you get strapped in lying on your stomach below the track like you are flying, which we waited for the front seat for), Goliath (a really tall fast up and down roller coaster with no loops), Revolution (the worlds first ever looping roller coaster… so funny!!!), and Viper (which had 7 loops!).
I wondered if roller coasters were going to be as fun post-skeleton as they were pre-skeleton, and the verdict is YES they are still fun, especially loops and corners, but the speeds don't affect me as much! I was very relaxed on Goliath (just goes up and down), haha.
After eating more junk food for lunch we were really craving vegetables and healthy food for dinner. Also we were pretty cold because Scott was wearing shorts and I didn't pack any sweaters. We kind of randomly decided to head towards Manhattan Beach and stumbled across the perfect little cafe called Sloopy's that had a roaring fire, veggie packed meals for great prices, drinks, and delicious homemade desserts. It was incredible. You will find the picture in my next daily dinners post (coming soon!).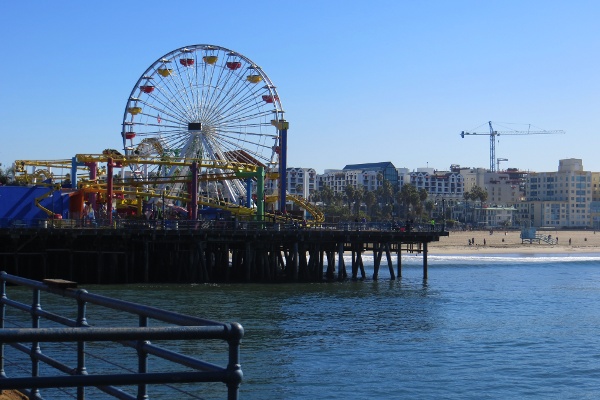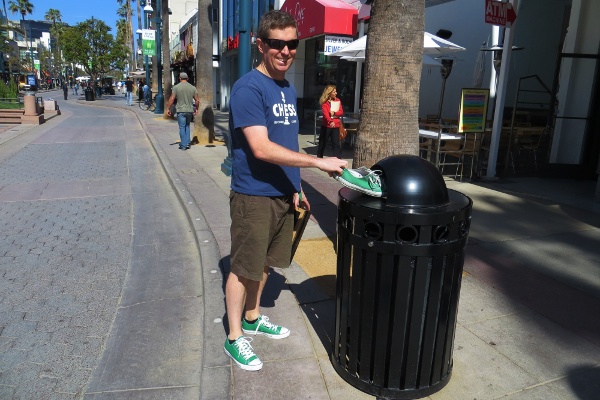 Out with the old, in with the new
For our last day in L.A. we drove towards Santa Monica to check out the beach and to buy Scott a new pair of shoes. Love American prices!!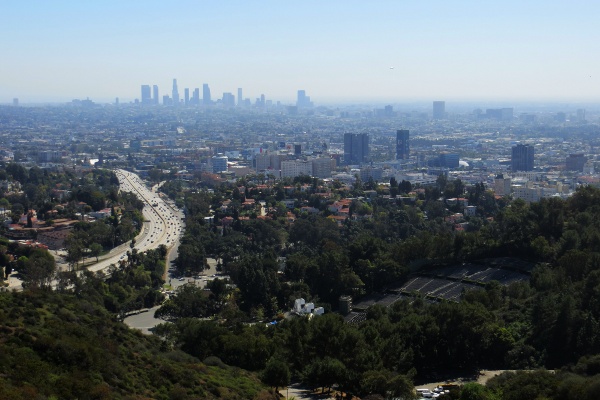 Parking was annoying so after Santa Monica we decided to just drive around. We drove along Mulholland Drive and made up celebrity stories about all the people and houses we saw. The views were nice and it was a really great drive. We could see downtown, mansions, the Hollywood sign, and more. I would recommend doing that drive if someone I knew was going to L.A.
We drove a bit more after that but then we had to return the car and head back to the airport. We checked Scott in and then walked to Trader Joe's. We got lots of treats but they were sold out of cookie butter so I was sad. The very last thing we did was try In-N-Out. It was ok but I think I actually like Five Guys better!! Animal style was tasty but the patties were not that good, in my opinion.
And then Scott flew back to Vancouver and I flew to Nadi, Fiji!
More to come soon!