I decided that we need to try more of the restaurants around our house. There are a whole bunch of (apparently) awesome restaurants within walking distance yet we ordered DOMINOS one lazy night?? WHY?? Anyway so now I'm making an effort to try some of the places close by. We live in a bit of a Vietnamese area so there are dozens and dozens of pho restaurants all within a couple blocks. Mui Ngo Gai has a 91% rating on Urbanspoon and pho sounded great to soothe my cold a couple weeks ago, so we walked there for dinner.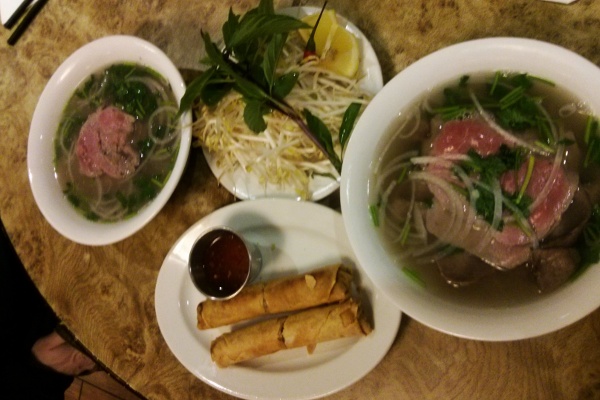 Our pho feast! Scott ordered the rare beef pho, and I ordered the rare beef and well done beef pho, because I hate ordering the same thing as anyone else, yet wasn't in the mood for tripe or beef balls. It came with the usual plate of fresh veggies and herbs. We also got some crispy spring rolls to share.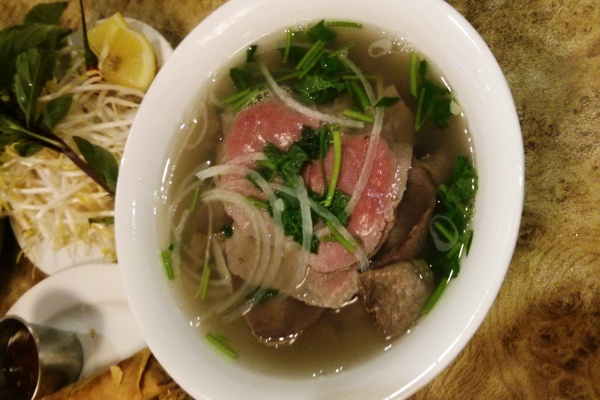 My pho was delicious!!! It burned my face off though. Entirely my fault… I added 1 spoonful of the chili oil, decided it wasn't spicy enough then added 3 more??!!! I am dumb. I also added fish sauce and more hot sauce. Ha. It did the trick of clearing my stuffed nose and soothing my soul though.
The spring rolls were also nice. Crunchy and tasty with a nice sauce.
I would definitely eat here again, but maybe only 1-2 spoonfuls of chili oil!! PS they also sell bubble tea.