Last week we went out to The Oakwood Canadian Bistro to try their Dine Out Vancouver menu. It's in the $28 category.
The restaurant is in Kitsilano and definitely has a hipster vibe. The cocktails were kind of expensive and small, but they did have cheaper wine and beer pairings available.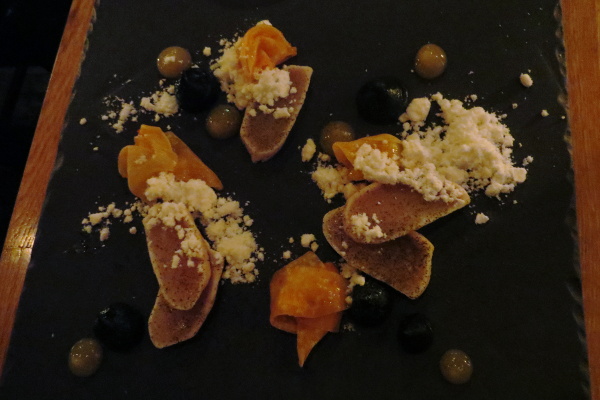 Bacon and kombu dusted albacore tuna, miso eggplant puree, lime grapefruit gel, kimchi spiced kohlrabi, sesame snow.
Loved this. The miso eggplant puree was really interesting, the tuna was lovely and the kohlrabi was simply delicious. Everything tasted really nice in combination as well.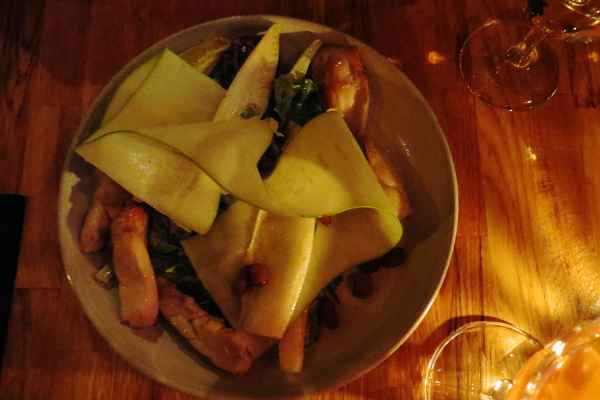 Smoked confit chicken, endive, celery and apple ribbons, pickled raisins, bacon vinaigrette.
This one was less exciting. Everything tasted good, and the apple ribbons were pretty, but it was just not as interesting as the tuna appy.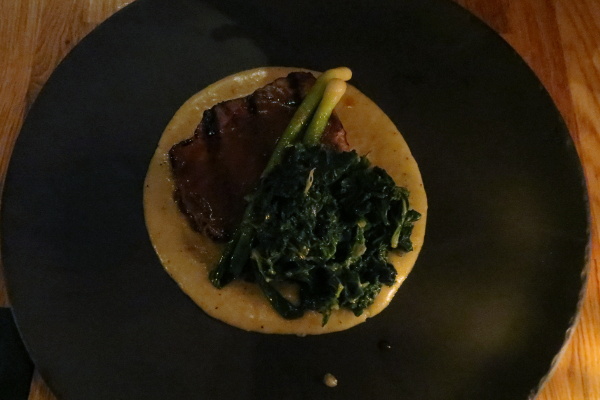 24 hour pork neck, bacon apple bbq sauce, popcorn grits, creamed spinach and smoked paprika scallion.
Very tender pork, buttery grits, and indulgent vegetables. Really nice dish.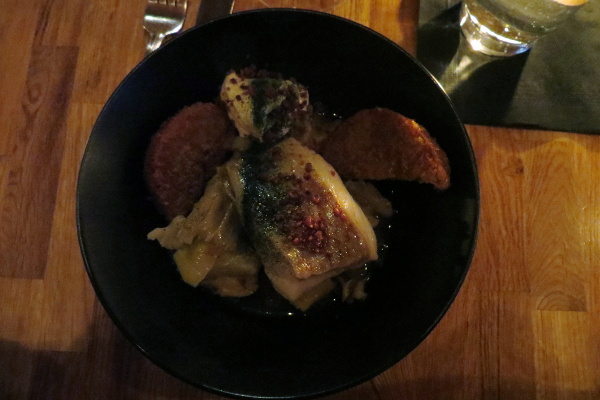 Olive oil poached sable fish, smoked ham hock broth, confit leek, celeriac, potato croquette, creme fraiche, bacon crumb.
The vegetables and croquettes were good, but the star of the dish was the perfectly cooked fish.
Foreground: roasted apple, butterscotch, rhubarb grenadine gel, brown sugar oat flake. Background: pistachio cake, dark chocolate ganache, cranberry meringue, brown butter whipped cream.
I don't like cooked fruit so I preferred the pistachio dessert more, although to be honest I couldn't taste pistachio at all. It definitely tasted like almond extract instead. Scott says the apple one was "very nice" but could not come up with any other comments, haha.
All in all, a nice meal. I would return to the restaurant for their regular menu for sure, except I have to say… that KitchenAid mixer with a plant in it BETTER BE BROKEN. Otherwise they will have lost all of my respect. Ha!