Scott had never been to a wintery place before so we crammed our time in Ottawa with tons of snowy activities. It's even been a pretty long time since I have been in real snow (on purpose!!)! It ended up being a really fun week.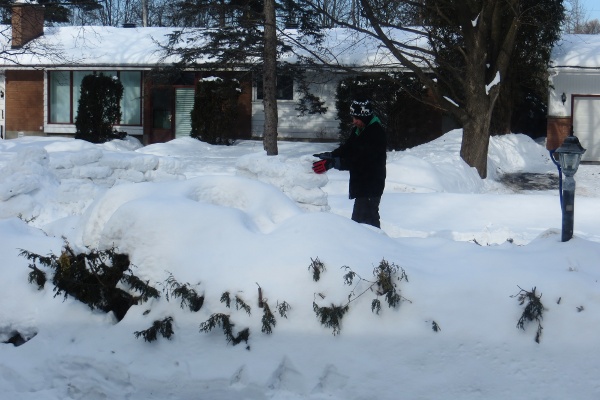 Rosemarie, Scott and I spent one morning building a snow fort on the front lawn. It even had a slide attached. It amused me how fast we built the fort…. there is a big difference between what three adults with adult shovels can build and what kids with kids shovels can build, haha. Scott spent another morning working on it himself (I stayed indoors and took pictures), and then another whole morning digging deeper into the snow as well.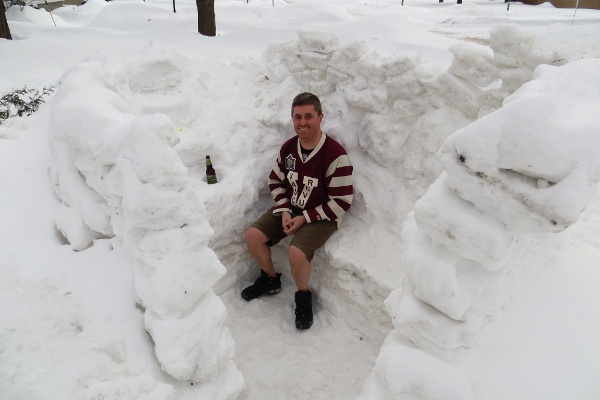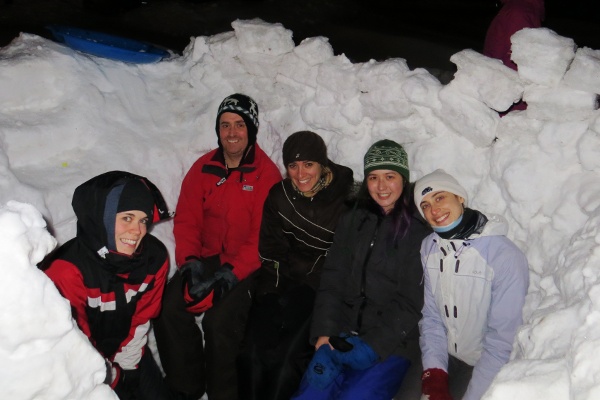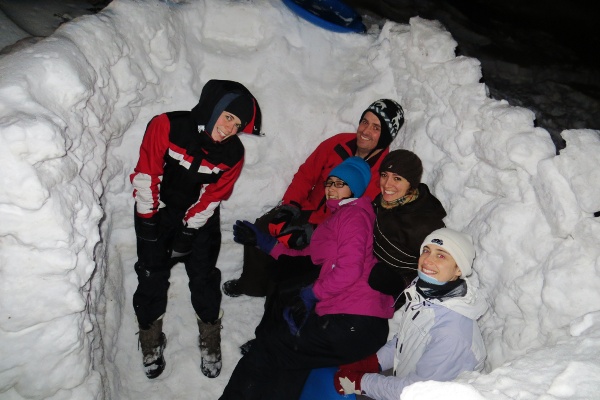 I think it was a pretty sweet fort. So much seating!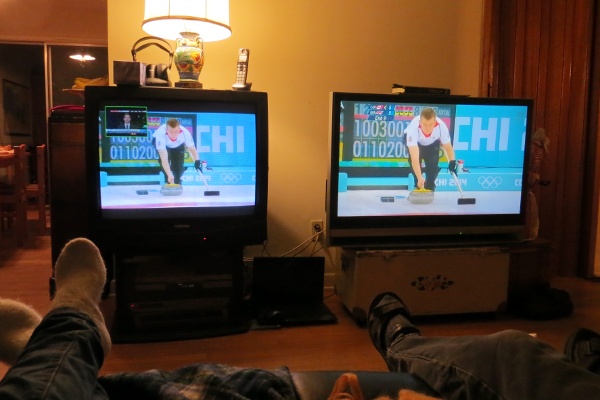 We also spent a significant amount of the trip watching the Olympics. My dad had a two TV (plus picture-in-picture) set up so we could watch maximum sports all the time. I really enjoyed watching curling this year, and of course skeleton.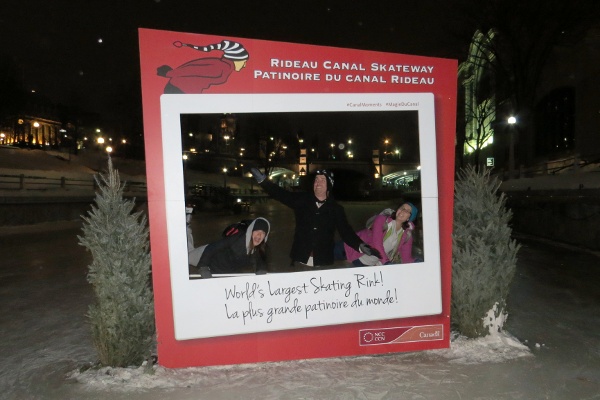 Rosemarie's friend Liz (who was on exchange in Fiji with her) came to visit us in Ottawa. Dad and Kate suggested that we go for a skate on the canal immediately after picking her up from the bus station. I didn't even know you were allowed to skate on the canal at night but I'm glad we went because it was so empty! We pretty much had the ice to ourselves, although the Beaver Tail stands were closed so that was a bummer. Scott improved his skating quite a lot that night. I think we skated 4 km in total.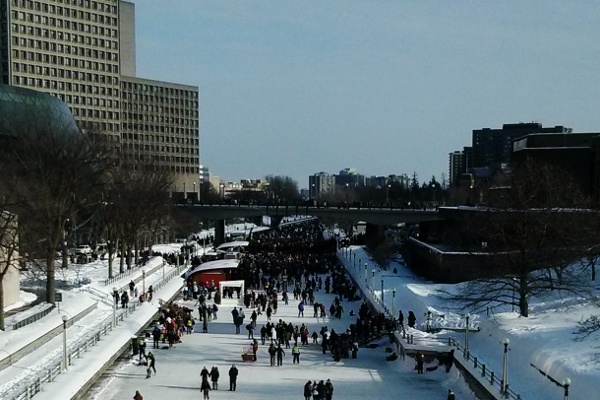 The next day we went downtown again to check out Winterlude stuff. Look how busy the canal was that afternoon! I'm so glad we did our skating at midnight cuz that is wacko busy. You can't even see the ice after the bridge!!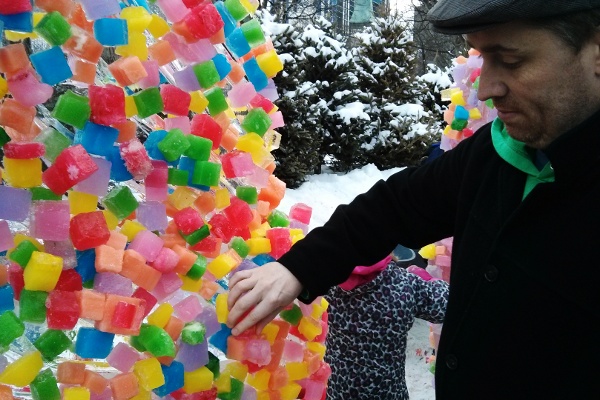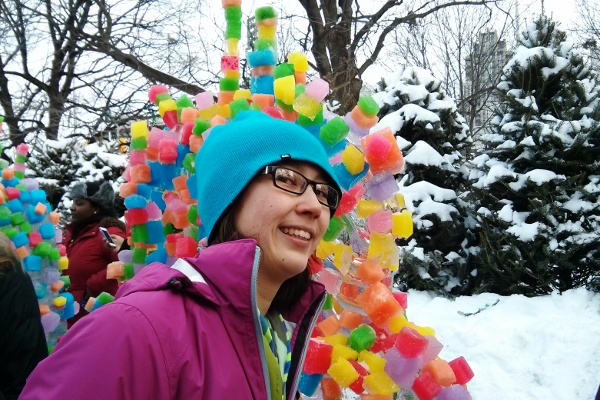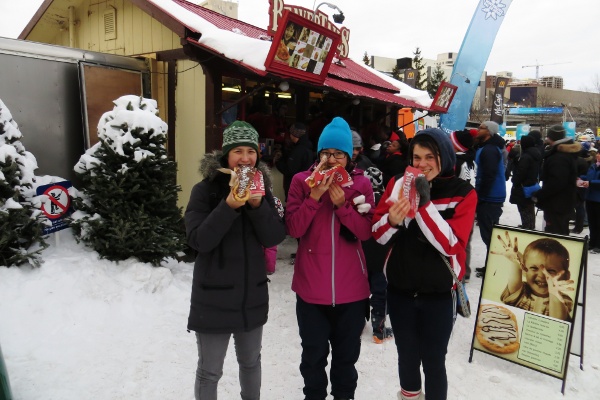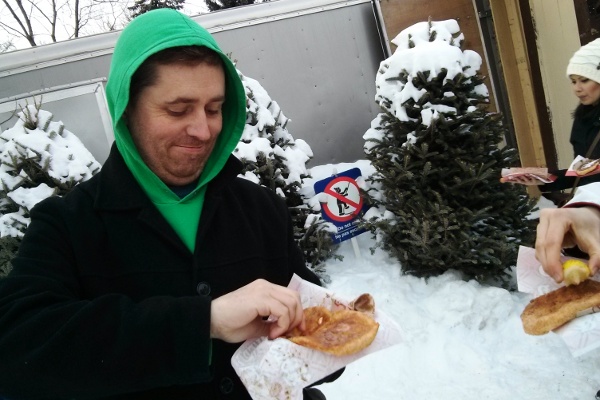 We checked out the ice sculptures and ate shawarma and then finally got our Beaver Tails. I had a nutella one and it was delicious. Scott stuck with the classic Killaloe Sunrise.
Unpictured…
Cross country skiing: HILARIOUS. It was Scott's first time on any kind of ski-like equipment and he was SO BAD at first, hahha. He fell a lot, hahaha. Poor Scott.
Snowshoeing: Meh.
Curling: Kate, Rosemarie, Scott and I got to fill in for a team in my dad's curling league. It was a lot of fun, we actually did pretty well… ended up with a tie!
Maple syrup on snow: Successful once we figured out you need to let the maple syrup reduction cool down a fair bit before you pour it on the snow.
Hockey: Callum took Scott out to an outdoor rink to shoot some pucks for the first time. They were gone for like 2.5 hours so I guess it was fun!!!
Tobogganing: Hilarious. I'm going to make a whole post about it, haha.
Ah and it's March 1st so here is my second 1 Second Everyday video!