After lunch we continued on to the Seattle Premium Outlets in Tulalip (just North of Seattle). We shopped for a couple hours but didn't buy a whole lot. I got a pair of tall leather boots, Scott got a couple collared shirts from J. Crew, and we got a cheapo mandoline slicer that is now in the garbage. Piece of junk. The boots and shirts are nice though!!
Yeah there are some good deals to be found at the outlets but the truth is I don't really need a lot of new clothes so I didn't feel like buying anything. Things were still a touch more expensive than I am comfortable paying. Now if there was an H&M outlet somewhere… that would be different!!! (Is there such thing as an H&M outlet???)
On the way back we stopped at Trader Joe's in Bellingham. SO FUN! We found so much good stuff there. It's like Whole Foods, except NOT ridiculously expensive.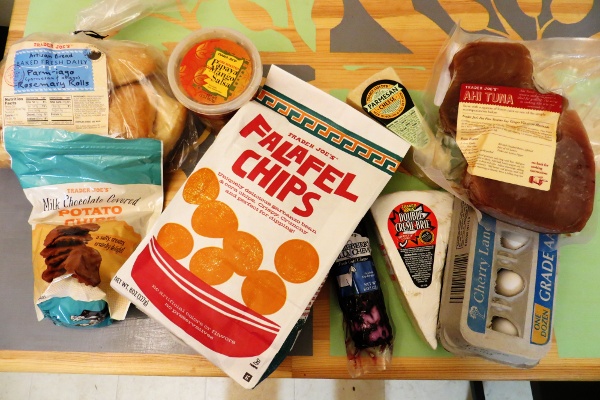 Our Trader Joe's haul: Parmesan and rosemary rolls, papaya mango salsa (so good), falafel chips, 3 wedges of ridiculously cheap cheese, frozen ahi tuna steaks, cheap eggs, and milk chocolate covered potato chips. OM NOM NOM. Everything we've tried so far has been super tasty.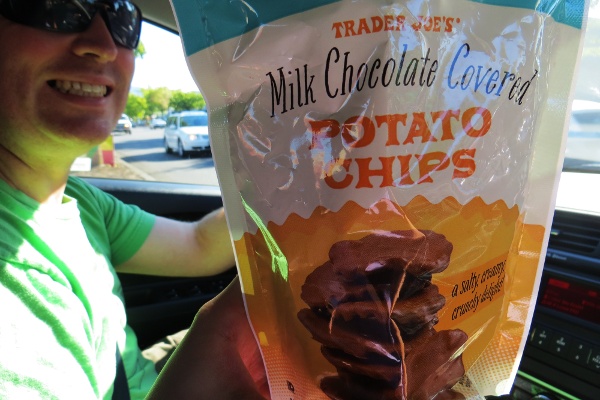 I was in to the potato chip bag even before we left the parking lot. :D