The day before my school we rented a car and drove down to Washington to do some shopping. The line ups at the border weren't too bad but then we had to go inside so Scott could get finger-printed, so it ended up taking us over an hour to cross. Bummer.
It was pretty funny after we crossed the border when Scott was driving 70 km/hr until I suddenly remembered that the speed limits are in mph, not kph. Haha. I bet people laughed at us. TAKE YOUR TIME GRANDPA, EH.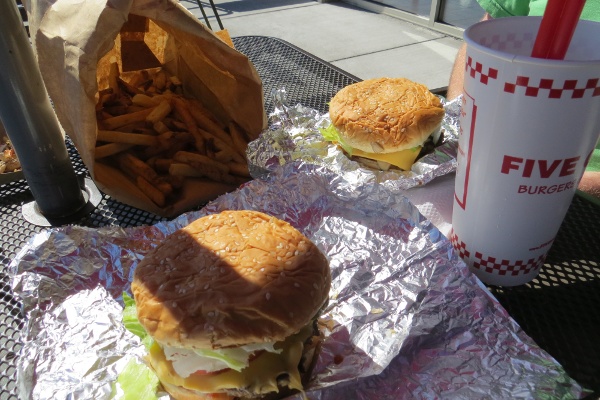 We got off the highway to get me some Taco Bell right before Tulalip but I changed my mind when I saw the Five Guys sign. I had heard about Five Guys before on the internet and really wanted to try it!
We got a small size burger each and one small fries and one small drink. The guy at the cash actually told us to just get one fries and one drink. They are so generous there they give you tons of toppings on your burger lke mushrooms and peppers and a bazillion fries and unlimited refills on drinks! It was definitely tastier than any other fast food I have had, the burger tasted like real meat and the fries were perfecto. They had one of those wacko pop machines with dozens of kinds of pop. We tried Lime Fanta, Mello Yellow, and Grape Sprite.
The people working there were super nice too. The guy at the cash noticed that we must not have been there before and asked if we wanted him to explain the menu to us (which we did!). Also he made sure to tell us that if we wanted more fries to take with us in the car they would refill the bag for us. And to take as many peanuts as we wanted. He even came out to the patio when we were eating to ask if it was good and reminded us that we could have more fries!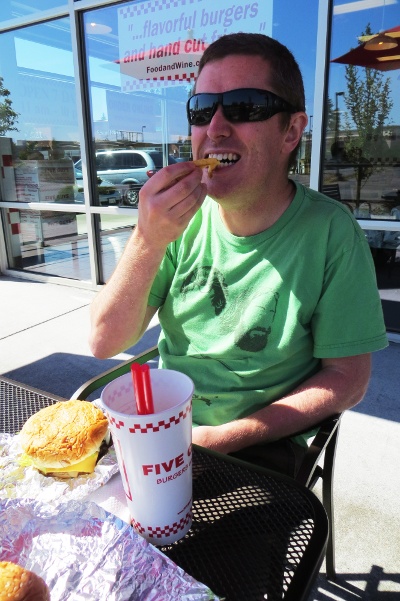 The small burgers were so big we didn't need any refills of fries, haha.