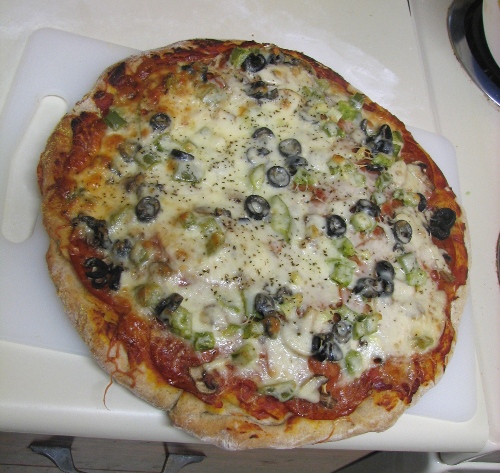 Check out that delicious looking pizza.
I tried out a new dough recipe yesterday, and it turned out really well. I wish I made the pizza bigger, or made two pizzas, because the crust was way thicker than I like. It was still amazingly soft and nice though.
I made it about 75% whole wheat. I also did pilates three days in a row so far. I think I'm turning into my mom!!!!!!!!
Our friend Rob helped Rosemarie move all her stuff over here yesterday. We invited him to stay for pizza and to play Agricola. He is the first outsider that we attempted to teach this game and it went really well. It helped that he actually watched the whole half hour video about the game on Youtube.
Yay for four player Agricola for the first time!! It was interesting. I came in last place. I have no idea what went wrong.