There are so many tasty things to eat and drink in Portland.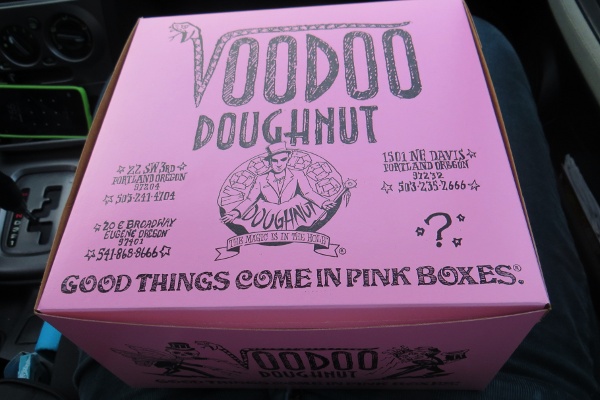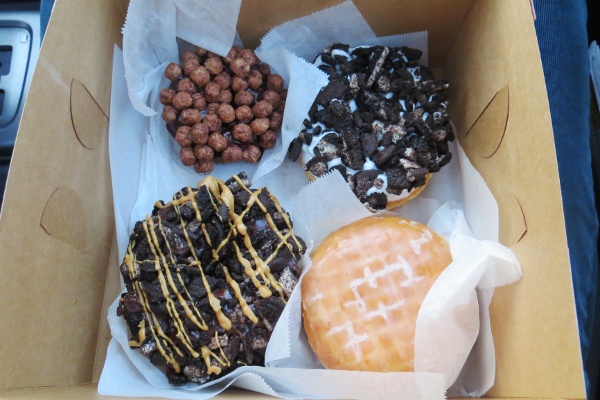 Obligatory tourist stop at Voodoo Doughnuts. We tried going there on Saturday afternoon but the line was too long and it was raining pretty hard so we gave up. The next morning we happened to be driving past again on the way to brunch so we stopped in at 9AM and there were only a handful of people in front of us. Success!
They have this big menu board of all the types of doughnuts but it's not very helpful because the names don't really reflect what flavour of doughnut it is going to be. Example: Diablos Rex Doughnut. Thankfully they also have rotating cases of doughnuts and you can just point at ones that you think you would like.
I chose the two on the top, a Triple Chocolate Penetration Doughnut (chocolate cake doughnut with frosting and cereal), and Dirt Doughnut (raised yeast doughnut with vanilla frosting and Oreos). The cake doughnut was meh, I didn't like it that much, but the yeast doughnut was extra yummy. It was so big I could only handle eating half at a time. Could someone mail me another one please?
Scott had Raspberry Romeo doughnut (glazed raspberry filled yeast doughnut) and an Old Dirty Bastard (raised yeast doughnut with chocolate frosting, Oreos and peanut butter). He says the raspberry one was just average, but the ODB was quite good, but overwhelming.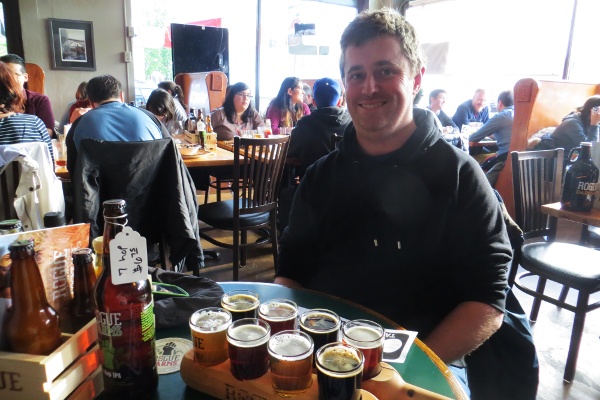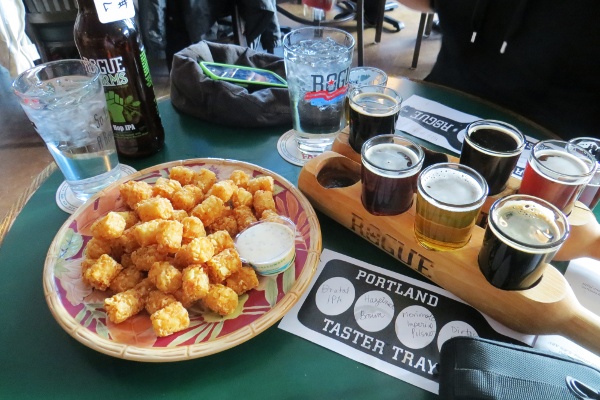 I don't like beer, but I thought Scott would like this place so we stopped in for a flight of beer and some tater tots. I did order a flight too but it hasn't changed my opinion on beer. Well the hazelnut one was pretty good (Hazeulnut Brown Nectar). Scott ordered a flight of extra flavourful beers and enjoyed it. He liked a lot of the dark beers, something he doesn't drink that often in normal life.
We learned all about IBU in Portland. It stands for International Bittering Units and the higher the IBU the more bitter and intense the beer is going to be. The hazelnut beer one has an IBU score of 33, which is fairly low. I didn't like ANY of the beers with high IBU.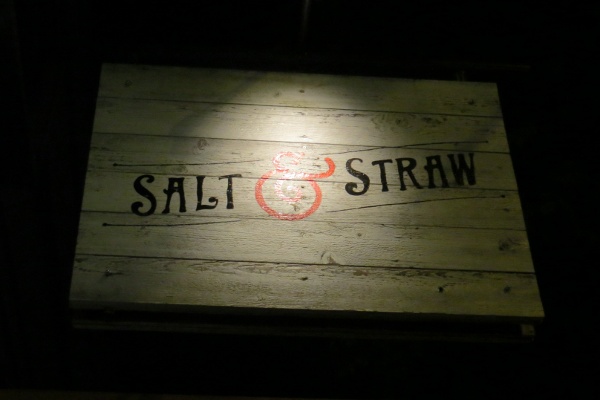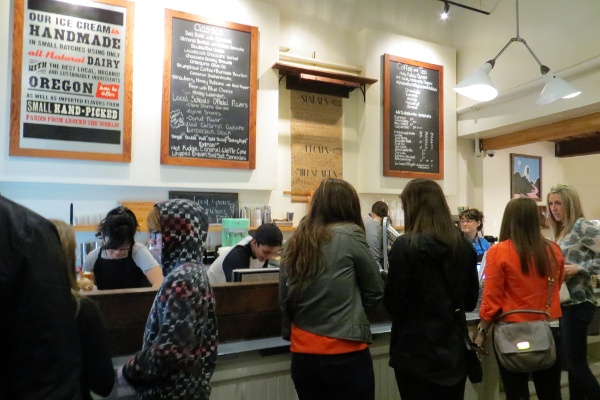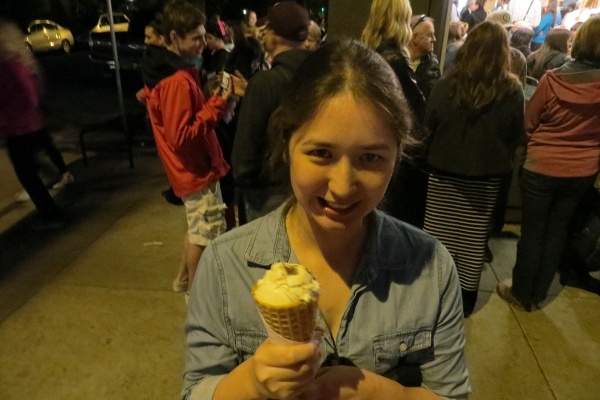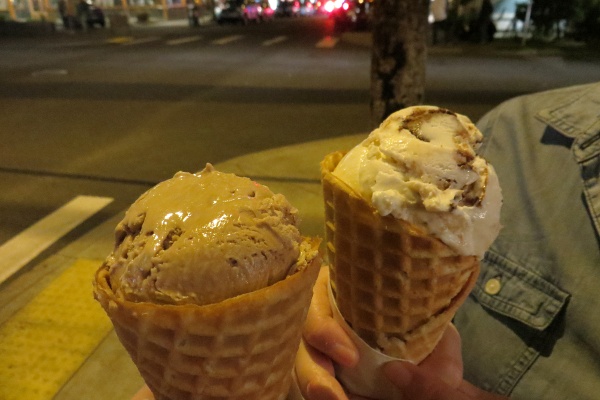 Salt & Straw ice cream was life changing. Really busy but WORTH IT. We went two nights in a row. SO GOOD.
The first night I had almond brittle with salted ganache, and Scott had coffee & bourbon. My cone had tons and tons of delicious almond brittle in it and the ice cream was so nice and creamy and delicious. 10/10. Scott also gives his cone an A++.
The second night I had almond brittle with salted ganache. !!! This was pretty unlike me, to not try a new flavour, but it was just so good!! Scott made fun of me a lot, since I always make fun of him for ordering the same things every time. He was especially teasing because he was going to order that flavour the first day but I hijacked it and told him he had to order something else. HAHAH I am awful. Anyway on day 2 he had strawberry balsamic with black pepper, which was good, but you couldn't taste the black pepper at all and even the balsamic part was extra subtle, so it was more just like nice strawberry ice cream. Good, but not as special.
Can someone please send me 5 pints of almond brittle with salted ganache please?
Salt & Straw reminded us of La Casa Gelato in Vancouver, but instead of having 218 flavours of mediocre ice cream they have about 20 flavours of top notch ice cream. Quality over quantity!!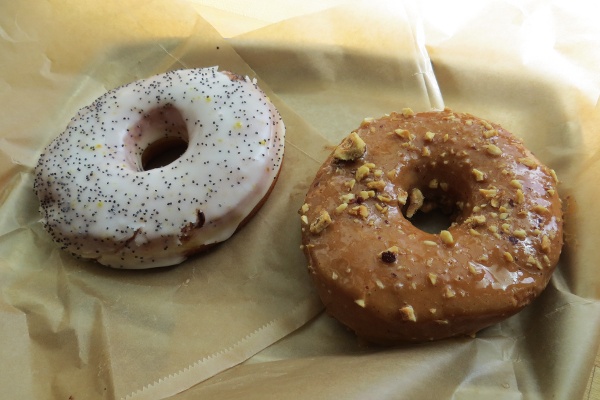 Someone told me that Voodoo Doughnuts is not worth the wait and we should go to Blue Star Donuts instead. The donut on the left is lemon poppyseed and the on the right is hazelnut dulce de leche. We thought these donuts were good but not extraordinary.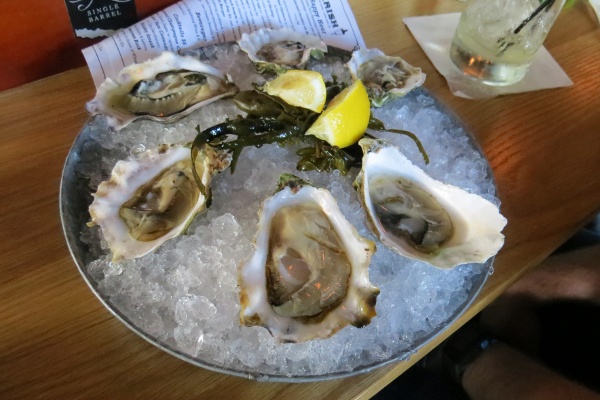 We stopped in for Happy Hour at The Parish. I'm surprised that they only got 69% on Urbanspoon because we really enjoyed our afternoon there. We sat at the bar for drinks and oysters and were thoroughly pleased. They make their own ginger beer in-house and it's delicious. We had a couple of dark & stormys and some oysters on the half shell. The bartender was friendly and blew us away when he made a spanish coffee right in front of us. It was like a magic show, haha. That link has six pages of instructions on how to make one, btw!