We only actually ate two real meals while in Portland. If you read my drinks and snacks post, maybe you can understand why.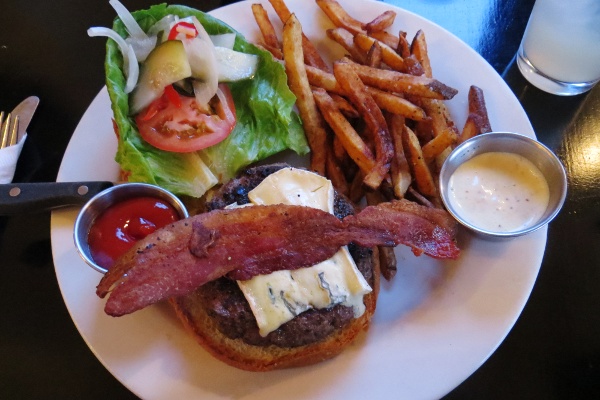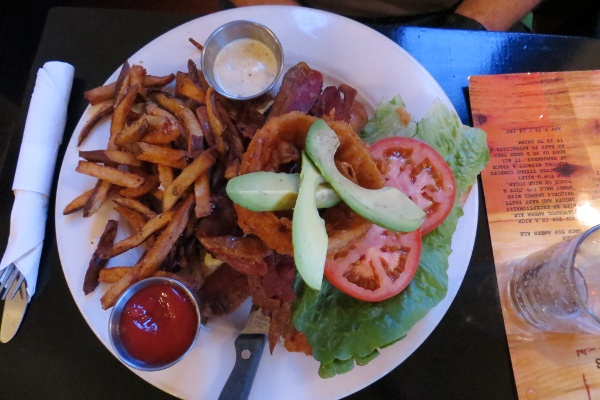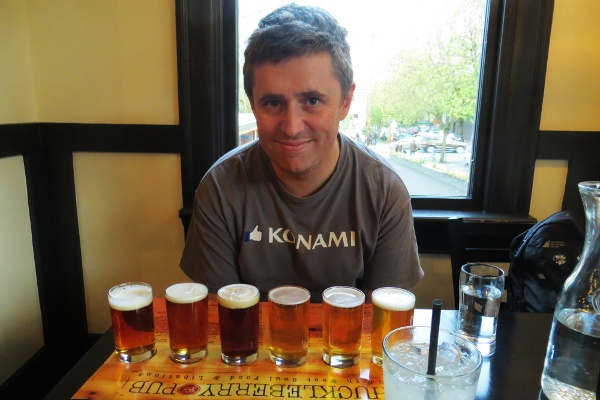 Burgers and beer at Huckleberry Pub. I had the Black & Blue burger (burger with pepper, cambozola, bacon and pickled vegetables), and Scott had a BLOTCHA (bacon, lettuce, onion ring, tomato, cheese, avocado). I guess the H stands for hamburger? Heh.
I drank a Peachy Keen and Scott had a flight of Oregon craft beer.
The burgers were great and the fries were awesome. This meal was right after our epic 4T hike so it was very satisfying. I liked that my burger had a hefty slice of blue cheese on it, and the pickled vegetables were yummy. The black pepper taste was very strong though so don't order if you don't like black pepper that much.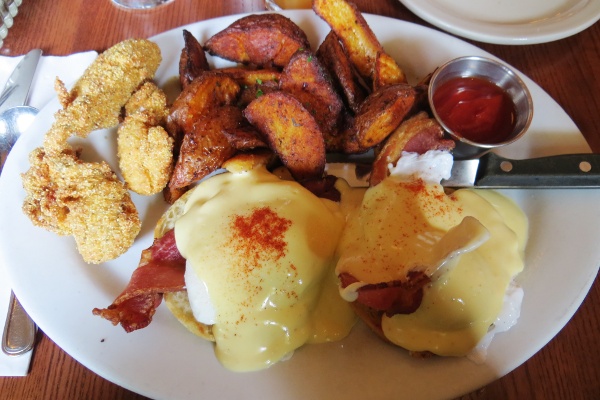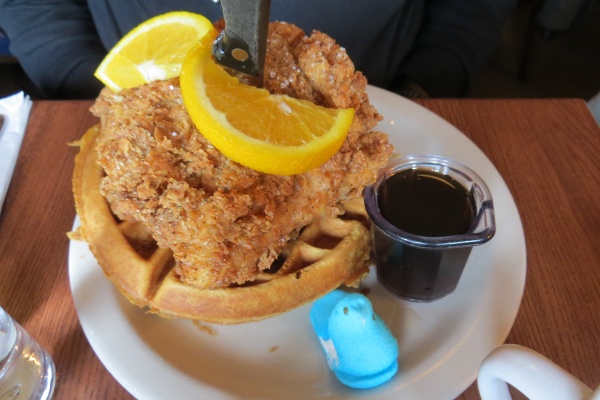 We arrived at Screen Door fifteen minutes before it opened and there already was a huge line. It's a pretty big restaurant though so we decided to wait. Someone came and took our names and party size so at least we could walk around or sit down while we waited.
I ordered the Fried Oyster Benedict (bacon eggs benedict with crispy cornmeal fried oysters), and Scott had chicken & waffles.
The food arrived super hot. I definitely burned my mouth on the first few bites but it was so delicious I couldn't stop eating, haha. They were not kidding on the crispy part of the fried oysters. They were super crunchy and then tasted like ocean on the inside. Delightful. The eggs benedict was very rich and tasty too.
Scott's chicken & waffles had THREE pieces of crispy crunchy tender chicken on it! The waffle was quite soft. He covered it with maple syrup for that sweet/salty combination.
It was an insane quantity of food. I didn't even touch one half of my eggs benedict and left a lot of potatoes and still was almost in pain from eating so much. Scott didn't finish his waffle and took an entire piece of chicken home in a doggy bag (which he made into a delicious sandwich the next day for work).
We didn't have lunch or much dinner that day after that delicious feast.