Survivor USED to be one of my favourite shows. NOT ANY MORE!! What is up with all the praying?? I don't watch Survivor to watch God's handywork, I just want to see some challenges!! They don't even do good challenges any more. And the product placements make my eyes roll out of my head. Seriously they prayed like 5 times in this last episode. WTF?
We definitely would normally stop watching but we entered this betting pool so I feel like I have to keep watching. I dunno though, it's sooooooo bad.
Anyway in other news, I got another Harvest Box today. It came with lettuce, carrots, cucumber, pears, apples, onions, potatoes, and tomatoes. Not bad, not bad.
Ah last week I went to a Halloween pumpkin carving and Hocus Pocus watching party where I carved the most boring pumpkin ever. For whatever reason I was not feeling very inspired that day. Anyway it was still fun and I got to eat lots of tasty treats including brownie mini doughnuts and see some friends so all is good. ANYWAY, I put my pumpkin on the shelf near the TV and kind of forgot about it… until today…. when it started to smell. OH jeeze it looked gross with his decomposing grin.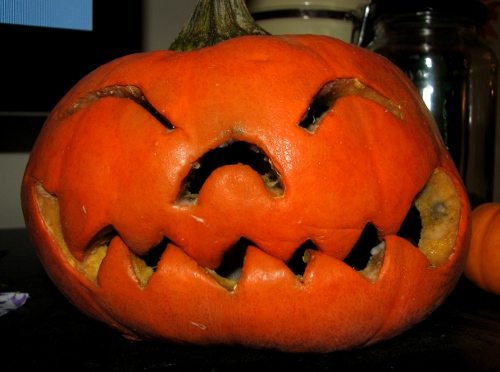 Ewwwwww.