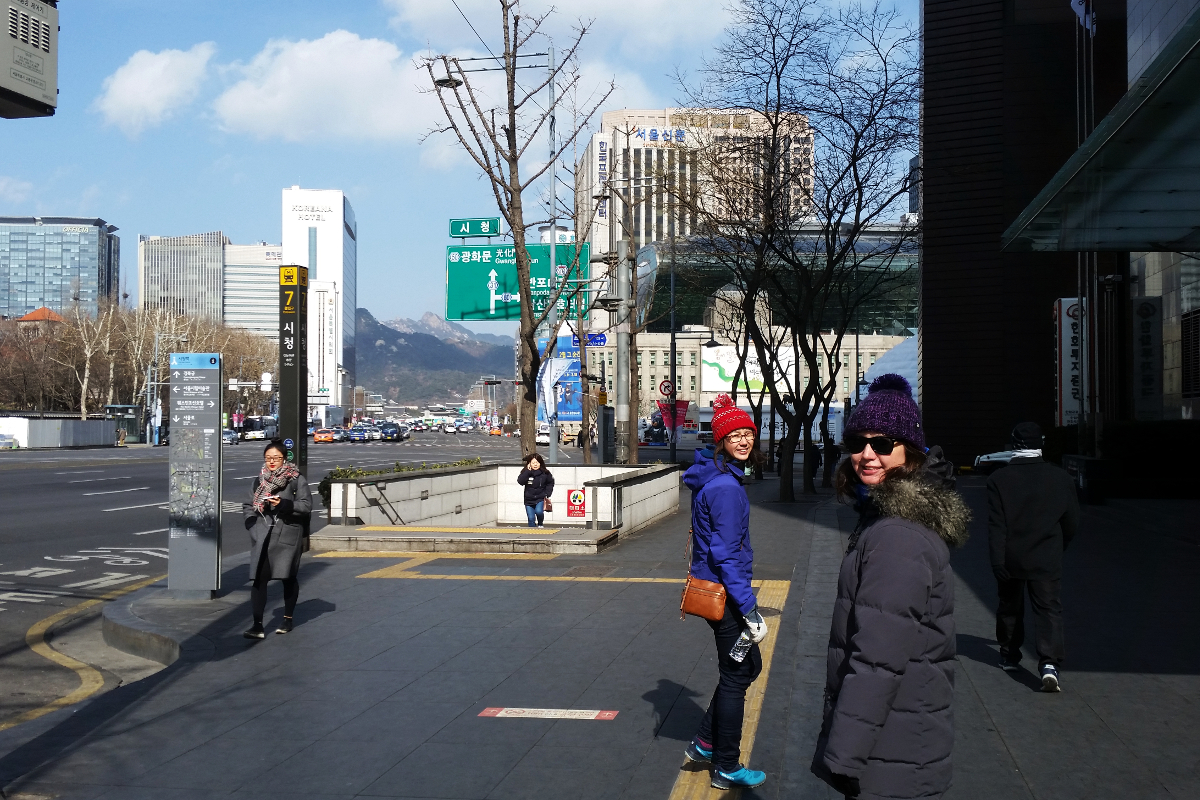 Another day, more Seoul-searching. Sunny, but coooooold.
At a design plaza/museum. We went hard in the gift shop, everything was so cool/cute.
That whole long building is a shopping mall!!! And it went off equally far in the opposite direction! There were so many malls omg. The shopping in Seoul was crazy, but we couldn't really buy much clothes because we are too fat in Korea. We did have to get snowpants and mine are size XXL and they're almost too small. :((( Maybe there is a whole mall for people that are Big & Tall but we didn't look for it tbh.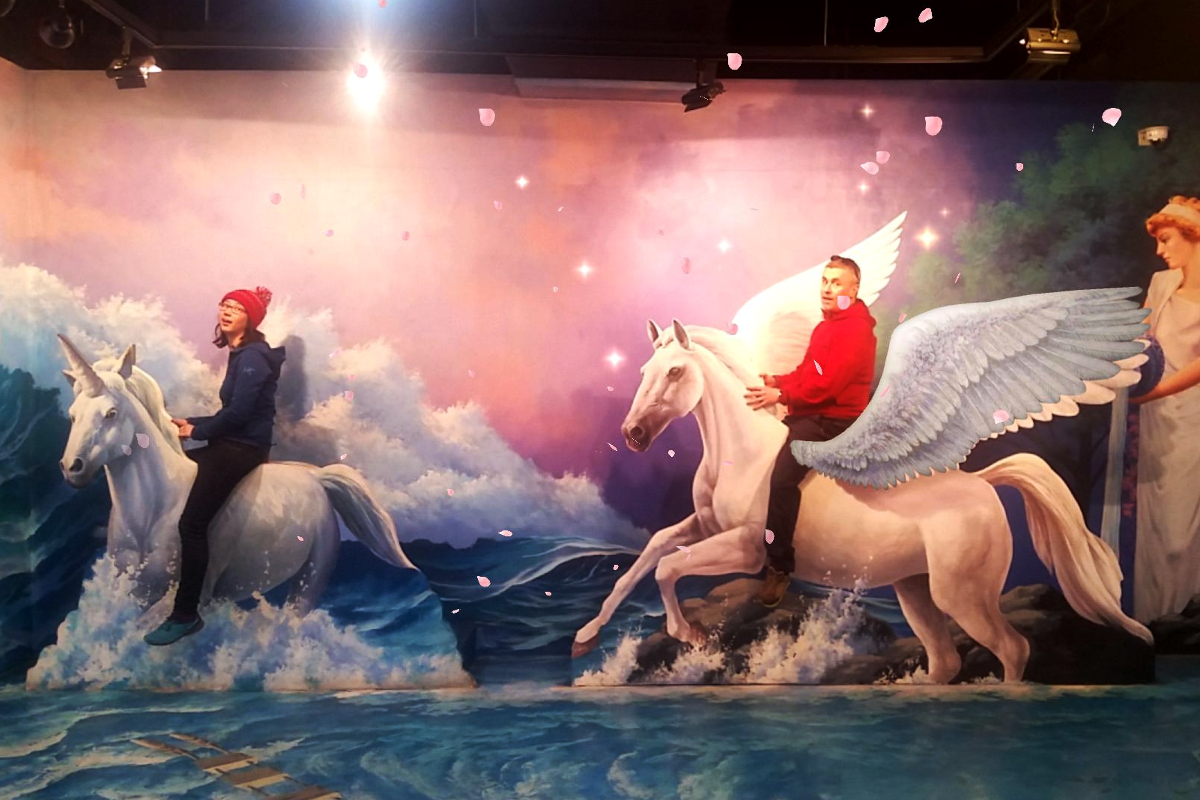 We went to a Trick Eye Museum that was… weird. You could download an app and then when you pointed the camera at the different scenes it added stuff, aka augmented reality.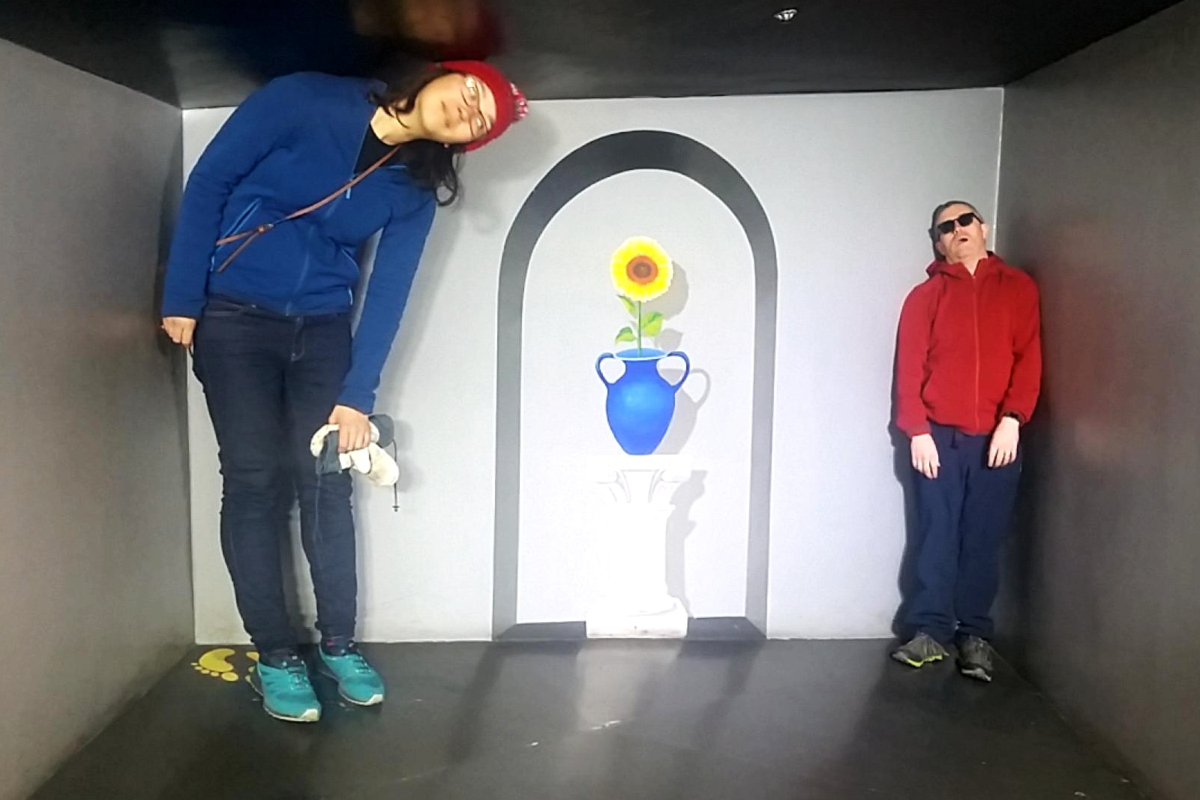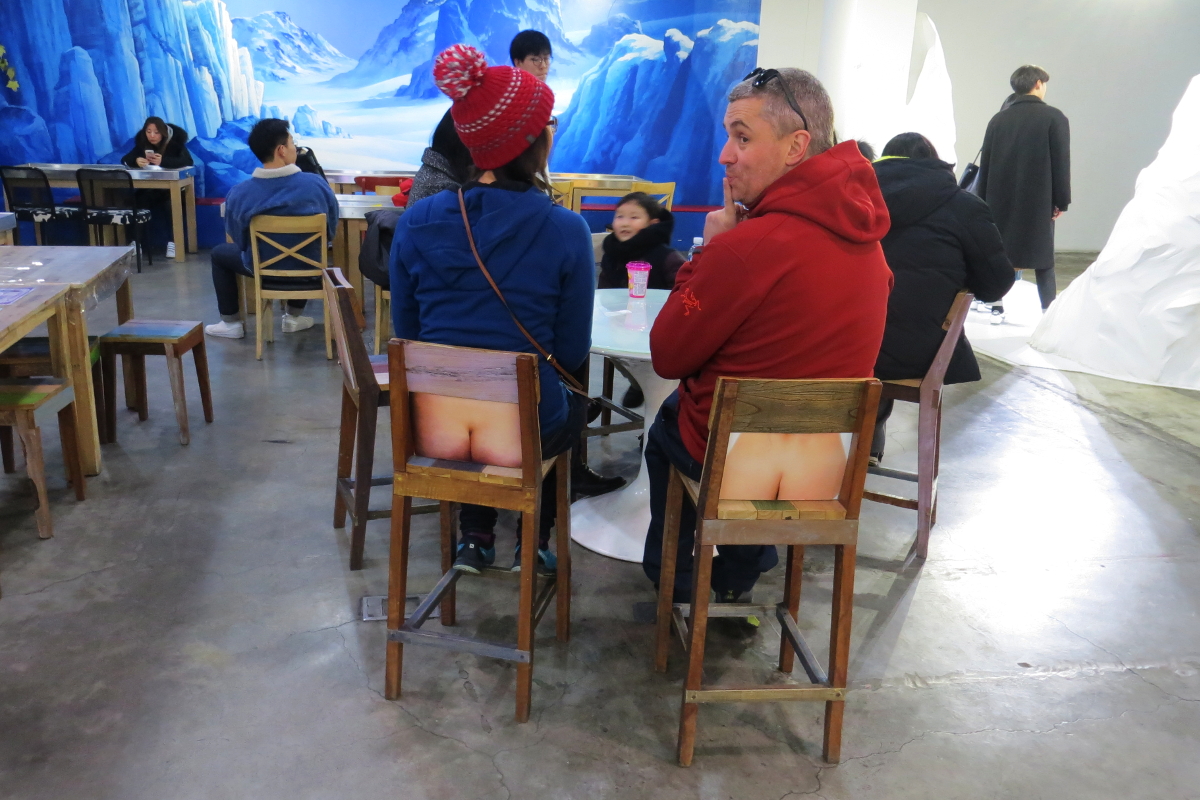 You could also go into an ice museum with a slide, and get your face printed onto a latte.
It would have been fine for $5 like the kimchi museum but unfortunately it was $15. I don't really recommend it.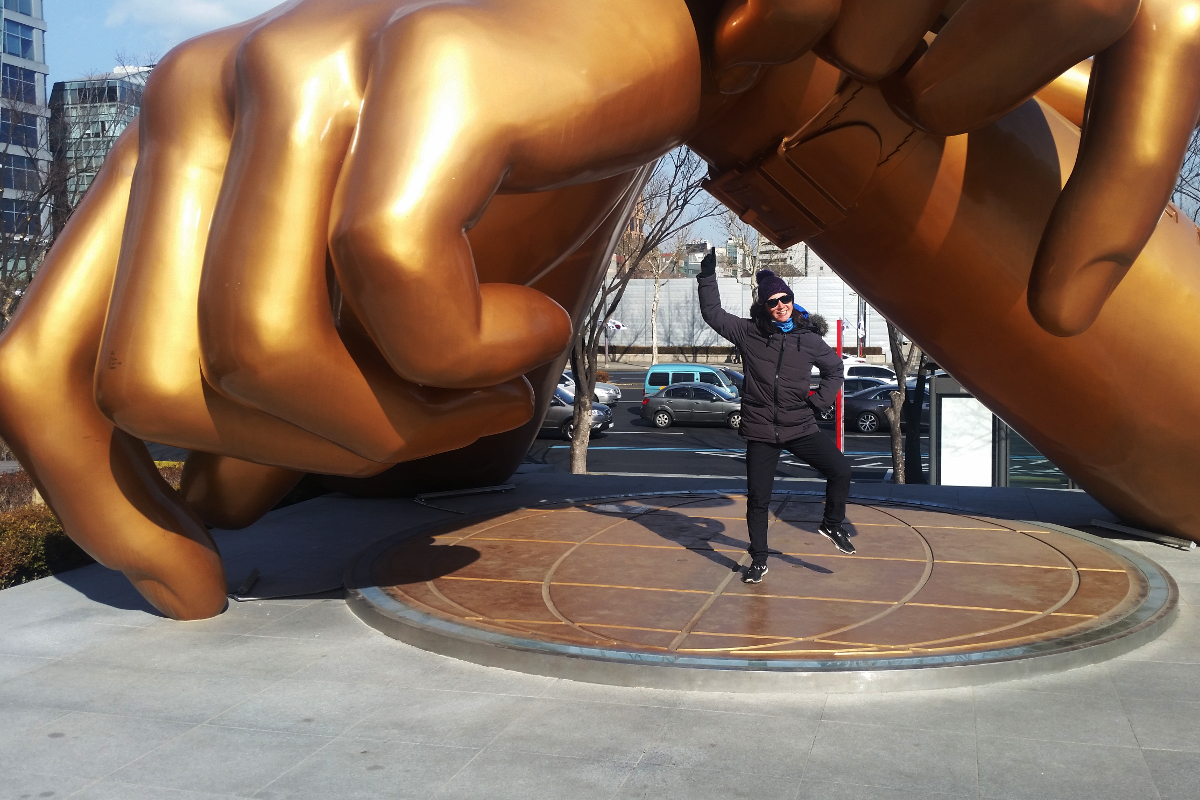 Oppa Gangnam Style!
We also checked out Insadong, Lotte World, many super hipster cafes that Jinnie recommended, underground malls, Hongdae, a lemur cafe (but left immediately because there was a kangaroo in a tiny cage and it made us all very sad), and many many other things. The entire trip we were either exploring, watching Olympics, stuffing our faces, or sleeping. LOL. I walked average 20k steps a day. Not bad.
OK so apparently Rosemarie is like an expert of Korean food, and she had a food bucket list a mile long. Since she had less time in Korea than us we let her make all the food decisions while we were together. She did a great job serving as Minister For Food.
Here are a few things that we loved:
BBQ was obviously a must-eat. We found this place in Hongdae that was All You Can Eat for like $12. We cooked up all sorts of vegetables and meats and wrapped them in lettuce and dipped in the salty oil and the peanutty sauce. Yum. We all liked the marinated beef the most, nice and tender with a good sauce.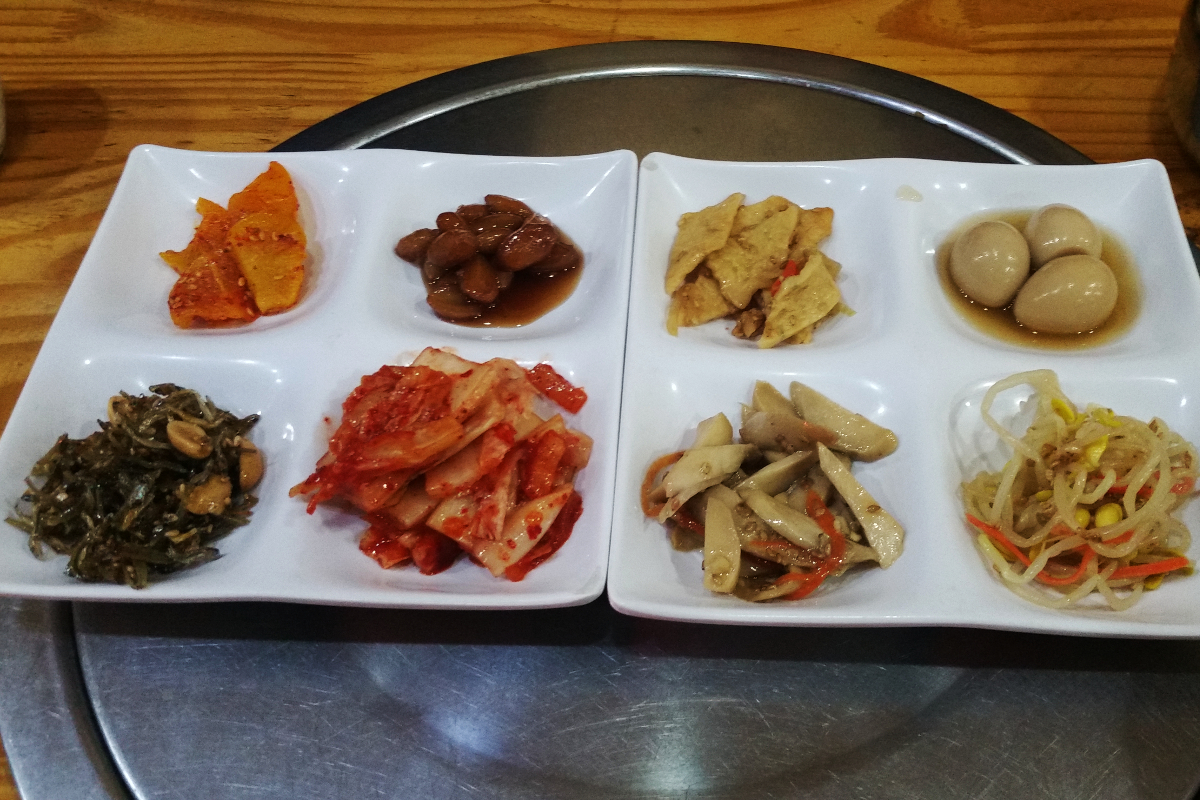 A very good selection of banchan. Peanuts, fish, anchovies, eggs, mushrooms, pickled veggies, kimchi. Banchan comes free and unlimited with every meal, but usually we only got 3-4 things, not 8!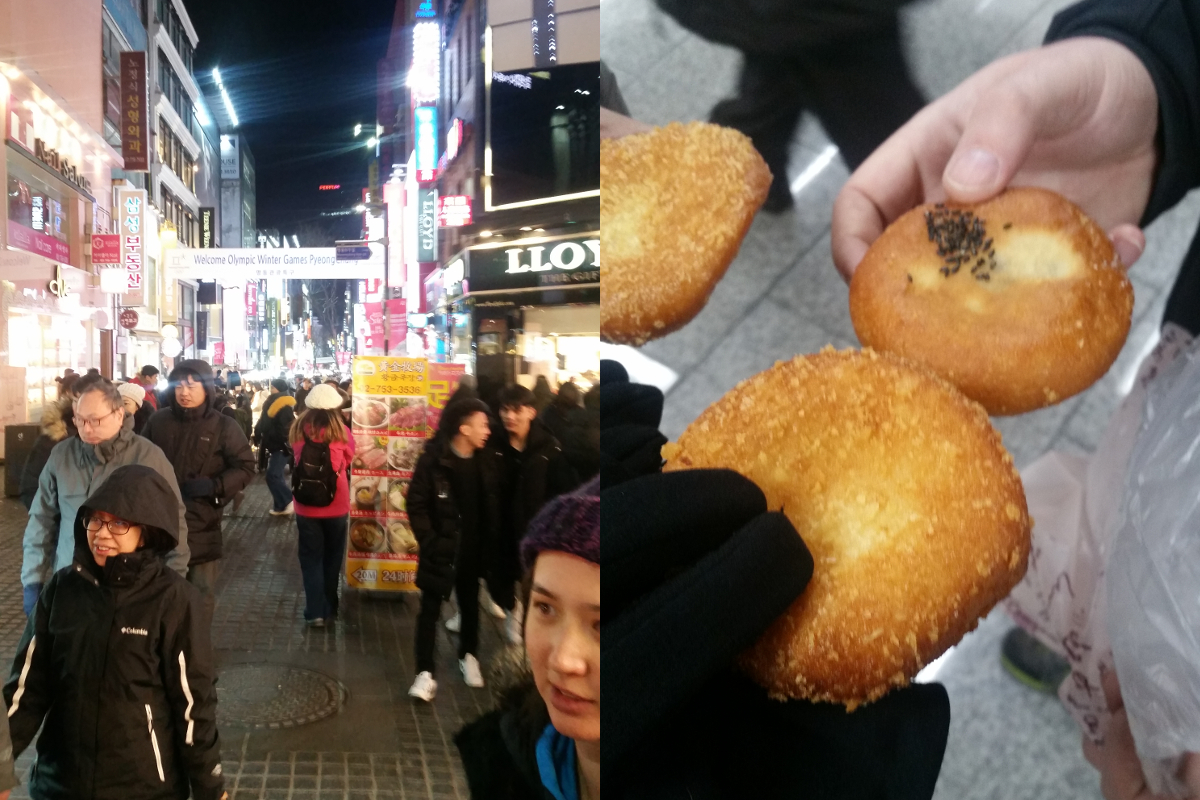 We stayed in Myeongdong, which was a very busy shopping area (especially beauty shops!) with tons of restaurants and street vendors. There was always lots to see and do and eat in Myeongdong and it was very central for transit too. A+ Would Myeongdong again.
Those were subway station doughnuts and they were amazing. Very crispy with vanilla custard, sweet potato, and red bean fillings. Scott walked 1 hr each way to go back for more doughnuts later in the week.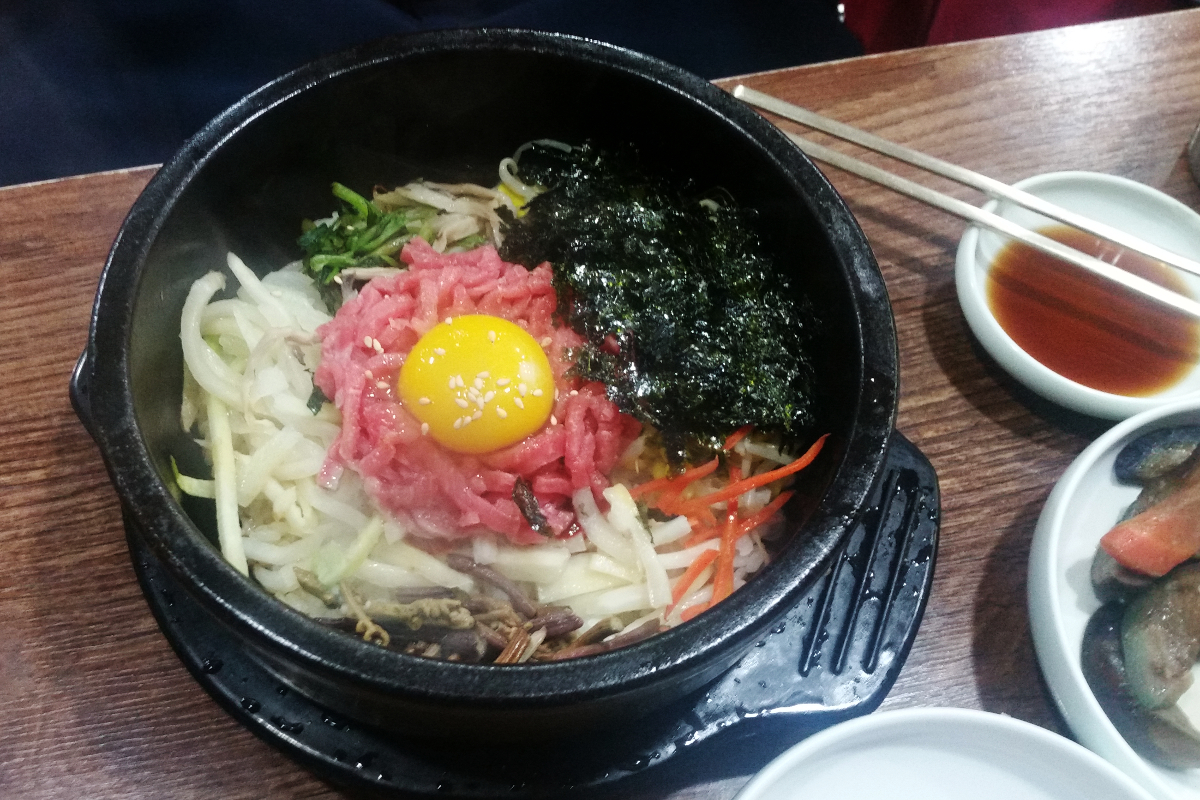 Raw beef bibimbap in stone pot. The pot was flipping hot so when you stir it around (after adding heaps of gochujang of course) it cooks the beef a bit, and the rice on the bottom gets crunchy. We ate variations of this a lot, which is good since it's full of vegetables and relatively healthy.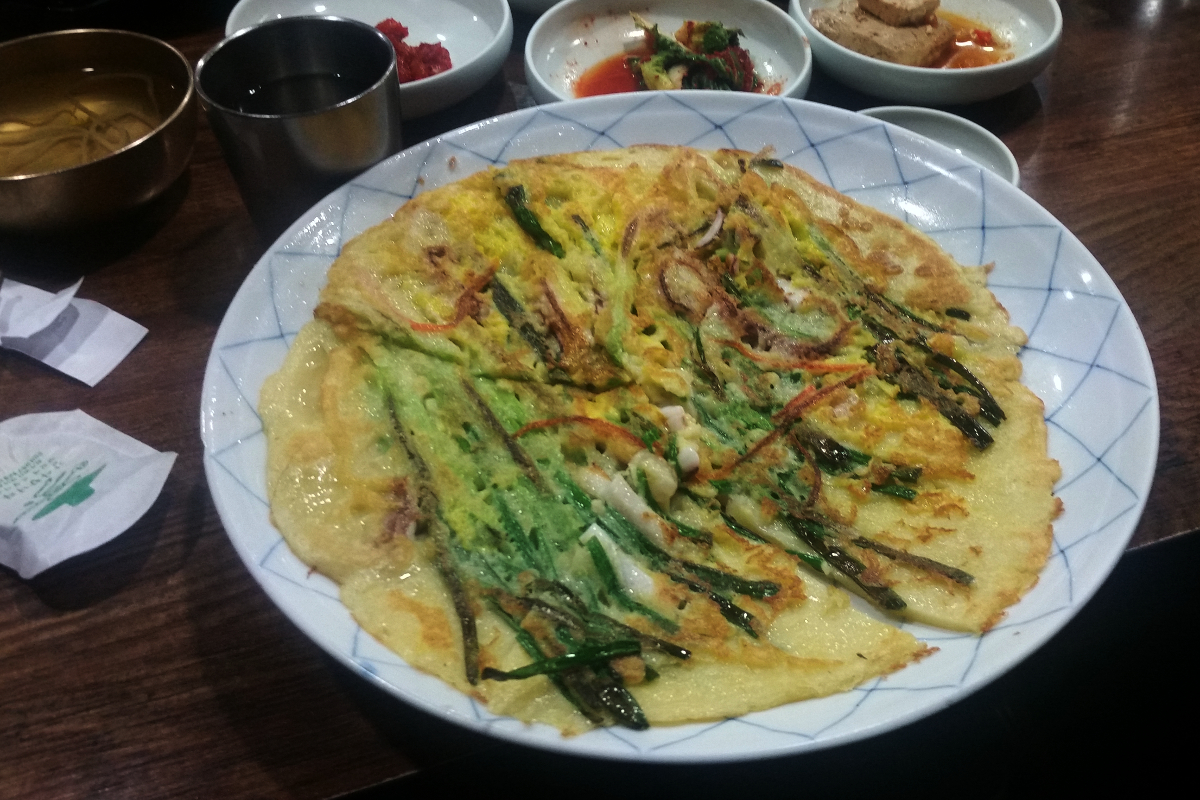 This was another of Rosemarie's must-eats… Korean seafood pancake. It brought back memories of when our parents took us to a Korean restaurant in NYC in approximately 2002 and we got traumatized by the still-moving seafood stew and acted like brats and wouldn't eat anything except for the plain bits of the Korean pancake on the side. Thankfully we have become more adventurous eaters since then, and enjoyed the whole pancake this time.
She also made us try a mango mountain (one of those giganto desserts with shaved ice and all sorts of toppings like mango and cheesecake and ice cream), which Scott and I liked but Rose didn't (she said it didn't have good texture and was too cold). And she introduced us to one of those bbq places with a cheese moat (yes you read that right, and yes that is getting its own blog post coming up next) which was obviously amazing.
Then she had to go back to work in Japan. :( Sister time over. But oh man we love travelling with Rosemarie. Our collaborations of research and interests always end up being so much fun. Next time Japan? Or Vietnam?