Last week I won a vaneats.ca package called Siddhartha's Nirvana. Scott and I went to redeem it on Friday. Siddhartha's Indian Kitchen is on Commercial Drive and has super modern and sleek feel.
The server we got had no idea what I was talking about when I said I wanted to redeem the Siddhartha's Nirvana package I won. I guess not many people have gone in to eat theirs yet? Or maybe she was new. Anyway they did eventually figured it out but only after this very awkward conversation.
The first thing they brought out was a trio of appetizers. That's not my picture by the way, we ate ours before I realized that I should probably take a picture, so I took the one from the vaneats.ca website. Anyway we got two pieces of vegetable pakora, mine was cauliflower and Scott had broccoli. They were super delicious. We also got a big chunk of chicken tikka masala each, and we split the one scallop. I suppose scallop is a pretty unusual ingredient at an Indian restaurant but it was tasty. It had mango on it. It would have been nice if we got one scallop each though. In general our appetizers were much smaller than those in the picture above.
We each ordered a mango lassi. There weren't that many drink choices actually, since they are not licensed. The drinks were very nice, mango and yogurt-y.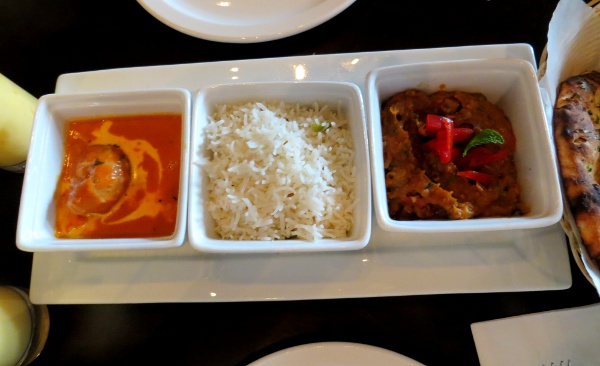 For the main course we got rice with butter chicken and baigan bharta, a smoked eggplant dish. The butter chicken was extremely good, the chicken was nice and tender, and the sauce was pretty much perfect. I liked that it did not have a lot of oil floating on it, like mine does when I cook it at home. The eggplant dish was also very good, the eggplant was super soft and all the spices were great. This dish was also not oily.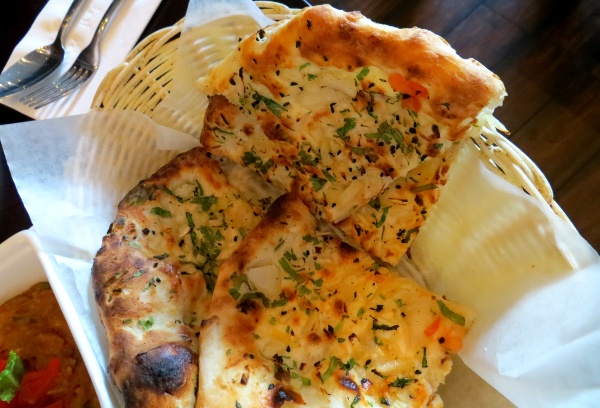 The onion and cilantro naan was good, especially to sop up all the extra butter chicken sauce. Mmm.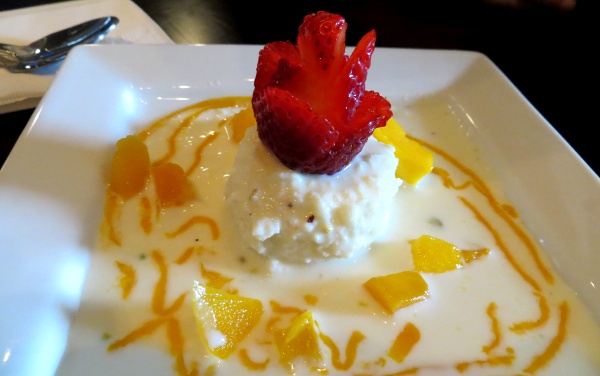 For dessert they brought out ras malai which is some kind of cottage cheese dessert with mango. I didn't like it. There was some spice in it that I knew but couldn't place, and I didn't really like the texture. That's not to say it was bad though, because Scott really liked it and ate the whole thing.
We left the restaurant very full and happy. We didn't feel gross like after we went to the Indian restaurant near our house, probably because this place didn't seem to use a lot of oil. Anyway the package is available for purchase for $16 and it's definitely enough to feed two people.