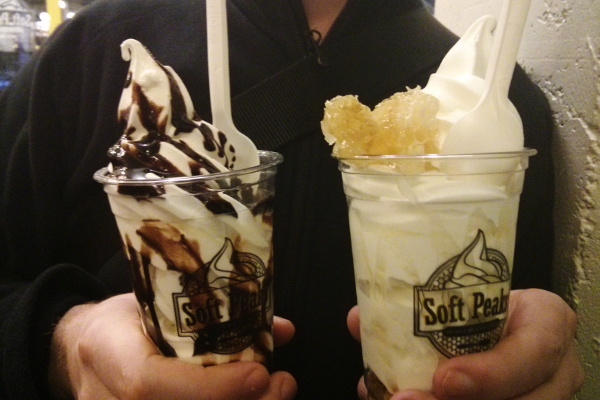 Ever since the first time I tried honeycomb (on a cracker, with cheese) I've been a big fan. So when I heard that there was a new ice cream place serving it on soft serve I had to try it. Soft Peaks is in Gastown, Vancouver.
We ordered the Honeycomb Peak, and a Salty Himalayan with chocolate syrup.
The Honeycomb Peak came with a chunk of honeycomb on top, and super duper crunchy cereal at the bottom. The honeycomb was ultra sweet, and slightly waxy, as you would expect. The cereal provided a great textural crunch to contrast the soft serve ice cream. Very delicious to get a little bit of both elements on each spoonful.
The Salty Himalayan was nice too. It has fancy pink salt swirled through it along with the chocolate sauce. Can't beat that salty-sweet combination.
The ice cream itself is plain, not too sweet, definitely milk flavoured.
All in all, we enjoyed it, but it's very expensive so I won't be going there very often. Worth a try if you haven't tried honeycomb yet.