Before we even attended the Tasting Plates Gastown event I bought tickets for the next one… Tasting Plates Main Street. And I'm glad I did because it was awesome! Now I want to get tickets for the next one, Tasting Plates Latin Flavours. I'm addicted! (Early bird tickets on sale until the end of May, who wants to come?)
Tapas 23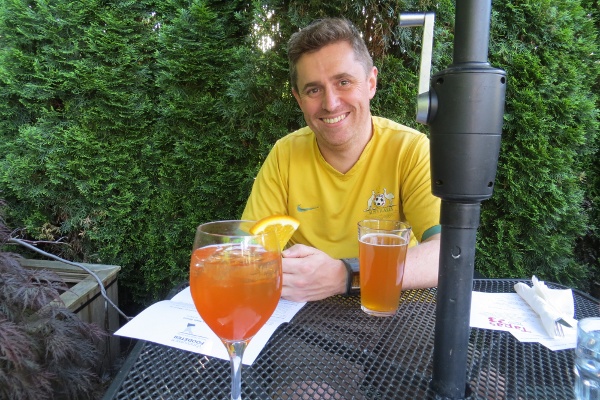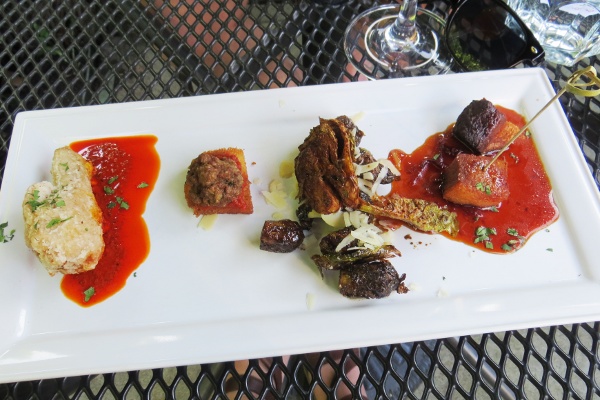 First stop was Tapas 23 for  registration and (L-R):
potato crusted wings – tasty but you couldn't tell that it was potato crusted
albondigas (meatball) – okay but not memorable
brussels sprouts with balsamic, almonds and cheddar – ultra delicious! brussels sprouts are so trendy
braised pork belly – the best part. sweet and perfectly cooked
Miura Waffle & Milk Bar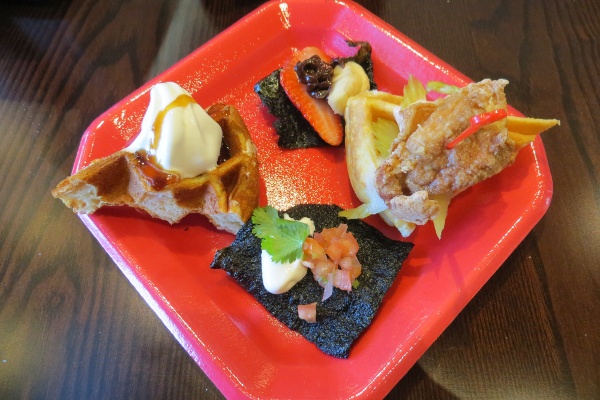 I was very excited for Miura Waffle since it has been on my Restaurants To Try list for like 2 years. How did I not know that it's located right next to the bus stop where I change buses on the way home??!! We got to try (clockwise from top):
dessert nachos (nori chip, chocolate, banana and strawberry) – way better than I expected. the nori taste worked well with the sweet strawberry
kachan karaage waffle sando (ginger fried chicken with asian slaw on a waffle) – nice and juicy on a great waffle
nori nachos (nori chip, salsa and sour cream) – kinda tasty
teri-vani waffle sando (ice cream with teriyaki sauce on a waffle) – was scared to try this, but pleasantly surprised! good ol' sweet salty combination!!
Rosemary Rocksalt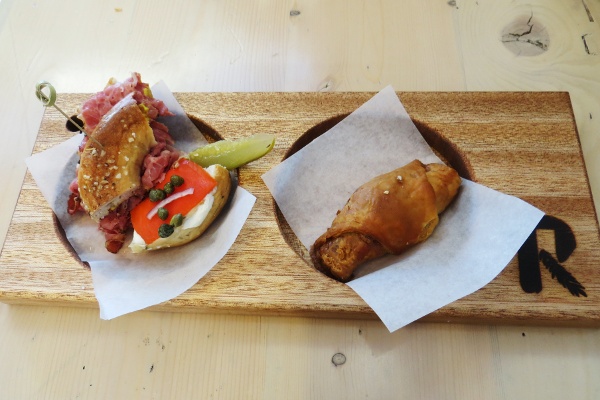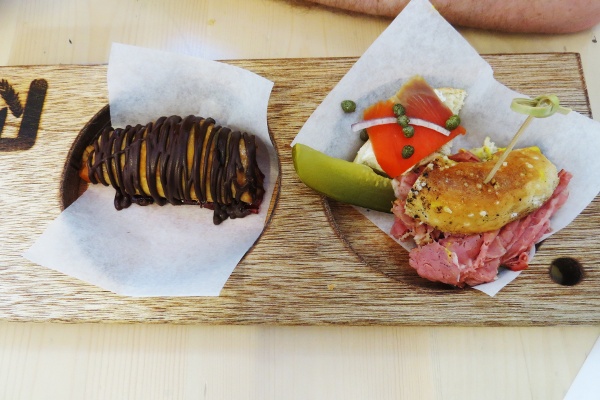 This place is also located right next to where I end up spending MANY minutes waiting for the bus on the way home. I can't believe I didn't notice it before because it's really cool looking inside. Very hipster. Their bagels and rugelach were AMAZINGGGGG. We tried:
Montreal smoked meat sandwich on a rosemary rocksalt bagel – piled high with meat, nice smear of mustard, on a GREAT bagel. the flakes of salt complete it
lox and cream cheese on a bagel – really nice
chocolate walnut rugelach – AMAZING. crunchy, buttery, sweet, perfection. please send me 9000000 more of these.
chocolate raspberry rugelach – Scott loved it
Will 100% be returning to Rosemary Rocksalt for more bagels.
Main Street Honey Shoppe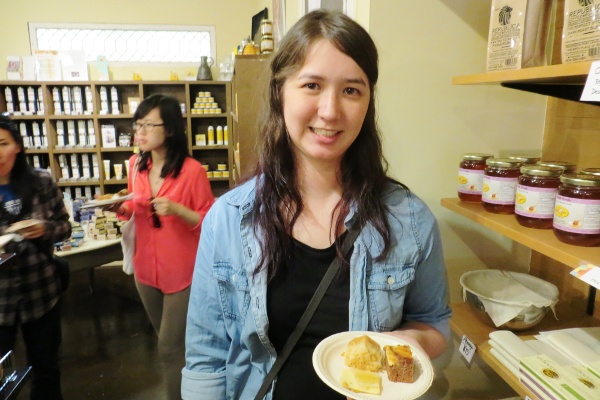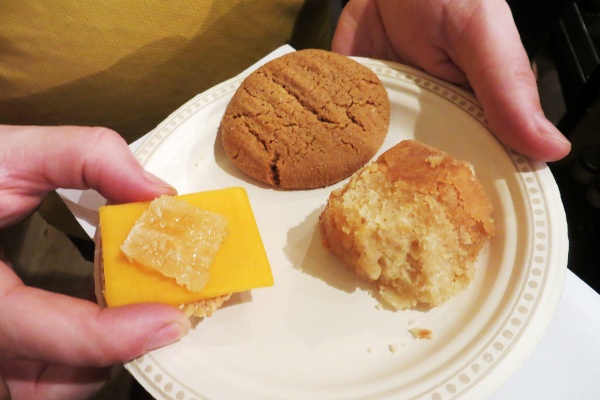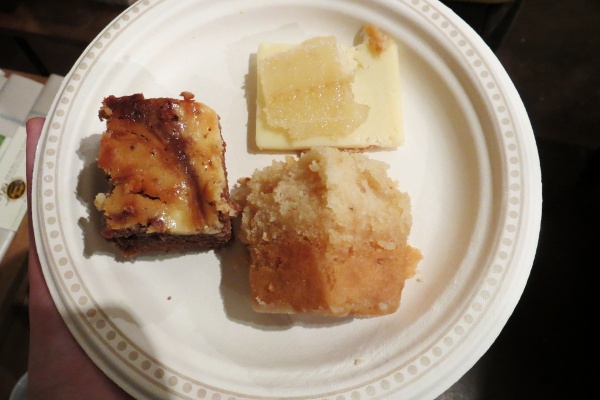 Have you ever tried raw honeycomb? I hadn't, but the little cracker with gouda and honeycomb was da bomb. I would love to eat this again but where the heck would I get some honeycomb??? Scott had cheddar with honeycomb. We also had little samples of almond cake, brownie and a ginger buckwheat cookie. Everything was made with their honey and very nice. I especially enjoyed the super moist bouncy almond cake.
We also got to try like 15 kinds of honey which was really cool. They all had different flavours depending on which flowers the bees visited. The honey tasting wasn't special for the event, you can go in any time and try them, which I recommend! I didn't even think I liked honey but now I know I do!
I also spent a while chatting with one of the staff about local honey for allergies. Apparently the belief that local honey can help with allergies because it contains local pollen in it and you build immunity from ingesting them is false. It is actually the phytochemical nutrients and propolis which help increase the body's immunity, remove toxins, and act as an anti-inflammatory. Cool!
Rocky Mountain Flatbread Co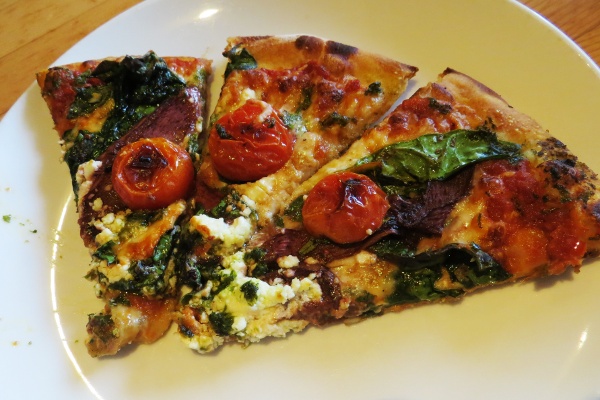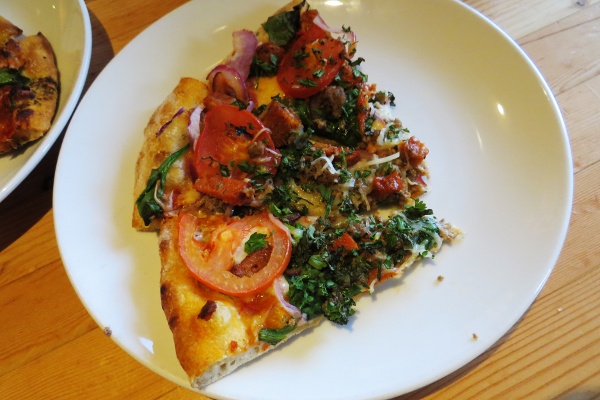 Next stop, pizza! We had:
farmers market pizza (balsamic marinated rhubarb, tomato, pesto, goats cheese) – really tasty. I looooooove cherry tomatoes and goats cheese!
naturally meaty (beef, sausage, tomatoes, green pepper, red onion, asiago, fresh herbs) – ok but I don't care for one of the herbs they use, not sure what it was though
Shaktea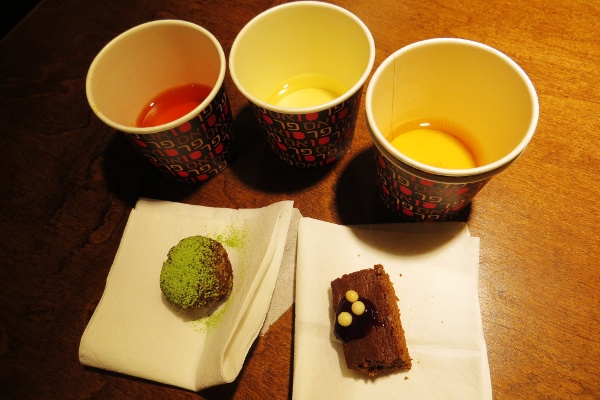 Last stop was tea and treats. I only tried the non caffeinated African dream rooibos. It smelled great but I didn't like the taste as much. We also tried a chilli brownie that was pretty spicy! And a matcha date ball.
All in all, tons of great food. We didn't have to wait at any of the restaurants like last time, which was a bonus. Can't wait for the next event!!