Last weekend I went over to an internet friends' house for a 'Space Shirt Crafternoon'. It was fun and I got to meet a bunch of new people who were all nice so that was really good. It's funny, my shirt wasn't working properly while we were making them… it didn't bleach or absorb dye very well and it was making me quietly angry, but actually when it was all done, I ended up pretty pleased. It's more subtle and I don't mind that! Here is a picture I stole from Tanie, I hope she doesn't mind.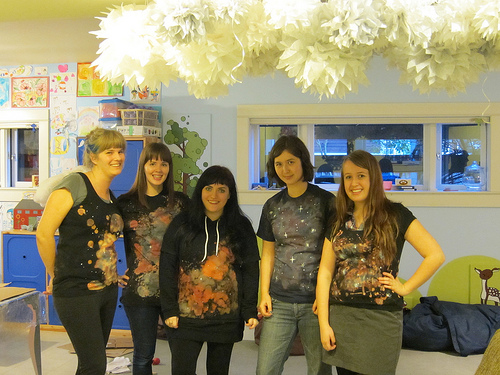 I got another Groupon last week- for a restaurant that makes grilled cheese hamburgers! Haha.
And I'm keeping an eye out for a 10-pass yoga one so I can start that. They come out pretty frequently so hopefully I don't have to wait too much longer.
I have not been sleeping well all week. It takes me SO long to fall asleep and I've been waking up at 3 am and 5 am almost every night. It's weird because I think I've been doing everything right…. eating well with smaller portions, and actually exercising (I've started running(!!!)). Too much stress in my life, I think.
JUST TELL ME WHERE WE'RE GOING TO BE LIVING NEXT YEAR. LET ME INTO SCHOOL!!!!