Saturday morning headed out to Michael's early because they were having an extra 25% off sale in the morning. We got big canvases for super cheap. I thought they were $9.99 for each pack of two, so we got two packs, but then they rang up as only $4.99, and then 25% off of that, so I made the cashier wait while I grabbed another pack! Immediately after we left the store I realized I should have gotten the bigger size, since they were so cheap. I really wish there was such thing as rewind of life.
Anyway, 6 canvases for $11 is pretty good. Now we can do tons of masterpieces. Scott has another video game-y one in mind, and I have a geometric series idea and also a melted crayon thing I saw on Pinterest that looks super cool. It needs a hair dryer though and I don't have one. Rosemarie???
After Michael's we went by the old house to pick up our mail and then to the farmers market. We spent too much money a coffee, a korean short rib taco, homemade ginger ale, strawberries, tiny peppers, potatoes, and tomatoes. I wanted to get some plants too, but we need to do a bit of research about what can grow indoors, in the dark.
We came home, and started the squares project. Then I decided we REALLY needed a level to do it so we hoofed it over to Metrotown to pick one up. We also got some Coldstone ice cream with a 50% off coupon. I had a cup with cookie dough, choc chips, caramel and fudge, and Scott had a mint one with brownie, choc chips and fudge. They were both very good, but too large, and neither of us really liked the chocolate chips. If we go back we will definitely share. On the way home we stopped by a girl's apartment to pick up a desk chair I saw on Craigslist. It's green and funky. She lived right around the corner so it was super convenient!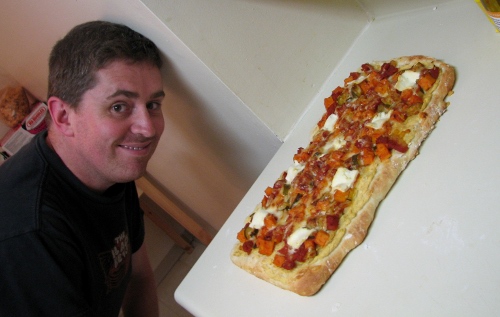 Scott made a pizza for dinner with sweet potato and lentils and some other things. He's gotten quite good at making the crust, but the toppings were too carbolicious.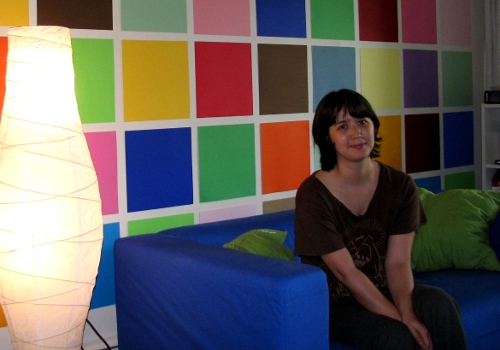 I just realized I never actually took any pictures of the other paintings I did, at the old apartment. I will, I promise! I only have one more week left of work (WOOHOOOOOOO) and then I will have lots of free time.
Sunday was mostly spent bumming around. We watched some Masterchef, the movie Paul, played Agricola, talked with Rosemarie, and now Scott is out at The Keg with some of his friends. I don't know what he will get to eat there!
I also did some online shopping. We ordered this antenna thing to pick up free HD channels (bet you didn't know about that!). Apparently there are 6 free HD channels floating around in Vancouver and all you need is an antenna to pick them up. You can get CBC, Global, CTV and three others that I forget right now. That's all we need! We also ordered some new jeans for Scott and more of my favourite t-shirts for me. Yay!